After the very successful compilation of the first part of the Interview with 21 popular bloggers, we are back with a bang with the second part. This part has a lot of interviews where the blogger agreed to reveal their faces for the very first time ever to the blogosphere. A lot of valuable #gyaan is on offer here and we are sure you would reap the benefits after reading the wonderful interviews. Honestly, there is so much knowledge and inspiration in here. On the toolbar of your browser, there is a button called bookmark/favourites. Press on the button and bookmark both the parts.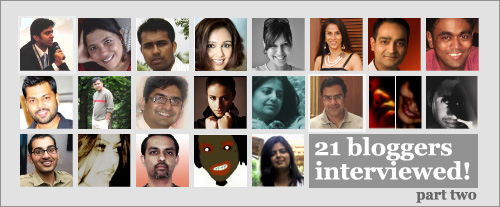 We present to you the second part of the Interview with 21 Popular Indian Bloggers.
Update: Part I, Part 3, Part 4.

The social networking geeks of today will be the brand managers of tomorrow in 3-5 years.

I do do do hope the companies don't use Social Media merely for 'push advertising'. It really takes the 'social' out of the medium!

Not responding to comments is like giving a constipated look to someone who smiles at you.

I write on topics that range from the frivolous to the furious.
Digital media is the next big thing and you'll start seeing a whole new type of celebrity online known as 'Life-casters'

Life itself is so inspiring, how can one not be propelled into chronicling it??

I had benefited from the wisdom of others, I wanted to share what limited expertise I have with others and in that sense give something back.

I like to think of Twitter as a book written by the proverbial million monkeys. It's where the truth is… or will be, soon.

The idea that one can blog for living is still not there in India.

I do not come to my blog to make a difference to India, don't know if I can do it.

Blogging has given me much more visibility than any of my other past achievements..

I love to share my opinions about certain issues with others, which becomes difficult to do with a newspaper or magazine.

In this hectic life interacting with people from all walks of life through blog and sharing opinion on various issues makes it the most gratifying aspect of blogging

The only ethical journalism can come from a new model, one that deals directly with readers or viewers without depending on advertising support.

What separates a blog from say conventional media where there is a lag between the content and readers/viewers reaction to it.


Social media has changed from being more news oriented to creating interactions with your target customers.

Blogging about interior design gave me a wider canvas and a forum to interact with a bunch of other design enthusiasts.

I would like to share with people is that we should value our family, our support system.

"If the girl is pretty those who want to marry her will automatically come". Good content is like that.

Freedom to express yourself without any inhibitions and the discussion that comes with blogging is very gratifying.
We thank all the bloggers for taking out time for the interviews and sharing so much insights. All of you are awesome and we love you all! For all those who are reading, we will appreciate if you post comments and share with us your thoughts on this interview.  We love you as well! 🙂 Have a good time at BlogAdda.
Don't forget to read the part one of 'Interview with 21 popular Indian bloggers'.