The person whose interview you are gonna read does not require any introduction. For the uninitiated, she is an author,  socialite, celebrity, former beauty queen and model, columnist, designer and pen behind popular TV serials like Kitty Party and Swabhimaan. Stardust, Society and Celebrity magazines still have her traces.  'I don't have to tell everything. It is not obligatory for a writer to do the Full Monty in public' says Shobhaa De. We have an all exclusive interview with Shobhaa De where she talks about her blog and many other things :). We have a lot of exciting things this week and this is one of them. We unravel the magical persona of Shobaa De for you..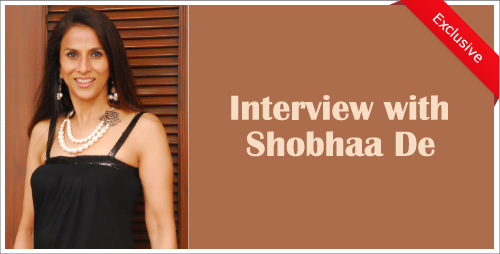 Q: When and why did you start blogging?
Blogging happened in April 2008. It began as a promotional idea for my book 'Superstar India'. I found it most liberating and a whole lot of fun. And here I am – going strong more than a year later!
Q: What topics do you generally blog about?
My blog is free wheeling and spontaneous. I don't really 'pre-plan ' a post. It is more cathartic and communicative, with a chatty approach. The topics vary – it could be a

strong comment on a movie, politics, fashion, food, a celeb, an international happening, a social issue… or even my own little discoveries while travelling. For me it is important to connect with those who visit and share my feelings\experiences.
Q: Do you ever get stuck when writing an entry?  What do you do then?
Never!!! The words pour out in torrents…
Q: What promotional techniques work best for you and why?
Have not tried to promote the blog so far. There is no strategy – but now that you mention it….
Q: How important is it for the blogger to interact with their readers? Do you respond to all the comments that you receive?
I read every single comment and try to respond directly to those that interest me. It's not physically possible to respond to everyone, since I don't employ people to manage my blog. It is pretty much a one woman show. I love the relationships I've established  through this space. I enjoy the banter and frequent interactions.
Q: How, in general, would you rate the quality of Indian blogs? Share your favourite five blogs.
Frankly, I don't have the time to check out other people's blogs. But from what I read in newspapers, they seem pretty lively.

Q: What do you find to be the most gratifying aspect of blogging?
It is soooo liberating! There are no word limits or space constraints. As a writer, I can receive instant feedback from some really sharp minds who are followers. I learn a lot from them. Blogs represent creative freedom – I love that.
Q: Every name of your 15 amazing books has started with the letter 'S' except 'Uncertain liasons'. 🙂  Whats it about the 'S' fixation 🙂 and why only that book?
Even my own name starts with an 'S'. It has worked for me all my life. Besides, I like the sound that 'S' makes.
Q: Some of your blogposts have been involved in controversies. Do you think many of the celebrities shy away from blogs for the fear of speaking their heart out and getting involved in controversies? What do you have to say about that?
That's a key part of the excitement!! How boring it would be if every blogpost was sanitised and 'safe'. I am no stranger to controversy in any case. I can handle the heat – I'm a big girl!

Q: Most of your writings focus on different aspects of urban India. What is it about urban India that fascinates? How do you see the urban India progressing in the next 5 years?
Urban India defines every aspect of my life – it is my milieu. I cannot write about realities not my own – what do I know about rural life? How phoney ! Besides, writers generally choose their turf and stick to it – Vikram Seth does not write about India's villages either. Life in urban India will evolve and change as the world changes. I don't know whether one can call that 'progress'!
Q: Do you think the Indian Society has started coming out in open with topics related to sex? Do you think bollywood has had a role to play in that?
Indian society is very thrilled with its own, 'new' ,'improved' openness. I think this is more superficial and synthetic than any real change. Popular culture provides a small glimpse into a micro section of our society, nothing else reflects our feudalistic mind set as our attitude to women – even urban women, who continue to lead an existence of second class citizens. BOLLYWOOD is ludicrous in what it says about our society. It is a twisted, idiotic representation of  the changing social scene.
Q: Coming to Television where you have written some amazing scripts for soaps like Swabhimaan and many  others. We would love to have your take on the present state of Indian Television with its barrage of reality shows and soaps.
My blood pressure can't handle it!!! I only watch news.
Q: What is the secret of looking so beautiful :)?
Hello???? And thank you. Let's put that down to a good gene pool.



Readers questions:
Q: What will be the role and status of Indian women in the next 10 years or so?
asked by Manjushree
Well… In Mao's poetic and apt words  – " Women hold up half the sky." I believe that. Ten years from now, I see many more educated women  – the biggest change will come when these financially empowered ladies push for reforms that are in the interests of society at large, and women in particular.
Q: Did writing one of your books taught you something on the way as well? If so, what was it?
asked by Deepali
Each book is in its own unique way, a learning experience. It marks a certain period in a writer's life, and reflects those realities whether through default or design. I  think my most 'felt' book has been 'Speedpost – Letters to my children."
Life itself is so inspiring, how can one not be propelled into chronicling it??
Q: How or what inspires you to write amazing books?
asked by Pooja
Each one of us has a story within – whether or not you choose to narrate it, is upto you. Life itself is so inspiring, how can one not be propelled into chronicling it??
Q : How important is family support for a woman who achieves a status similar to what you've achieved today?
asked by Deepanjali
It is key! I feel most fortunate that I share  my  life with my six children and husband . They are my comfort zone on every level. They nourish and nurture me at all times. I couldn't have done it on my own.
Q: How many people do you meet who are above average intelligence because the general perception is that socialites are fakes?
asked by Meeta
You are assuming too much! Don't fall for cliches. In any case who is a 'socialite'?? I meet all sorts of wonderful and highly accomplished people from all over the world.I learn from each encounter.
Q: Dear Shobhaa, your about (in your blog) says as "an interesting and unpredictable package", don't you think that almost all women are unpredictable, why not trim it just to "an interesting package" 🙂
asked by Abhishek
Ummmmm….. I like 'unpredictable'. A lot of men fall into that category, too.
Q: What is your advice to someone who wants to start a blog?

What's stopping you??? Go for it! But remember, if you want to use your blog to communicate ideas, keep narcissism out of it. Avoid the 'I. Me and Myself' syndrome. Keep it topical and relevant. Enjoy yourself. Blogs are an extension of a blogger's personality. Treat followers with respect at all times. Don't abuse the space by using it to settle personal scores or parade your vanities.
Q: Let's conclude off with a few favorites.
Color:  Blood red
Movie:  'Bobby'
TV Show:  Times Now
Book: ' Tender is the Night'.
Time of Day: I am an owl. The other side of midnight
Thanks a lot Shobhaa for taking the time out to give out such wonderful answers. It was a pleasure interacting with you. We are sure our readers would have thoroughly enjoyed the interview.