iwali is round the corner and the crackers will burst this weekend. But Crackers are being burst today already at BlogAdda to welcome the next interviewee.
She is a Management Analyst by profession who left her job to be a full time mom because of her absentmindedness. She didn't want to fax child's milestones in place of reports. She has another side to her which surfaces when she blogs. She is popularly known as the 'Don'. Now that her daughter is a kindergartner, she is making a career comeback and also preparing for a career change to Cognitive Psychology.
For now she is a super blogger and it is none other than Reena aka Solilo. Let's delve into the mind of the 'Don' and know how the corrupt brain functions. 🙂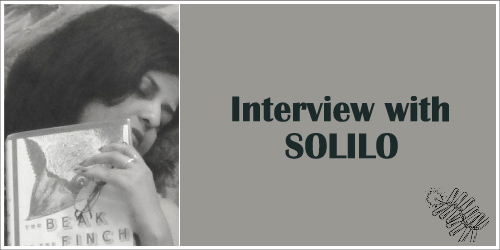 Q: When and why did you start blogging?
A: It was a toofani raat of 13th Dec 2008 (notice the date), chaaron taraf andhera chaya hua tha, wind was howling slowly, an owl was making hoot hoot sound on a nearby tree giving company to this night owl. This night owl had just watched 'Gone with the wind' for the nth time and then just impromptu registered on wordpress and wrote 'Why' and named her blog after Butler's not so politically correct dialogue 'Frankly, my dear, I don't give a damn.'
Now let me ask you guys a question. Would you have interviewed me with that kind of a blog title? Ha..ha.. Jokes apart, the first ever post I wrote was a quote from Calvin and Hobbes. "We're so busy watching out for what's just ahead of us that we don't take time to enjoy where we are."
As you all know Hobbes is a figment of Calvin's imagination, more like his split personality. I believe human nature is a combination of both. All of us are Calvin and when the going gets tough, we want to be Hobbes. Hobbes never gets into trouble, he is always content; only if all of us could live and feel like Hobbes. Cut to the chase, this I left in the draft and published the other post for a clichéd beginning so C & H post became my second.
After couple of days, sanity prevailed and I thought my blog title was a bit controversial so changed it to the current one and shortened my screen name from mesoliloquy to Solilo.
Q: What topics do you generally blog about?
A: I write about everything under the sun that catches my attention.
Q: Do you ever get stuck when writing an entry?  What do you do then?
A: I like a good start and end to my posts so sometimes when I can't arrive at an ending I prefer, the post remains in draft. Sometimes it remains there because the moment has passed.

Q: What promotional techniques work best for you and why?
A: Since I don't write for revenue, I don't think my blog needs a promotional technique. My blog had a spur-of-the-moment start and I wasn't even sure if I was going to continue blogging. When I started this blog it was supposed to be just me scribbling down my thoughts and stating my opinion. Little did I know that in just couple of months I would meet such wonderful virtual friends. It is fun to blog hop and read interesting, witty and erudite posts in the blog-o-sphere. Comment interaction is the most exciting aspect of blogs and that is also the most effective promotional technique. After that it is your writing that hooks a reader. From last month I started tweeting my blog updates and also interesting pieces from other blogs.
Q: How important is it for the blogger to interact with their readers? Do you respond to all the comments that you receive?
A: Interacting with readers is a must for me. I value every single reader. Most of the times posts are interactive and it is important to acknowledge a reader's view. If a reader takes the pain to let you know that he/she enjoyed your post and also adds his/her views on the topic then how difficult is it to acknowledge that?
This is not applicable to trolls. They are unwelcome all times. Some people think that since blog is on a public domain, they have the right to question and even abuse the blogger for contradicting views. While questioning and a healthy debate is welcome, profanity is not.
Sometimes I write general comments addressing all readers when the topic is generic but most times I, at least, make it a point to acknowledge my reader with a smile emoticon. 🙂
Q: How, in general, would you rate the quality of Indian blogs? Share your favourite five blogs.
A: I don't like rating blogs. As a newbie blogger, I once read a blogger expressing her views on how some mediocre blogs are getting more comments and intellectual ones are not. I fail to understand that. How can one catalog thoughts? Is feeling happy and writing about it mediocre? Does discussing world peace make one intellectual?
First, people should realize that blogs are personal thoughts of a writer. Some might choose to write about their country, another discuss finance yet another talk about her kids and then there are people like me who write about everything and don't fall under any particular genre.
The thoughts expressed by each one of us cater to different people. That doesn't make one mediocre and another intellectual. First and foremost, no one visits a place where they feel unwelcome, be it home or blog. If one doesn't like much interaction then it is totally their choice but critiquing someone else's blog will only make you look envious and show you in poor light.
My favorite five blogs: At this point, I want to let everyone know that there is a 9×19 mm pistol on my kanpatti (for the uninitiated it means under the ears) by arch rival Dons but the brave Don that I am, still won't budge from my stance.
As I already mentioned I would never rate a blog. I have a good group of friends and I read them all whenever time permits. Every blog where I choose to comment is my favorite (You know who you are). Picking one out of them is like asking me to choose between friends. I can't do that. Each one of them is precious and unique in their own way. They make me laugh, they make me cry, and they make me ponder. We are one big happy virtual family. *Karan Johar is grinning ear to ear sipping Koffee at SRK's Mannat.*

Q: What do you find to be the most gratifying aspect of blogging?
A: When someone comments or e-mails that I cheered them up or boost up their confidence. Also, in this hectic life interacting with people from all walks of life through this medium and sharing opinion on various issues.
Q: Be it politics or movies, satire is a tool you use often to depict your views. Does it work? What are your views on present political scenario in India? What changes do you believe are happening in bollywood? What kind of films would you like to see?
A: Satire always works. Satire makes you chuckle and at the same time make you think. With a simple cartoon we had a good discussion here. Sometimes less is more.
Politics since the time of Chanakya has not changed. It is 'survival of the kootnitigya' (the one who excels in politics). It has always been about money and power. Nothing has changed.
I think Hindi film industry has come a long way in its execution. I say so because filmmakers are now thinking out of the box. For long Hindi industry was nowhere close to regional cinema but today's filmmakers are experimenting and I think today's audience is welcoming such a change. The line of distinction between commercial and art house cinema is blurred. Earlier a thought-provoking issue based cinema had no audience. Today's audience is more appreciative towards a Wednesday or Manorama Six Feet Under and looking forward to Delhi Belly and Dhobi Ghat.
Q: 'Is it back to slums now?' is an awesome post where one of the things to note was the family pressure that the girl faces. You are one of the founders of NGI. What kind of pressures does a woman in present times face and how do you think they can overcome those?
A: Thank you.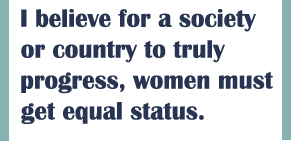 Women face the same kind of pressure and issues as always. Even on that post, it was sad to see that a world of new opportunities was awaiting that little girl but she went back to the same profession that her mother was forced into. This is a social conditioning where people get so used to their surroundings and way of life that even the wrong seems right. It does not just pertain to lower strata of society, but is the same story as we move up.
All major evils of society directly impact women. Welcoming a girl child to the world, educating her and encouraging her to confidently face the world are the first steps towards women empowerment. Empowerment will come only with education.
With changing times, there is improvement in the status but still a long way to go. Fighting for women's right is often branded as feminism and a negative connotation is attached to the word. Anybody who supports equal rights for women is a feminist and there is nothing bad about it. When you put down a woman, think about someone else treating your mother the same way. Would you side with such a person? Every woman deserves that respect.
Around 4 years back, I went to an orphanage in our hometown to donate some clothes and toys and found out that they also have a women's shelter home. Most women fell in between the age group of 20 to 50. Some with burned marks, some almost senile, some just stopped talking. These women were abandoned by their parents, in-laws and husband. There was a Marathi woman who had severe marks on her body. Apparently she is from some village in Maharashtra and her husband brought her to Kerala and dumped her on the railway track. She didn't know any other language and lived on the street for a long time before the charity organization picked her up. The organization as of now has a small set up but they are doing a wonderful job of rehabilitating destitute women. Since then our entire family supports the organization. Isn't it sad that even today "Shining India" needs women shelter homes?
I believe for a society or country to truly progress, women must get equal status. How can any nation even talk about progress when one half of the population is still fighting for her rights? Indyeah has written a hard hitting post about female foeticide.
Quoting Janis Joplin "Don't compromise yourself. You are all you've got." and with that thought Usha, IHM, Indyeah and I initiated 'No Gender Inequality' blog where everyone is welcome to contribute their personal stories and words of encouragement.
Not every woman is as educated and privileged as you and me. Even the smallest voice will make a difference in someone's life. Let it be your voice.
Q: Most of the participants in the recent Reality Show 'Sach Ka Saamna' seemed not too disturbed with the topic of infidelity. There are many cases in the new age society where the wife is 'OK' with their husband having an affair as long as they get the money and the required attention. Thoughts are changing, not sure for good or bad. What is your opinion? What according to you are the reasons responsible for the change?
A: I don't watch the show so I have no clue about the content. The first thought that came to my mind reading this query was shock thinking how women are putting up

with infidelity. But on pondering, I think it has lot to do with woman's status in our society. Financial security and children are often reasons for a woman to put up with a cheating husband. It is sad and men who are well aware of this fact actually take advantage of the situation.
I don't think this is an issue of new age society. In fact I think with changing times, women with their new found independence would actually walk out of such a sham marriage.
Q: 'Love Aaj Kal' in one way tried to portray the message about what the youth of present times think? Do you think the meaning of the word 'love' is getting diluted? What is 'Love' for you? Can you share with us some moments which you think would define love?
A: I don't believe in everything today is bad and all of yesterday was good. Nostalgia is good but I think people go overboard critiquing present and appreciating past. To see the beauty of the present we should start living in the present. Times have changed with advances in technology but human heart still has same emotions. No technology can change that. If you rewind to the 50s or 60s, you can find older generation calling the younger lot irresponsible and inconsiderate. That younger generation is today's grandparents/parents and they criticize today's generation and we might do the same to future generation. Emotions don't get diluted with time.
Love for me is an emotion utmost important for our existence. These are some thoughts and quotes for the most precious people in my life
Q: Life in America and Life in India? If given an option, where would you spend your life and why?
A: I am a nomad. The growing up years as an Air Force Officer's daughter in different camps took me to various places and each place was home to me. I think that one feels like an outsider till one wants to be. It is okay to value your traditions and culture but it won't harm you to adapt to the lifestyle and respect your host state/country. Till we make an effort to know the country/state and its people, we will remain an outsider.
My parents are now settled in Kerala and they are happy and content in their sweet home. All my growing up years my only connection with Kerala was summer vacations but now with parents settling there, I find this enthralling connection with my native place. As of now living in America or London or Mumbai or Chennai or any other Indian city is the same for me. There are strangers everywhere and I have to adapt to the new place.
Home for me is where my parents live and that place is Kerala. When we decide to settle, it will be in Kerala near a place where I can listen to sea or river; suprabhatam at dawn and temple bells at dusk. My daughter's childhood memories will be associated with her life here so it is important for us as parents to give her a beautiful home here. So home for me is here too. Till we settle, we will remain wanderers creating wonderful memories for our child. Home is where the heart is and my heart is where we make memories.

Q: 'Religious Freedom and Gender Equality: A Kindergartener's view' talks about inculcating Religious tolerance in children. In a secular country like India where everyone is free to practice his/her own religion, do you think some people are misusing this freedom? Why do you think are people fighting in the name of religion and religion being linked to terrorism?
A: I would like to make my point by citing an instance from a Malayalam movie 'Guru' which was inspired by H.G Wells' 'The country of the blind'. The protagonist is son of a Hindu priest who is mislead into joining a Hindu group after his family was attacked by some Muslims who in reality where goons of a politician. Riots break out and Hindus and Muslims start killing each other. The protagonist along with his party members plan a bomb attack on Muslims and take refuge in an ashram. By some strange occurrence he reaches the valley of blind where people do not believe in the sense of sight. They don't know what sight is and for them even thinking about sight is a sin. When the protagonist tells people about sight, he is considered an evil.
One day he eats a tasty fruit of the valley and loses his sight. He then realizes that upon a child's birth, every newborn is given few drops of this fruit and the newborn loses sight. The juicy, sweet fruit was the reason for blindness. He is unable to convince the people of the valley and finally is sentenced to death by eating a fruit of the forbidden tree which people of the valley consider poison but that fruit brings back his sight. He of course gets his "sight" back and aborts the bomb blast plan.
This is what happens everywhere. Blind followers of religion are misled by some miscreants of the society that spread hatred in the name of religion. Hope the deluded bunch and fanatics gets back their "sight" before it is too late.
Q: What is your advice to someone who wants to start a blog?
A: Be yourself.
Q: Let's conclude off with a few favorites.

Color: Bluish-White. The color of clouds.
Movie: It is difficult to pick one. Watching Rain Man as a kid made me a huge fan of Dustin Hoffman so foremost pick would be his movies/mini series. I got a chance to watch Guru Dutt movies during a film festival and loved all his work. He was way ahead of his time.
TV Show: The reruns of 'All in the family'. Archie Bunker's hilarious take on then American society's prejudices is enough to tickle your bones. I used to love Bharat ek Khoj on Doordarshan because history fascinates me and whenever I am down, F.R.I.E.N.D.S can pick me up and put me back on track.
Book: This again is tough but I will go with most of R K Narayan's works. I think it is a feat to skillfully portray the simplicity of everyday life and R K Narayan excels in it.
Time of Day: I am a night owl.
Zodiac Sign: Capricorn
Thank you BlogAdda team for this wonderful opportunity.
Woahh! What an interview to bring in the festival of lights. Hope after reading this wonderful interview, our minds would have been enlightened with some very interesting truths. Thank you so much, Solilo, for giving such a wonderful interview and a-never-before-seen picture of yours. We are sure our readers and friends would have seen a different side of Solilo 'The Don'.