We are back with the second part of the awesome interview (Read Part I). A brief about Rakesh Jhunjhunwala for all those who have come for the first time. Rakesh Jhunjhunwala is a Chartered Accountant by qualification but an investor/trader by profession. In 2007, Forbes rated him as India's 51st and the world's #1062 richest man with wealth of $1.1 billion. He is tagged by the media as 'India's Warren Buffett'. Everyone has an alter ego. We have the Alter Ego of Rakesh Jhunjhunwala interviewed. If you have not read the first part of this interview, do read it and then come back to read this part.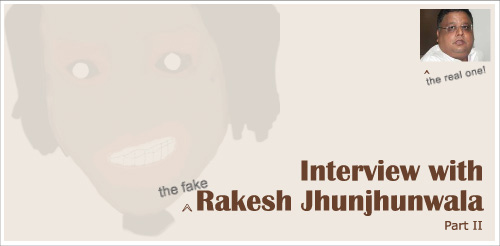 Q: Woah! BJP invited you for one of their Chinthan Baithak's. 🙂 What did you advise BJP and Shiv Sena so that they can bounce back? Aren't Congress guys your friends as you have made the most of the markets when the 'Hand' was ruling?
A: I told them to read The Secret Journal of Rakesh Jhunjhunwala©™ to bounce back or front or wherever they want to bounce. I also told them to build roads, provide electricity, water and education to people instead of concentrating on building temples or mosques, debating if one is 'secular' or 'communal' etc.
I have no affinity towards any political party, Congress or BJP so whether the 'Hand' waves or the 'Lotus' blooms my priority is always to make sure that the Hammer and sickle makers aka the Communists are not in a position to control India's economy.
Just the look of a Communist on CNBC talking about communist economic agenda is enough to send the Sensex to tank by many points and by 'tank', I don't mean your house water tank or the Indian army's battle Tanks. With my extraordinary talents I will of course survive the storm and make money as well! But many traders and average investors will not.
But politicians just like me are passionate people too; they love to do what they do. No bigger proof of this fact is required when you see them so wholeheartedly screaming their lungs out and waving their hands about in Parliament so eagerly.

Q: One of your posts has your beautiful wife by your side. Does Jhunjhunwala listen to his wife for some #gyaan on life? How difficult or easy it is to be on the public eye always?
A: The best wealth in a man's life is indeed his family. My wife is super sweet and the only one who can ever handle my super sexy awesome personality.
The markets too are like women, always commanding, mysterious, unpredictable and volatile. So I do ask and receive life advice from my wife and if I don't listen she's sure to make sure that I do!
Being a billionaire who's also so gorgeously good looking it's cumbersome to be in the public eye. The paparazzi are always waiting to take a picture of me or my wife and my three kids. It bugged me till I went ahead and bought a huge stake in TOPS Group Security Company. Now they don't trouble me because TOPS Security's Black Cat commandos will Karate Chop them if they try anything funny. But to sell papers some paparazzis do approach me for photos and I oblige. Shows my kind heart.
Being ME you have to get used to the way the ball bounces. Especially the women, they can't get enough of me. I simply flex my biceps on the top floor of my Nariman Point office and immediately there's a BABE STAMPEDE outside. So many times the chicks have had to be lathicharged by women constables of the Mumbai Police force.
And when I remove my shirt, the swooning simply doesn't end. I value my 6 pack abs so much that I've developed a pot belly and an extra layer of fat just to protect them from chicks who just can't seem to get enough of me. Even that sends them into a tizzy. It's true without ME it's just AWESO.
Q: Will we see Jhunjhunwala invest in Bollywood movies? What is your Dream role and whom would you cast alongside?
A: Jhunjhunwala has already invested in Bollywood and will continue to do so. Many of the companies that I hold huge stakes in like Hungama Mobile and Prime Focus already control the packaging, repackaging and engaging of the audience. All the marketing is taken care of by hundreds of employees of these companies.
Musician Himesh Reshammiya's latest film Radio which last time I checked was 'Running Successfully Worldwide' used Hungama Mobile to promote his music and his music topped charts in 109 countries including the Maldives.
Somali Pirates enjoy listening to Mann Ka radio with Fultoo Attitude and the superb chorus la…la…la…la…la
My dream role would ideally be to play the role of THE HERO in international alternative bollywood film 'Jungli Chudail – Real Life Story Of Fake Life Dead Woman's Ghost'
In this film the hero, Deven Gowda has to kill the Jungli Chudail which has possessed his third aunt's fourth daughter. Inspired by another art house film 'Khopdi – The Skull' this masterful retelling of the original is more sophisticated in the bathing scenes. It's of particular interest because the heroine is shown using soaps from an FMCG company I hold a huge stake in.
I would like to cast CNBC TV18 anchor Mitali Mukherjee as the heroine and Shaili Chopra of 'Business On Course' fame as her younger sister with Samajwadi party leader Mulayam Singh as supporting actor and the Reddy brothers as the hero's sidekicks in 'dashing and energetic' roles.

Q: Justice Liberhan took 17 years to come out with a report. If it would have been Jhunjhunwala in his place what would have been the outcome?
A: Look, you have to admire the Liberhan Commission because they stuck to their promise. They formed the commission and adopted a slogan with a never before seen time guarantee which as you know goes "The Liberhan Commission – if your report is even delayed by a single day after 17 years then no questions asked, get your money back guaranteed along with a gift coupon for a free Colgate toothbrush…..no questions asked"
Alas! if it was me I'd have probably not been so thorough. Finishing the report in 1 year maximum and the outcome would be nothing more than a very pointed and sharp criticism of my handwriting exhibited in the report.
But thanks to the Liberhan report, many questions have been answered but because of the time lapse the answers have come but the questions have changed. To find out the answers to these changed questions another 17 years are required. Only Justice Liberhan can do justice to the next 17 years.

Q: Will Jhunjhunwala want to become the Richard Branson of India?
A: No chance! Richard Branson wants to become the Rakesh Jhunjhunwala of the UK.
Richard is a business virgin (see I said Virgin, the relation being that Branson's company is called Virgin. By pointing out this insipid fact and correlating it with my answer I have once again highlighted my staggering literary abilities as displayed on The Secret Journal Of Rakesh Jhunjhunwala)
Q: Which sector according to Jhunjhunwala would be the best bet to invest upon in the year 2010. What are the things that go in your mind when you pick up a stock for investment?
A: I am confident about India specific sectors like Banking, Retail, FMCG, Pharma and more but 2010 is too soon a time for a Long Term Investment. According to INDIA TV the world is going to end in 2010 with the advent of 'PRALAY'; even this is something to consider.
When I invest, I invest in a business that is given the opportunity to grow. I look at the scalability of my investment like how soon and how big can my stock turn into a multibagger but on an absolute level.

Another important factor in my calculations are the activities of my nemesis and the de facto leader of the Indian Bear Cartel – Shankar Sharma. If he's picking stocks in a particular sector then you will find that my picks have been made far earlier in the exact opposite sector but I always pick what I want to pick so that he picks what I don't pick which is exactly want I want him to pick so that I can point at him and laugh for picking that which I did not pick and those that he picked and hence lost money.
The previous exchange contains a lot of 'picks'. You might need a toothpick to pick out all the 'picks'.
Q: Media is for sale was one of the recent reports by WSJ India. What is your opinion on that? Has Jhunjhunwala ever paid money to get featured on Page 3 or for that matter the main page?
A: Its true isn't it? A part of the media is concerned more in promoting Gillette's 'Shave India' movement instead of some sort of 'Save India' movement but there's a point here to consider. Neha Dhupia, Minissha Lamba and Mugda Godse find clean shaven men more sexy than those with lazy stubbles. They are attracted to me who is always clean shaven.
It's an important issue, because earlier 'sexy' was missing but then everyone started to shave and that's how sexy was brought back. So if the media highlights this instead of some poor farmer killing himself in Vidarbha or some umpteenth Army Jawan dying while trying to prevent another cross border terrorist infiltration then it's only because they want people apart from Brad Pitt or myself to make it to every magazine's most sexy list, which can be achieved by shaving.
I don't pay to get featured in newspapers, Page 3 or otherwise. Damn the very thought… If I want to be featured in a newspaper then I'll simply buy the newspaper out…. That's my style. Newspapers offer to pay me to feature my quotes and photos in their pages.
I'm a walking headline. I simply make news. That's how Rocky J rolls. You simply can't afford to ignore the World's #1062 richest man.
I always knew I was going to be rich. I never doubted it for a minute.
Q: Do you promote your blog? What promotional techniques work best for you and why?
A: Not really. Just rely on word of mouth.  If the content is good and original, people will respond.
Like I say when people ask me if India is a good investment destination and will money flow in here? and I always say "yes". Then they ask me, how? And I say "If the girl is pretty those who want to marry her will automatically come". Good content is like that.
Q: What do you find to be the most gratifying aspect of blogging?
A: The comments. Definitely the insightful witty comments from my readers. I read everyone of them, even Comments from spam bots and try to respond in kind.
Q: How, in general, would you rate the quality of Indian blogs? Share your favorite five blogs.
A: I read a lot of blogs, but I don't separate from Indian and non-Indian blogs. But blogs written by Indians are just as good in terms of writing and content as those written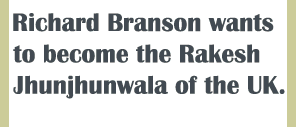 by non-Indians.
I recommend, recognize and endorse all the blogs listed in my sidebar whether it be The Notorious Colton's The India Street, The Nefarious Sunil Essbee,The Neighborly Rashmi Bansal, Insightful Sucheta Dalal, Pun-Master Extraordinaire- Ramesh Srivats, The Desi Prime Minister or the man with the toughest looking Goatee on the planet- Gautam Ghosh.
But tomorrow if any of these people get caught for selling Pirated DVD's or in some land scam then I will deny any knowledge of them but if they tell me where their jail is then I am willing to post their bail money.
I also read many other blogs by some really cool/funny/cool+funny Indian bloggers  like:
I also read Hindi Blogs. I especially enjoy reading Shiv Kumar Mishra and Gyandutt Pandey's blog:  Shiv Gyan.
Q: What is your advice to someone who wants to start a blog?
A: Ok listen very carefully. Get up at 4 am everyday. Do Yoga and Surya Namaskar. Have a cold water bath. Eat exactly one fourth of your stomach capacity. Bask in the sunlight for a few minutes then proceed to write your blog.
Research has shown that reading The Secret Journal Of Jhunjhunwala stimulates brain cells so read my blog and worship my poster. Offerings in monetary form or coconuts are accepted.
OR
Write about what you're passionate about. Write at least two times a week every week and don't stop. Also comment on other blogger posts and help other bloggers build a following.  Give for a year and you'll see a big return the year after. Oh and read copyblogger.com. It's a must!
Simply have Fun, Relax, Back Yourself, Enjoy yourself and engage your readers.
Q: Do you earn revenue through your blog? How does one go about it?
A: Not really – I have enough money. Duh! The world's 1062nd richest man earning revenue! Of course I earn revenue through my blog. One way of making money from your blog is to charge people money when they ask you the question 'How Do You Earn Revenue through Your Blog'. I made a ton of money when Blogadda asked me this question.
Q: Let's conclude off with a few favorites.
Color: White – the preferred color of my shirts. Black – the color of my pants.
Movie: I would say Lovestory 2050 which is probably the greatest film in the history of Indian cinema or Bhojpuri film 'CHALANI KE CHALAL DULHA'. But I have not been paid to endorse any of these films.
So I will quote a diversified portfolio consisting of: Sholay, Golmaal (1979) , Terminator-2, The Dark Knight, Tropic Thunder and the Pirates Of The Caribbean trilogy.
TV Show: Any show on CNBC, ET Now, UTVi, etc where I am invited to provide comments on economic policy.
Apart from that – The Simpsons, Fullmetal Alchemist, South Park, 24.
I also enjoy Exxxtraa Innings before IPL matches and I used to love Kyunki Saas Bhi Kabhi Bahu Thi. It's over now but Baa will live forever……Long Live Baa. I have an 'I Love Baa' T-shirt.
Book: The Second World War by Winston Churchill
Time of Day: 9:55 am – when the markets open to whenever the markets close. (Edit: Now, the markets will open at 9:00 am)
Your Zodiac Sign: TAURUS 😉
Once the interview is over please send the bandmaster home.
We don't want to send the bandmaster home but we have to keeping the future of Indian Economy and stock exchange in mind. It was a pleasure interviewing you Sir. 🙂 Thanks for taking time off your busy schedule and becoming the part of our Adda.
Do not forget to visit the phamous blog of Rakesh Jhunjhunwala and his twitter stream for some awesome conversations.
Also we are proud to have Rakeshji at BlogAdda.