My Name is Hitchy! My name is Hitchy, Samaj ka sajan my name is Hitchy. He is a man who loves females 🙂 (In his own words). He wants to retire as soon as he can and settle on the hills from where he can update his blog. Hasn't this given you a brief idea about whose interview you are gonna read next? Yes it is none other than Hitchwriter popularly known has Hitchy and Hitchu. 🙂 He loves pulling other's legs. For a change we have tried to pull his legs by asking some spinning questions on a dry pitch 🙂 (Yes he is an avid cricket buff as well). Here is the brains behind My attempt to write.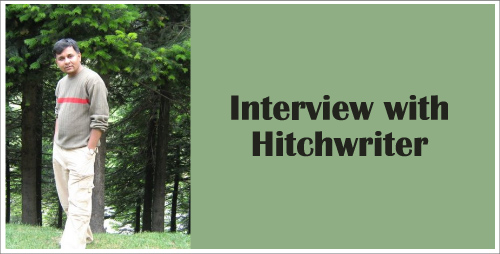 Q: When and why did you start blogging?
A: About a year back in August, recession hit our business hard and though we didn't lose a lot of money… we did become jobless for quite a long time… that's when I fell for the scrabble addiction… on betapet.com… but their English version went poof one day… and a co-scrabble player and very good friend Ranu opened the world of blogging for me…. And there has been no looking back… ever since.
Q: What topics do you generally blog about?
A: When I started I wasn't sure.. Who would care to read what I had to write. But Ranu assured me whatever I would write, at least she would read. It was very important for me that someone would read what I had to write. Initially  I would write about cricket… about my fights with God… my problems and arguments against religion… my questions of what a world we humans have made… Imagine a deer buck stands on its feet on the very first day its born to survive in the jungle.. where as we the SO-CALLED superior species "Humans" have built such a civilised world that our kids need to train for 20-25 years to survive in our world… It's a BIG IRONY really !!!
26/11 shook me up… like all Indians… there was angst… anger… and the blog was the ideal platform to vent… I wrote my life's first poem then, which still is very special for me… That was when IHM and Usha two lovely bloggers commented and that's when the real interaction with all other bloggers began.
Over a period of time I veered towards writing funny stuff… Though I seriously don't find the stuff I write very funny myself… but as more and more comment interaction began we started pulling each other's legs.. and slowly but surely the blog has just become an Adda!! I frankly feel  that the comments section in my blog is probably more interesting than the post itself.  I come now to my blog to just have fun, write anything.. mostly funny… pull legs.. get legs pulled… and just have a good time… for me Blogging now runs well and truly in my veins… !!

Q: Do you ever get stuck when writing an entry?  What do you do then?
A: I don't plan posts… I just let go… lots of time I only write non-sense…. That's what I am… I am just having fun… revelling in this virtual world… I have come to know wonderful people… I just let it flow… I do tags… I think aloud… and I twist real life situations add a lil sugar and spice to it and post it. When I am stuck… I go to other people's blog and start pulling their legs !!! what else… 😀 :D.
Q: What promotional techniques work best for you and why?
A: I don't know. I comment a lot. May be that. Nothing in particular. I guess the LOL challenge organised at Vishesh's blog where my friends voted for me as Blog Jester was my biggest achievement till date and that led to a lot of other bloggers coming to know about me and my blog. The fact that people find me funny… and yes I took that to heart… I now try to live up to that billing.
Q: How important is it for the blogger to interact with their readers? Do you respond to all the comments that you receive?
A: Each and every comment is replied too. For me its most essential. In general we bloggers are attention craving READ comment seeking maniacs… however apart from just getting comments on the posts… our comment sections has also become sort of chat rooms… like I keep saying its our adda… let me also say this your name Blog Adda is most apt…
Ever since the comment interaction started blogging just took off for me.
Comments section on my posts is definitely more happening than posts on my blog.. !!
Q: How, in general, would you rate the quality of Indian blogs? Share your favourite five blogs.
A: Indian blogs ??? I suggest we leave out nationalities and religion out of this… blogging is just a virtual way of expressing for us humans… what goes on in the mind of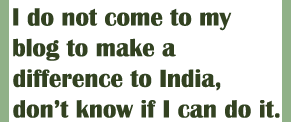 various individuals comes out on the blogs… I wouldn't go into rating quality… I genuinely believe its your personal space… and you may do whatever you feel on it.
Once I heard Barkha Dutt talking of monitoring and regulating blogs and I felt utterly and shocked at that thought. It sent a shiver down my spine. A media person talking about curbing freedom of expression… huh??  I hope nothing like that ever happens.
Picking just 5 favorite blogs is really difficult… but I will give it a try.
Gappa by Surangna. She calls herself  Ugich Konitari (marathi) meaning just someone. She if anything for me is a wonderful observer and a beautiful narrator. There are many beautiful small things in life we tend to just over look but she points out those exact things.. she is the most sensitive of writers if you ask me. Though it's the same world we live in … it seems like a completely different world through her narration and that world is a lot more sensitive and utmost beautiful I say.
I have not interacted much with Surangna nor do I know much about her personally but her's has to be one of my most favourite Blog. Here only the blog is the sole determining factor. (Latest Post: Your Good Name, please?)
Apart from her all others will be biased depending on my relationships with them. It will be very unfair to list just 4. Lets try.
Consider it Crashed by Indyeah. You have interviewed her… Passion is what her name should be… she has unlimited  zest, she researches her posts well, she churns emotions inside you… forces you to think out of the box…At times I am like why… but that's what she does… she forces you to reason. I love her posts which always come from dil se… I learnt from her to not worry about what others think but just write what you feel and yes never worry about the LENGTH of the post !!!
(She is going to kill me for the last bit) (Latest Post: Bharat)
Soliloques of an Opinionated Mind by Solilo. She is one devil literally… her sense of humour is soooper…she is very clear minded and most resourceful. Her post on Bloggers in Sachai Ka saamna just gives you an insight into her skills of leg pulling trust me its an art… she generally comes out on top in all leg pulling… Indian Kabaddi team has one player with great potential if they ever start losing… !! 😀 😀  (Latest Post: Religious Freedom….)
(She is the Don in our part of the blog samaj and also has Spanish mafia connections !!!)
Craftyshines by Crafty. There are many emotions we all feel when we read blogs but I don't think we can exactly tell the writer what we felt… but Crafty does it best. She has to be the bestest of all commenter if ever there was to be such a contest. She is one talented kid, her crochet is no doubt most wonderful but more than that I don't think I have seen anyone else so far who works magic with words like she does… I try to imitate her a lot she has a distinct way with humor totally craftyway. Her blog is a powerful magnet. You gotta read her to understand it. (Latest Post: Intehaan Ho Gayi Intezaar Ki!!!)

V-Lokam by Vimmmuu. Devil's Advocate… here is another avid blogger… and the driest and the most sarcastic commenter… He is another one who like Solilo in some ways just finds the right strings to pull and mostly they are connected to our funny bone. He is terrific singer…and I mean TERRIFIC…you can hear him on his blog. His blog comes up with some really wonderful dry humour. Its really ultimate. (Latest Post: The a-T-b-A-c-G)
Apart from these 5 I can be frequently spotted spamming away to glory at

Q: What do you find to be the most gratifying aspect of blogging?
A: Like I said its an Adda for me. It's a place to be with friends, I have found some really wonderful people to connect through my blog some unbelievable people. Its hard to describe how people who you never met become a part of your life so much and also influence the way you think. It also provides an amazing insight into so many different individuals from different backgrounds. For me its discovery of people.
Q: 'Hitchwriter'. How did this name come by and what does it mean?
A: I wanted to create an ID and it is one really boring process on the internet, hitchhiker was a word I had read in comics… this name Hitchwriter stems from that… a gypsy writer… I didn't like it for a while but after people shortened it and called me Hitchy I started liking it, it sounds trendy. Eventually one special blogger termed it Hitchu… its perfect… I just love it… !!!

Q: Cricket and Tendlya hold a special place in your blog. What do you think about the emergence of 20 -20 and the falling viewership of test cricket? Do you also think that Cricket has overshadowed other sports in India? For example the recent victory of Indian Football team in the Nehru Cup,
A: Cricket and not just Tendlya but all Indian players hold a special place on my blog. I am a true Indian cricket fan and I am their STAUNCHEST supporter.
I didn't like the emergence of 20-20 but now we cannot deny it and it is the future of cricket. However I am a lover of Test Cricket, that's real cricket. If you actually try and remember… you will not be able to remember performances of 20-20 or even Odi's as  much or as clearly as you remember the Test Performances. Test Cricket is the ultimate test of Cricketers no two thoughts about that.
Cricket has overshadowed other sports most definitely. I am the wrong person to speak on this as cricket is my first love. But you can't blame cricket for the condition of other sports… Cricket is loved by the people like crazy SIMPLE. It's a poor man's sport, all you need is a bat and a ball and even two people can play it. You don't always need 22 players or 22 hockey sticks… the 1983 World Cup caught the imagination of our public and ever since it has been number one.
Every country has one sport that is most close to its public and cricket is a religion in India and I don't think nothing will ever come close to it. I am not complaining. However I would be glad if other sports do pick up. I love tennis a lot too… and I am hoping for good things from Somdev Devverman in the future, he is a guy to watch out for. I expect him to do better than Leander in singles. Indian Hockey Association is one institution that needs a total revamp because thanks to their pathetic management an 8 time Olympic Gold Medalist team now even fails to even qualify for the Olympics.
In soccer frankly we have a long way to go still apart from a few states we do not have a big enough following and unless people start following a sport its going to be difficult to find sponsors and till you don't find sponsors I don't know how can you provide infrastructure and encouragement to the players.
Q: Hitchwriter has another passion as well, photography! Which has been the most memorable of your photo trips and can you share with us few of your best photographs?
A: Photography is something I love…I and my friends Nigam and Jay who are my co-contributors on our photography blog – Photographs of India want to show India through our lens. Frankly its Nigam and Jay who contribute more to the blog than me. We firmly believe India has the most MOST beautiful landscape in this entire world. For one country we have the most wonderful diversification.
We hope to inspire more and more people to travel in India… Our photographs reflect the beauty of India rather than skills with the camera.
Kargil and Ladakh trips were most rewarding for Nigam and Jay. I missed that trip but the photo's on that trip are the most wonderful. Here are a few pics that we really feel are some of the best. Yes this indeed is India and this is not all of it, this is just the tip of the iceberg !!!
Also check out the header pic of our blog… that scene of wild Kiyangs galloping is a terrific shot..

Q: Hitchy!! In the past one year, you have found some amazing blogger friends. Have you personally met any of your blogging friends? Do you feel the necessity or the urge to meet them ever?
A: I have virtually met an unbelievable group of friends. I have met one blogger until today and set to meet another this weekend. I didn't feel the urge earlier but after my first meeting with someone who has  truly turned out to be my Hobbes I look forward to meeting more of them. I cannot believe two people who never knew they existed 3-4 months ago become such close friends.
We are contemplating to have a bloggers meet in summer next year sometime in May probably in Manali for a trekking camp where everyone is free and we have enough time to reflect while walking in the Himalaya's and over camp fires singing, eating, pulling legs and having a gala time.
I hope all our blog samaj vasi's are reading this and are thinking about making this meet a reality !!!
Q: Humour and Hitchy go hand in hand. There must be times when you would be feeling otherwise. In Situations like that, what are the things that will make Hitchy start dancing again?
A:  I too have my moments. I too rant at times but by and large I believe I am now here to spread smiles. Like I said I took the award jester of the blog samaj to heart. I try my best to keep my funny side up. If some one is feeling down and if I can get him or her to smile I would say job well done. Similarly there are some pretty lovely friends(co-bloggers) who ensure my moments are few and far in between bestowing me with tons of virtual hugs.
Q: One thing which Hitchy has rarely  blogged about is Politics. What are your views on the current state of Affairs in India?
A: It might surprise you that I used to blog about it a lot too when I started… but with time I sort of started to stay away from very serious issues. I still don't know how I can change anything by writing about it. Plus some very serious discussions and some heated arguments start happening once you go in this direction. I do not come to my blog to make a difference to India, don't know if I can do it. Eventually I realized that I come to my blog to have fun, smile and spread laughter if possible and so I try and stay away. However I do veer in that direction at times but now I just try to be dry and sarcastic about it.
India is not a perfect nation, very few are. I still do not think people in our country value their freedom as much, the day we start to realize that and start behaving we will go a long way towards perfection. I don't blame just the politicians. People get the government they deserve, so once we become more responsible more well behaved and more sensible we will automatically get a much better set of politicians.


Q: What is your advice to someone who wants to start a blog?
A: Don't wait just start…
p.s. if it's a guy I would just say to him…there are way too many female bloggers. I think that should set him running to start it.
On a serious note… I would just say be yourself this is your space and do what you like… don't worry too much about readers…I myself did earlier but trust me  they will eventually come… rather just enjoy what you are doing.
Q: Let's conclude off with a few favorites. (I changed Colour to Cricketer it suits me better… will it do ?? )
Cricketers :
Sourav Ganguly – Indian cricket will be forever be indebted to the steel he injected in its cricketers.
Virender Sehwag – The fearless uninhibited strokeplay of his against the new ball in test cricket is a pleasure beyond words.
Shane Warne – The wizard from OZ, a total freak… I can watch him bowl for hours… its all theatrical and he was sooooper talented.
Movies : Rang De Basanti, Mere Apne, The Ghost and the Darkness

TV Show:  I don't like any in particular. I watch T.V only for cricket, movies or travel and nat-geo. I used to love Yeh Jo Hai Zindagi… from DD days.
Book: The adventures of Tom Sawyer – by Mark Twain.
Time of Day: Whole day actually I love life.
Thanks a lot Hitchy for this wonderful interview. We are sure our readers would have had a rollicking time reading it. 🙂 Hope your leg isn't hurting after so much leg pulling. 🙂
Connect with Hitchwriter: Blog, BlogAdda. Twitter