"Because I am a woman, I must make unusual efforts to succeed. If I fail, no one will say, "She doesn't have what it takes"; They will say, "Women don't have what it takes";". We have this week, a blogger who provides fine thoughts and critical inputs into The Life and Times of an Indian Homemaker. We have Indian Homemaker who blogs at 'The Life and Times of an Indian Homemaker' interviewed for you where she talks about various issues. Read on…..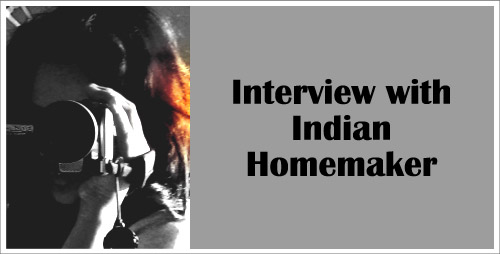 Q: When and why did you start blogging? Was it out of curiosity or something else?
A: In Jan 2008. My husband had pointed out a magazine article about Indian women bloggers, (I remember one of them was Chamko Rani). He thought this was my kind of thing. I googled the names, found the blogs and more blogs through those. I was amazed that there were so many Indian women 'writing online', I was amazed that such a platform even existed. For anybody who likes to write, having a place of your own, to write and to find someone actually reading it is like a dream. I was hooked.
Q: What topics do you generally blog about?
A: I blog about the everyday life of an urban Indian homemaker and her reactions to what's happening in the world around her. So I blog against violence and intolerance, and against our use of tradition, culture and religion to justify anything that common sense might refuse to accept; I write against gender bias, (a lot of this), and our biases against girl children even in educated families; against all stifling stereotypes, about my kids, pets and family, my domestic helpers, my neighbors and friends, and animal rights and politics etc. And about my blogging experience : )
Q: Do you ever get stuck when writing an entry? What do you do then?
A: I write irregularly whenever there's something to write, and get stuck only when there is no time to write.
Q: Do you earn revenue through your blog? How does one go about it?
A: No. I just want to write : )

Q: How important is it for the blogger to interact with their readers? Do you respond to all the comments that you receive?
A: I try to respond to every comment, infact I moved from Blogger to WordPress only to be able to respond to comments better. If the blog is interactive, which mine is, then it is important to respond to comments.



Q: How, in general, would you rate the quality of Indian blogs? Share your favourite five blogs.
A: We have an amazing variety of blogs, and it's interesting how much we disagree on everything specially politics and religion 😉
It's difficult to choose just five favorite blogs, I try and add all the blogs I like, to my blogroll.
Q: What do you find to be the most gratifying aspect of blogging?
A:  Blogging is cathartic. Injustice and cruelty  bothers me. I feel there's always something we can do. When we can do nothing else, we can create awareness.

Q: What are the challenges an Indian Homemaker faces in the current times?
A:  I guess one challenge is the impossible wish to do everything perfectly. Homemakers are often made to feel they are not 'working', generally by the same people who think women must put their families before their careers.
And then just when you start feeling smug about being there to watch your children grow, creeps in the uncomfortable thought that maybe now you have stopped growing yourself.



Q: You feel strongly about gender inequality. In the New age world, what are the reasons for the existence of gender inequality?
A: The biggest reason I think is our social conditioning. Inequality and injustice have become a habit. Women and men grow up hearing and believing that they must fit into biased gender stereotypes. I believe those who use their own minds lead happier lives.
It's really sad when women make generalizations about what every woman's priorities should be. If one went by these fixed rules we would see no women in public spaces.

Q: Given the numerous tasks in hand, how difficult and important is it to dedicate time for your children?

A:  Very important. They will be out and away from home, busy making careers and lives of their own very soon. This time with them is precious.
Not difficult because one good thing about blogging is the freedom to write from home, in fact from anywhere and at any impossible time.



Q: What are the changes that are seen in a present day 'homemaker' compared to a 'housewife' in the older times?
A: I think the basic and the biggest difference between their lives and ours is we have many choices that they didn't. We can choose to work, we can choose how many children we will have, we can choose to take a walk in the mall, or take new courses, or take a tour or simply take a stand. They could also take a stand, but I guess we can do it more easily. I am glad I am born today, when a homemaker need not, necessarily, even be a woman.
This question made me really think, let me do a post on this one : )
Q: What are the secrets to become a good homemaker and a super blogger?
A: LOL What is a good homemaker? 🙂 I have never walked around with a duster in hand. I can't and have hardly ever made chappaties. My kids think I get carried away with my ideas of healthy-and-wholesome and waste-not-want-not.  I would say we are lucky if we are doing what we like to do. Being a happy homemaker (and parent) is important. I find I am generally content as someone who enjoys the company of  her family, is reasonably organised, also has some time and interests of her own, and is willing to accept that her family does not always agree with everything she says : )
A Super Blogger? I wish I knew!



Q: Which tools/plugins do you use to efficiently manage your blog? Any widgets or tips you would like to share with our readers.
A: Any widgets that show who visited the blog : ) In my blogspot blog I had three such widgets. Feedjit Live Traffic feed, Extreme tracking and Sitemeter.
I also love a Blogroll that updates regularly. I miss that in WordPress…
'Followers' was a favorite widget on Blog Spot.

Q: What promotional techniques work best for you and why?
A: I had created a blog in 2005, but never published any posts in it because I found no other blogs of interest to read or to interact with. Now I have learnt that at least for me blogging has to be interactive and unless I have other bloggers' views in their own blogs or in their comments on my posts, I lose interest in writing. I look for like minded blogs to read and I love to join the discussions there. This also becomes a promotion of sorts.
Q: What is your advice to someone who wants to start a blog?

A: Create a blog, publish a post and  read and comment on blogs that interest you. Interact.
Thanks a lot Ma'am for the interview. It was a pleasure reading about your views on various issues which are of utmost importance today. We are sure our readers would feel the same 🙂 .
Recent Posts from her Blog:
Connect with Indian Homemaker: