There is a very popular Hindi saying 'Ghar ek Mandir hain'. There are a lot of people who decorate their house and make it look chic. There are some people who help you do that and who are very very passionate about interior designs. One such blog from the Indian Blogosphere is 'An Indian Summer' which is one of the top Indian Designs blogs and among our Best Indian Interior Design Blogs. We have the driving force behind the blog, the beautiful Bhavna Bhatnagar interviewed for you. To know more about what drives Bhavna and the 'An Indian Summer', read the interview.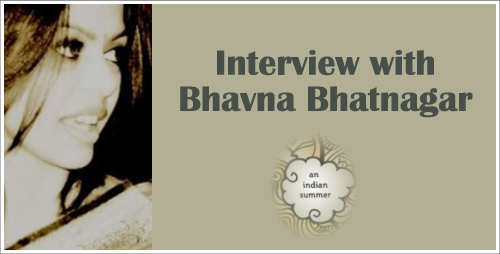 Q: When and why did you start blogging?
A: I started blogging in June 2007. After about ten years of corporate life, I felt a strong need to find an avenue where I could express, and also keep alive, the creative self. Not that I couldn't be creative while strategizing or managing projects – I made sure that my presentations or excel documents were most aesthetically formatted ;-), but well, blogging about interior design gave me a wider canvas and a forum to interact with a bunch of other design enthusiasts.
Q: What topics do you generally blog about?
A:  Interior design, home design and more design! And travel destinations (aka' boutique hotels) that have a strong design element – the kind I like. I enjoy posting about international (and Indian) designers who are inspired by India or Asia, and shops/boutiques that support and/or help revive Indian art, craft and textiles. Apart from India/Asia, I like to present designs from other countries that resonate with my design sensibilities, like Morocco, Brazil, Mexico, Scandinavian design etc. I also love showcasing new design talent from India. I am constantly amazed by the incredible amount of creativity and vision that young designers bring to the table.
I recently also started another blog- An Indian Summer Likes, that showcases inspiration beyond just interiors.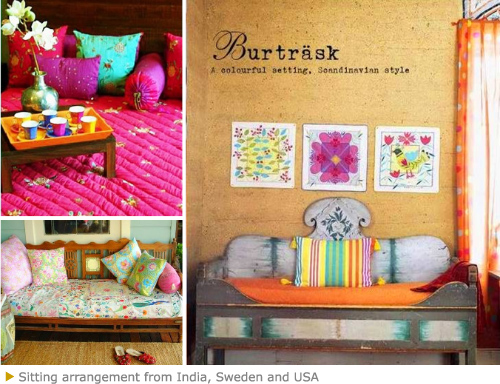 Q: Do you ever get stuck when writing an entry? What do you do then?
A: Yes, I do and I just don't write as much then! There are days when I don't 'speak' too much but just let the images do their work. And then there are days when I 'sing', joke, pull a leg, converse with my readers. My posts, even though primarily related to design and decor, tend to reflect my mood at the time of writing.
Q: Do you promote your blog? What promotional techniques work best for you and why?
A: Apart from establishing a growing network of like minded individuals i.e. people interested in design, and design from India via facebook and Google connect, I don't do anything specific to promote my blog. Though, I do remember that when I started the blog, I reached out to bloggers with similar areas of interest, submitted my blog to blog directories and gradually established a distinctive presence in the world of design blogging.
Q: How important is it for the blogger to interact with their readers? Do you respond to all the comments that you receive?
A: If your blog is public and is designed/written to attract readers, it is essential to connect with the readers. The connect could be via comments, or the way you write your posts or responding to the emails you receive. For me, while the blog is primarily a creative outlet for me, reader feedback and comments are very important to sustain the energy and enthusiasm that I put into the blog. I cherish each comment and email, and try to respond, at the least, to any question or feedback that comes my way.

Q: What inspired you to name your blog 'An Indian Summer'? Was it difficult to create a place and name for yourself in a niche and exclusive category of Indian Interior and Design blogs?
A: Ah! I wish I could say that once upon a time there was this brilliant flash of lightening and I had a vision that my blog's name had to be 'An Indian Summer' and nothing else! But alas, no such dramatic moments. I guess I was looking for something to define the 'Indianness' of the blog, and in the month of June (when I started the blog), the first thing that came to my mind, and stuck, was – the Indian Summer. The uniqueness, the impact and the sensory explosion of a summer in India. Also the fact, that 'Indian Summer' is a distinct phase of autumn in the west, and led to a lot of unsuspecting weather enthusiasts to my site, helped!
No, it wasn't very difficult to create a place and name. In the international interior design blog space, the readers had been searching for focused inspiration and ideas from Asia and India, and my blog was one of the very few such blogs at that time.
Irrespective of the topic of the blog, if your blog is for public consumption, it is important for readers to start identifying and appreciating your distinctive style. Which means that you do need to have a distinctive style that sets you apart from others in the same space. I think the immensely creative and growing league of design bloggers from India has been able to do so very effectively.
Q: We noticed that you have a separate section for Asia-Design and India-Design. Are both very different in current times? What unique style is common to both?
A: At the very basic level, the distinction on the blog is for the design that I showcase from India vis-à-vis the design from other Asian countries.

In the last few years, geographical boundaries and identities have blurred when it comes to 'good' design. Even then, there are noticeable elements related to each genre of design. When it comes to India, the scope and depth is quite varied – you can have influence from different regions like, Rajasthan, Kerala, or Goa (Portuguese). Or, you can get inspired by styles like the bright kitschy, the British colonial, the traditional village, the mughal inspired, or a more modern make-best-use-of-limited-space metro style. Likewise Asian design has its unique elements – the zen of Japanese interiors, the opulence of Chinese decor, or the symmetry of South-East Asian design.
Some of the common design elements between Asia and India would be the innate sense of color, rich textile heritage, and the use of iconography – religious or with other significance .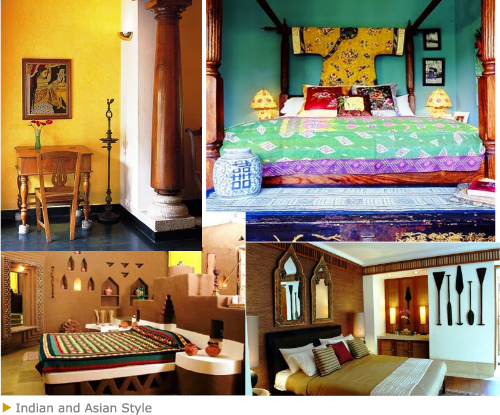 Q: What advice do you have for someone with a limited budget to decorate a new house?
A: That there is nothing like a limited budget! Some of the most creative and innovative spaces are designed when money is in short supply. Some quick tips when you are making each rupee count:
Review what you already have and see if it could be repurposed. Example: If you have cotton sarees lying around, use them as drapes rather than buying new curtains. Back them with inexpensive bamboo chiks in rooms where you need privacy. Or, the old trunk that has been lying in your store – get that out, paint it, and use it as a table, or, put chair pads on it to have an instant sitting arrangement
There are some things that do need an investment. Like good furniture. Like a good Sofa/Couch. Improvise till the time you can save money to buy that perfect piece of furniture. Rugs/dhurries and large cushions look awesome. Cane moodhas/chowkis for the folks who would can't sit on the floor. Do not fall into the temptation of buying low quality furniture.
De-clutter. A neat, clean, uncluttered room is a design statement in itself. Tell your guests that you went for the 'minimalist' look!
Scour the DIY sites. There are innumerable inexpensive ideas of doing up a home yourself, and also creating essential and decor items. And you don't need to be the 'creative types' to DIY. You just need to be able to understand and follow the instructions 🙂
Keep changing the look of the room. Rearrange the furniture, the paintings, the vases. It could drastically alter the look of the room and you just might figure that you don't need that expensive renovation now.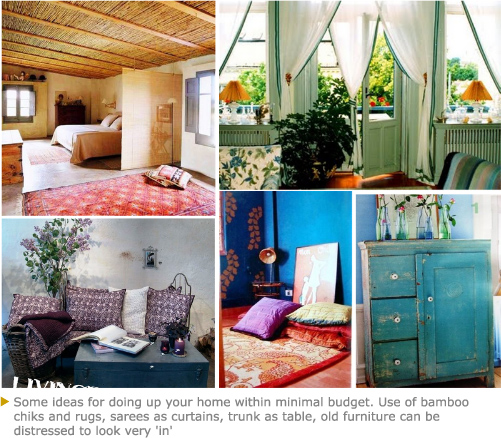 Q: Bhavna, people define modern and/or contemporary design in many ways.  In your eyes, what design elements are important in creating a modern / contemporary look?
A: When I think of a modern/contemporary home, I still like to think of it as a place that is warm and inviting as a home should be. While I love the clean lines and interesting angles of modern architecture, I am not too fond of the look that incorporates materials like steel, plastic, fibreglass and similar. At least not for homes.
My definition of modern/contemporary design is a home that:
– has global appeal. Where a stone buddha, and a kilim rug can live harmoniously with straight line, non fussy furniture, and the room would be considered well designed in any metropolitan city of the world.
– is equipped with technology to make life simpler, if not luxurious, for the occupants.
– is consciously environment friendly.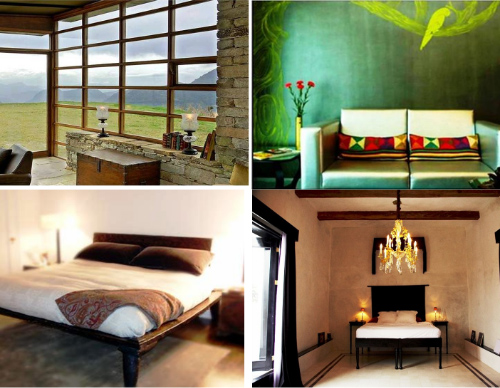 Q: Two things that caught our attention were 'Bazaar', where you are trying to sell Indian things and a platform to encourage designers to showcase their work. Very interesting initiatives. How has it progressed?
A: An Indian Summer Bazaar, is a venture where I am trying to bring together a bunch of drivers: my love for shopping and sourcing uniquely designed Indian arts, crafts and textiles; an attempt to understand and implement fair trade; and, being able to give access to above to the interested readers/buyers. The bazaar is on hold right now since it requires a lot of committed time. Hoping to revive it again next year!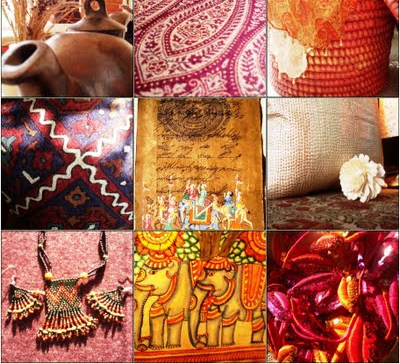 Work Submission: As I mentioned earlier, I am very impressed by the creativity and passion that exists out there. I specially want new  designers, artists, craftspeople to leverage the blog as a platform to showcase their work to a global audience.
Q: Did you nurture an interest in interior design and art from a young age, and what do you find so appealing and rewarding about your career?
A: Yes, I have always been interested in interior design. 'Inside Outside' used to be my favourite reading material, along with the Enid Blytons.
Interior design is not a full time career for me currently, though I have started taking up interior design projects from beyond just family and friends now. I have helped clients in other cities and countries to do up a room, a home, and even a wedding in Indian style, as characterised by the design I showcase on my blog.
Q: Bhavna, what do you do when you are not blogging? Do you earn revenue through your blog?
A: I am a Learning and Development consultant/coach by the day. I took the leap from a full time corporate career to consulting after about a year of blogging.
I earn some minimal revenue via my blog. Primarily from sponsors/ads who want to take advantage of the demographic profile and the design inclination of the readership of the blog.

Q: What do you find to be the most gratifying aspect of blogging?
A: The fact that I am doing something that I am passionate about, and being able to connect with readers and creative folks all over the world. The emails and comments I receive from readers make my day!
Q: How, in general, would you rate the quality of Indian blogs? Share your favourite five blogs.
A: Hmm…when I read blogs, I do not necessarily classify them as Indian or otherwise. Apart from some international and almost all Indian design blogs, I read blogs by authors with a captive writing style, that is witty and/or informative.
Q: What is your advice to someone who wants to start a blog?
A: What are you waiting for? 🙂 Each individual blogger has a different need and purpose when it comes to blogging. I guess the first thing would be to try and identify those, and then design/write/market your blog accordingly. Or, go the agile way – create something/prototype, run in a test environment, review whether you like the results or not, and if not, then think of something new, and try all over again!

Q: Let's conclude off with a few favorites.
Color: Changes with changing season. Current favourites are plum and ochre.
Movie: I am not really a movie buff and like movies across a wide range. Some movies I have liked for different reasons– Before Sunset, Amelie, Dev D, Khosla ka Ghosla, Monsoon Wedding, As Good As It Gets, the martial art movies where they fly from one roof to the other – I find that fascinating!
TV Show: Grey's Anatomy, The X-Files (eons back!), any 'before' & 'after' type show.
Book: Damn, these questions are tough! I am voracious reader and have liked so many books, that it is impossible to name one. I am currently reading 'Tales from Firoz Shah Bagh' by Rohinton Mistry – one of my favourite authors.
Time of Day: Early morning when in the mountains, Night time in the city.
Your Zodiac Sign: Capricorn.
Bhavna Bhatnagar's blog – An Indian Summer
[All images from An Indian Summer. For original image source, please visit An Indian Summer]
Thanks a lot Bhavna for such a awesome interview with a lot of visual pleasures. It was a pleasure interviewing one of the trend setters in the Indian Design blogs.