An Engineer by profession and a writer by compulsion. His single claim to literary honors is a 'Highly Commendable' certificate in Class X in an English Essay Competition organized by the Royal Commonwealth Society. This is what he says but we know it is humility. He has just got his first book 'Zero Percentile – Missed IIT Kissed Russia' published. We have the author and the blogger behind 'The Maven Haven' – Neeraj Chhibba interviewed. Read on to know what he has to say about Russia, Education and much more…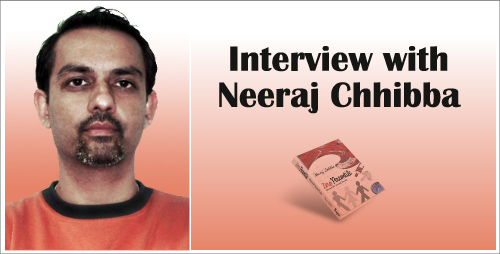 Q: When and why did you start blogging?
A: Well, I started blogging almost a year and a half ago because I had that compulsive urge to write and blogging gave me that platform to write in a meaningful way.

Q: What topics do you generally blog about?
A: I blog about life in general. It can be anything related to my observations related to species on moving legs. Then there are things which I pick up from everyday life and blog about. I have written about family, the generation gap, things which were an eternal part of my childhood and can't be seen anymore and that every one of us has a story to tell, to name a few.
Q: Do you ever get stuck when writing an entry? What do you do then?
A: Yes, off course. It is very natural for anyone (including me) to get stuck while writing a post. When I get stuck for long, I take a break, let the topic roll around in my head till the time I have the missing link that takes my post to its logical end.

Q: Where and how did the eureka moment happen to write a book? How long did it take to complete writing and how difficult was it to finally publish it?
A: As said above, I always had that very strong urge to write. But you need a lot of support and confidence to write a whole book. That's because you are treading the untested path, you don't know whether what you are writing is good and more importantly whether you would be accepted. The eureka moment came when I got my laptop about five odd years ago. Knowing that I had Microsoft Word as a friend. I sat down to write. And rest, is my small piece of history.
It actually took me almost a  year to come out with the final manuscript. Out of total time I spent on the book I needed about 6 months to write and the rest to read, re-read and re-write to make the flow of the story more spontaneous.
Q: Promotion is a very important phase in an author's life. We are now seeing a few Indian Authors using the online medium to promote themselves. How is the promotion in online space benefiting you?
A: Yes, you rightly said that promotion is a very important phase in an author's life. Your book finds you the way to the publisher and the publisher gives you a platform and beyond that it's a level playing field. In order to let people know that there is this book which needs to be read you need the help of promotion.
Now, coming to the answer to your question, I feel that the online medium has a very important role to play in today's ever changing world. Social networking has changed the whole face of internet marketing and it is very important for anyone who wishes to succeed to be able to utilize the strength of this medium. I have benefited immensely as, in today's world of diminishing attention spans, Facebook, Orkut, My Blog, Twitter, My Website, have all given me an easy approach to reach out to people anytime and from anywhere.

Q: 'Zero Percentile – Missed IIT Kissed Russia' is about life in Russia. How was life in Russia for you? Can you share with us your experiences and a few learnings from Russia which you brought back to India?
A: This book is not entirely about life in Russia To put it in the right perspective, it is about someone who wished to get into the IIT, but could not and eventually landed in Russia for his engineering.
Life anywhere away from home is hard. And, so it was in Russia. At home you are pampered, have a great support system and without your realizing things happen. Whereas, in Russia we had to do everything ourselves (cooking, cleaning, washing, shopping and off course studying that too in Russian Language and competing with the Russians in their own language). So, the biggest learning that I would like to share with people is that we should value our family, our support system. Then, living in a far off place like Russia you also get exposed to a lot of cultural diversity (we lived there with the Arabs, the Hispanics, the Africans and off course the Russians) and through various interactions with people from other background you learn to absorb the good points in their culture and be more tolerant towards other faiths. I, myself came back from Russia, rounded, more mature and a cosmopolitan.


Q: Your book covers the difficulties a student faces while studying on foreign shores. Share us something about your book. How different are the Indian universities as compared to foreign universities?
A: I have answered your question partly above. As a student, the most difficult part was competing with the Russians and that too in their own language. After the first year, in which we were taught the language, all the technical lectures were conducted in Russian. I remember sitting in the lecture hall, along with 100 other students, and absorbing what was being said (in the lectures) just like the locals did. No concessions were sought and none granted because of us being foreigners.
The book covers in detail the part on the Indian student's life in Russia; his daily routine,  life in the hostel and the University and the examination system in Russia. I have portrayed all that, tried to tell it like a story with many twists and turns to make it interesting but still plausible.
It's a pity that I can only comment on the Indian system of education from a borrowed viewpoint. So, I will restrict myself and comment on something that I had experienced first-hand. Let me tell you that the Russians are a very learned and a highly qualified people. In Volgograd, where I studied, we used to joke that if someone threw a stone randomly it would hit either a Doctor, an Engineer or a Teacher. Also, there is a significant difference between the examination system there and in India. There, the question paper was of 5 marks with a maximum of 3-5 questions – while in India you have marks given usually out of hundred and a huge number of questions to answer and absorb.
Q: You dreamt of getting into IIT – Point to be noted my lord. 😛 Do you think the pressure on Indian students is increasing day by day and so is the competition? Do you also think that in the end when you are looking for a job, your university matters?
A: The pressure is there and yes I will concede it is increasing too. But, we must remember what Mr Darwin said that only the fittest survive. What I believe is that people

adapt to their surroundings and evolve continuously. So, when it comes to a pressure cooker situation for our students, they have the capability to absorb adjust and excel.
The University does matter a lot because it elevates you to that platform where others may not be able to reach.
Beyond that, it is your hard work and capability. Let's compare this to a star son who is being launched in his first film. Though, the situations are slightly different, the star son is there because of the break that he could get because of his father (in a career that role is played by the University) but beyond that it is his own talent, hard work and acceptance by the masses which comes into play (in a career it is our ability to work hard and smart that decides how far we go).

Q: Failure is a part of everyone's life. How did you cope with failure of not getting into IIT and what tips would you like to share to help our readers get over failure? Did not getting into IIT prove to be a boon in disguise?
A: I decided to move on as ruing lost chances never helps. Looking back to  pick up learnings is good so that you don't commit the same mistakes again but stopping there and living in remorse for the rest of your life is not the most correct thing to do. Moreover, failure is not the correct word here and so someone not being able to make it to the IIT should not consider himself to be one. There are other doors which should be knocked because you never know which one will open and take you to your destination.

Q: If you would like to change one thing from your life, what would it be and why?
A:I would love to have started writing at the age of twenty one instead of waiting so long to come out with my first book.


Q: How important is it for the blogger to interact with his readers? Do you respond to all the comments that you receive?
A:The best way to connect to your readers is to listen to what they are saying (rather writing) very carefully and then responding to it. Yes, I do respond to every comment on my blog, even if it is a small three-four word sentence.
Q: Talking about Interaction, how difficult was it to interact with your fellow students and people in Russia? 🙂
A: Cultural diversity does tend to restrict you from moving out and talking to other ethnical groups. But for someone who aims to be successful in life it is a must to break out of the shell. In my case, initially, language was a barrier but eventually we formed a bigger group and made friends with people based more on their personality than the label that they carried from their country.

Q: What do you find to be the most gratifying aspect of blogging?
A:An unknown reader who chances upon your blog and then leaves a comment praising it and identifying with what you have written. And the bigger feeling is when he comes back and becomes a regular.
Q: How, in general, would you rate the quality of Indian blogs? Share your favourite five blogs.
A: Indian blogs are very good, written by some very intelligent people who have an opinion on the state of things and are learned enough to write a few hundred words on them.

Q: What is your advice to someone who wants to start a blog?
Be consistent which I am not always.
Choose who you are writing for – yourself or others.
Choose your topic carefully based on your decision who you are writing for.
Don't get disheartened. You need to keep on writing continuously for a very long time to get a faithful following.
Understand whether you are doing it for a reward or for the reading pleasure (yours' or others')
Q: Let's conclude off with a few favorites.
Color: Blue
Movie: The Godfather. Have watched it at least ten times.
TV Show: I haven't moved on. I still get nostalgic about Prannoy Roy's 'The World This Week'
Book: I could say The Godfather again but let me say The Prodigal Daughter by Jeffrey Archer
Time of Day: As the day progresses, so deep into the night (no fixed time)
Your Zodiac Sign: Scorpio
Thanks a lot for the wonderful interview Neeraj! We are sure our readers would have got a lot of insight on what your book and more importantly what you are all about :). We wish you all the best for the success of your book.