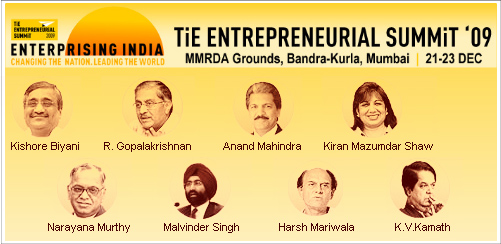 TiE Entrepreneur Summit has emerged as Asia's largest summit for Entrepreneurs bringing together entrepreneurs, venture capitalists, policy makers, academia, industry, thought leaders and other stake holders. It is back with this year's edition at MMRDA Grounds, Bandra Kurla, Mumbai, between 21 – 23 Dec., 2009. Read on to know why you need to block your dates for the summit.
TiE have poured all their passion and worked very hard to put together, what is perhaps the most unique, exciting and well represented un–conference of Enterprising India and here is why – 18 unique, inspiring examples of Enterprising India, identified through a nation–wide Made–in–India search, who will share their stories with the attendees after the iconic co–hosts introduce these inspiring Enterprising Indians across areas such as:
Malvinder Singh – Health is Wealth (21st Dec.)
Narayana Murthy – Education the Great Leveler (21st Dec.)
K V Kamath – Financial Inclusion (22nd Dec.)
Harsh Mariwala – Innovate or Die (22nd Dec.)
Kishore Biyani – Serving the Indian Consumer (23rd Dec.)
R S Gopalakrishnan – Make things better, Make better things (23rd Dec.)
The above esteemed names will make you reach out to your scheduler and keep yourself free on 21 – 23 Dec. Register yourself now!! These are some of the names who are going to be there. For more details, visit TiE Summit 09, Mumbai.
Who should attend and Why?
If you are aspiring to start a business.
Have just started your enterprise.
Growing / scaling-up your enterprise.
Running a Family business.
Want to or trying to innovate.
Want to connect with the Who's – Who of enterprising India.
Network with 2,000 other entrepreneurs and the entrepreneurial ecosystem.
'Meet the Investor' sessions …  connect with Angel investors, VCs, PE firms
Financial Clinics by ICICI Bank …  get your enterprise evaluated.
TES Connect: Start networking even before the Summit.
1,000+ facilitated networking and mentoring sessions.
9 Panel Debates on opportunities and challenges in Education, Infrastructure, Social, Financing, Security, Telecom, Greentech, Security, Desi Jugaad (Innovation or Survival)
The Agenda of the event looks to be a star studded one comprising of the respectable names covering the Indian Industry as a whole. You can read the Complete Agenda and you are sure to get even more excited. 🙂
TiE Summit also promises 3 DAYS of a UNIQUE Entertainment experience, Opportunity, Connection, and Information…
They have set–up a mega Super Dome AC structure (60,000 sq.ft) with an AMPHI–THEATER style seating which includes an Enterprising India Market Place, a 20,000 sq. ft uniquely designed market square. It features innovative and interesting business models. There is also a special Enterprising India Signature Anthem composed by Pradeep Udhas and sung by Shankar Mahadevan and Jaspinder Narula.
All of the above starting at Rs. 4,999/- onwards (including lunch, beverages)
And finally Entertainment Mumbai ishtyle…A rocking evening titled "Enterprising India ROCKS!!" (22nd Dec.).
For bloggers who want to get inspired, meet the real people and get lot of gyaan from the who's who of the industry, this is the place to be. Visit TiE Summit for more information and Register Now! There are some more interesting initiatives being taken for the very first time for this event. Do watch out for more details.