Theoretically, Alchemy is an early protoscientific and philosophical discipline combining the elements of chemistry, metallurgy, physics, medicine, astrology, semiotics, mysticism and art. Alchemy has been practiced in ancient Egypt, India and China. Practically, Alchemist are these wonderful people who could convert things into gold and our interviewee thinks that as a wordsmith she does spin gold. 😉  She blogs at 'Visceral Observations' and is also the brains behind the 'Avant Garde Bloggies Awards'. We present to you the first interviewee of the year, Poonam Sharma aka Alchemist Poonam. Read on to find out more about the Alchemist.
Update: The Part 2 of this interview is live.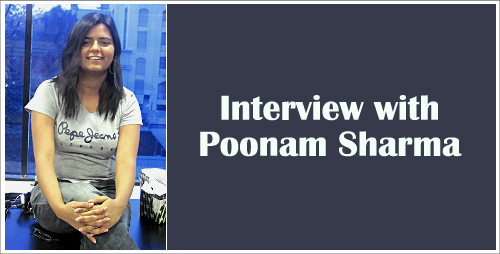 Q: When and why did you start blogging?
A: I started my blog on 16th February, 2007. That makes it almost three years ago. I am not a big one to remember dates, but I do remember this one because I did a post dedicating the fellow bloggers who played a role in some way of other in my blogging journey.
I started blogging as a medium to record my reactions and opinions on various happenings, mostly state of affairs around India. But the blogging takes a life of its own and soon I was writing about other things.
Q: What topics do you generally blog about?
A: My blog has no niche. I have written about social and political issues, consumer rights, environment, disability, human rights, movie and book reviews and occasional personal posts.

Q: Do you ever get stuck when writing an entry? What do you do then?
A: It may come across as a surprise when I say that I never get stuck while writing an entry. But it is true. I have written all my posts in one go, without pausing to even proofread. In fact, I do not proofread, so some typos do seep through at times.
My problem is more like what to write about. Countless ideas that I have during the day get lost. I think the only way I deal with it is to blog with discipline. Make it a point to login and write. God knows, I have made such resolutions in past and have failed.
Q: How important is it for the blogger to interact with their readers? Do you respond to all the comments that you receive?
A: I think it is very important for a blogger to interact with readers. In fact, my blog has a loyal readership that has retained through my current sporadic blogging days only because of the discussions/interactions we have had in past. I try to respond to all comments in my blog, but lately I am unhappy to admit, I haven't been able to keep up.
Q: Poonam loves to talk about love, space, stars, flowers, finance, sex, drama. Finance seems to be the odd one out otherwise from a romantic self. 🙂 A few thoughts on each one of them would be great.
A: Yes, finance is an odd one and doesn't fit my dreamer-and-arty-kind of personality. I was good at Maths at school (I have my mark sheets to prove that). But my mind

doesn't like numbers; it just shuts down in boredom at the mention of it. Yet, I made myself learn necessary things like how to calculate tax on a given salary package, I have taught several other women how to do it.  I hired an asset management company (AMC) for making my investments (contrary to how may look now it was not a very huge amount) and had them explain to me what works how and why. Though fat good that did to me, since stock markets crashed soon after, and most of my investments went into losses. :-/ But yes, I can handle necessary finance. I believe every woman should learn to do it.
Love: A necessary evil. Reminds of a beautiful quote: Love me most when I least deserve it, because that's when I most need it!
Space: Intriguing and boundless. Trigger for a lot of imaginations.
Stars: Believe in celestial and intrigued by the 'astronomical' ones.
Flowers: Love to click them. Beautiful reminders of nature in our daily, corporate lives that has nothing to do with nature.
Finance: Already said enough about it. 🙂
Sex: I hate the prudishness that is associated with the discussion of sex. However, a discussion about sex is not meant to be an expression of raunchy, gross and graphic ideas.
Drama: I love theatre. Delhi, where I come from, has a rich culture in theatre, unbeknownst to most people, even its residents. There is no thrill like watching a live performance of a play with its music, costumes and makeshift settings. I adore street plays. Think I can and should direct at least those.
Q: Everyone loves to be adventurous at some point in life. We also know how much you love taking part in adventure sports. What and where has been the most awesomeness experience you have had till now?
A: Yes, I love adventure sports. But that said, I would be hypocrite not to admit that every time I take part in an adventure sports, my heart thumps badly, threatening to burst out. I am always scared, but I push myself to do it.
I have rappled down the hills, jumped from cliff into Ganges, gone rafting, trekked, rode a water scooty (though this was on pillion :P) and parasailed in Goa.
Out of these, my best experience has been to rafting at Shivpuri, which is 20 kilometres away from Rishikesh. Snuggled between two huge mountains, on bank of Ganges, Shivpuri is a dream destination. I have been there twice with my friends' gang, who were the ones to recommend it. We camped in tents for couple of nights on the river bed. And in afternoons, we rafted on river Ganges. Rafting is a team activity, where together you brave the strong rapids of the river. It was (and is) exhilarating.
During our stopover, we jumped from the cliff into Ganges. Considering that I was a weak rafter, my friends were surprised when I took the lead to jump from the hill while everyone was still scared. Later when I returned to work, I had become a 'celebrity' since my tales of 'bravery' had reached all the managers and colleagues, thanks to my generous friends.

Q: You seem to be a voracious reader and have read about 53 books this year! Cool. If given a chance by a publisher to publish a book, what would your book be about? Share with us a character from a book that you would have loved to play in your real life.
A: That 53 book stats is from the last year. This year (2009), despite being slow, I have read more (62 so far), and still counting. 😛 If I ever wrote a book, it would be a book with an issue close to my heart, interwoven with a story, meant to make the masses happy. Since I don't have a story in my mind yet, I have not even attempted to write one. So far.
Considering that I am book lover who has several favourites, I would rather tell you about a character that I find most memorable for purely personal reasons. Barney Livingstone is a character from Eric Segal's book Doctors that caught my fancy when I was 18. The memory of this character has stuck.
Barney Livingstone is my dream man. Barney Livingstone and Laura Castelleno are childhood best friends, who grow up together sharing all their secrets. They date several other people, before they fall in love with each other. But the book is not only about the couple, it's about how these two people, two doctors, deal with the serious illness of their child. The book deals with serious medical issues and the ethics surrounding it.
Through it all, Barney Livingstone stands tall as a reliably tender, assertive and intelligent man.
Q: Poonam, you write about issues affecting Indian women in general. What is the most common issue affecting Indian women in the 21st century and how do you think we can overcome it?
A: Issues affecting women are many: beginning from eve teasing, molestation, sexual harassment, girl child education (or lack of it), to heinous ones like female foeticide, infanticide, domestic violence (DV), rape, dowry deaths and so on. But if you look at each of these problems carefully, you will note that only solution is change of mindset. If mindset is changed, people would not ask for dowry, girls would not be unwanted, women would not be beaten/molested/bothered in any other way.
It is common to say that education will change it. But actually modern education does not seem to be bringing about any revolution in thoughts. Educated men still make sexist jokes (in person or on Web). Some of the famous twitter-ers have gained their popularity by tweeting these vain, little sexist jokes. And the fact that they are popular shows there is an audience for them, most people love to think that way. But that some men tweet sexist jokes is least of our problems, the point that I am trying to make here is education hasn't really changed the way we think. We still carry forward out stereotypes for gender, region or religion. Each region perceives people from other region to be stupid, rowdy, and so on. We are led by age-old stereotypes and have closed minds. I am here talking about urban educated youth, and not a rural granny who understandably has an archaic way of looking at things.
It is common for people to tell you that you can't do this because you are women. Or that it is not 'proper' for a woman to do that. We discourage men to take part in parenting and help around the house or kitchen, since it is not considered macho. In certain societies, this is rather perceived to be Joru ka gulam! This is just an example of a closed mindset. An escalated version of such mindset is exactly what that leads to serious issues like dowry, DV, etc. Today's women (hopefully men too) should groom their sons without these perceived stereotypes, so that later they can grow up to be men that we women are proud of.

Q: According to your profile, you feel that you are the most misunderstood person on this earth. Why do you think so? What are your strengths that has helped you and others? Do you want to change any of those?
A: Oh, yes, I remember writing that once on my blog. I am a person of two extremes: either I will not talk to you much, be completely reserved and private (my colleagues and friends will vouch for that) or if I like you, I will be open and honest with you.
So the first category considers me as a high-nosed smug snob, which I am not.
On the other hand, I keep getting into trouble with the second group, people with whom I have chosen to be 'open'. With this group, I have this expectation that I should be able to talk about anything without a care or fear. This freedom of expression and open communication is extremely important to me. Something in me, doesn't let me be diplomatic or ignore things, I speak my mind with these people. And while I may disagree with your political affiliations or the conclusions you draw from a movie/book, I will still be your buddy and go out, eat and converse with you.
For me the discussion/argument doesn't transcend onto my personal equation with you. Despite your harsh arguments, strong viewpoints against those of mine, I will still be your same old friend. But it usually doesn't work that way for others, my discussions/arguments have come into way of my relationships with several nice people. Guess it must be the passionate, ruthless, hyperactive way of my arguing.
So I have a new policy, I do not get into arguments with three kinds of people: sensitive folks, second those who are determined not to change their mind 'come-what-may' and third those who have unpleasant, patronising way of arguing with their 'higher-than-thou' opinions. The people in latter two categories are not even worth my time.
As for my strength, it is sheer perseverance. I persist with hope in the worst of things. I survive. 🙂 Enough said.
Naaa, Not enough said. 🙂 We have lots more from Poonam in the second part where she shares with us about her career as an Instructional designer, her favorite Indian Blogs and much more. Do come back soon to read the awesome part 2 of the interview with Poonam Sharma aka Alchemist Poonam.
Connect with Poonam: Blog, BlogAdda, Twitter