Long lost friends are no longer far or connected via snail mail, they feel as close as ever with a Facebook or an Orkut. Business communications isn't about exchanging business cards and connecting when work arrives, its about keeping in continuous sync with your contacts (LinkedIN). From printing photos and mailing across CD's to sharing them on a Picasa or Flickr we have come a long way with Social Media already.
Over the past few months there has been numerous talks on the importance of Social Media and the need for corporates to adopt it. This went on to such an extent that one fine day I land up at an event called: Social Media: What Next? This struck me, even before we are fully into Social Media people are discussing what next? Perhaps this is out of the curiosity of many new entrepreneurs who are a part of the Social Media ecosystem now.
However for now, I look at this a little differently. What is in this entire Social Media hype for us as 'consumers' or as an 'individual'. Every platform from Orkut, Digg, Facebook to the newest cult Twitter was made to connect the e-man, powered by the community itself. Corporates stick their straw to these mediums to for commercial gains (for both the Social networks and themselves), however the whole Social Media ecosystem has a lot to offer us as individuals.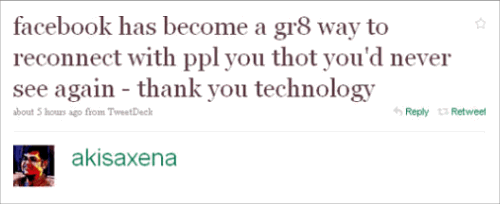 Finding long lost friends online is something we all did in the initial days of social networks. I recently met with three of my friends Aditya, Mitlesh and Swapnil after connecting with them on Orkut / Facebook – a full 7 years after school. In day to day goings, I no longer regret not exchanging phone nos with someone I just met, their LinkedIN or Facebook is now just a click away. However there is more to the social networks / mobile boom that we are in.
Once while I was out at a CCD with a few friends, close to midnight one of them received a SMS and wanted to rush back home. The sms was sent via their college group on SMSGupshup and the news was a morning lecture the next day. This struck me, what an IDEA! I wish I had sms alerts from my college CR, if not when the lectures were scheduled, atleast when they were canceled. Some how I always landed up for morning lectures at 7AM, only to find them to be canceled.
The global reach of these networks is something we are still exploring. With 350 million users across the globe, Facebook is HUGE. I realized how powerful this medium is only after my neighbor's dad who is barely a month old on Facebook told me his experience. He isn't there to keep a watch on his kids (no I don't believe him on that) but actually help himself while traveling abroad for business.
On a recent trip to Uzbekistan where he was participating in an exhibition, he Facebooked (searched on Facebook) people from the city he was visiting and sent a message to some 25 of them saying that he is landing in Uzbekistan and is looking for help on exhibition day. 5 of them replied, 3 turned up for the exhibition! YES! Since they all knew English aswell as the local language, he didn't need to hire a translator. He got assistance calling up local businesses in the local language to invite them for the exhibition, getting the currency exchanged, moving around the city etc. What he paid the three good men and women was a fraction of his original estimates and much more convenient (one of them refused to accept any money). The story gets more interesting with one of those agreeing to become the local point of contact for him to trade in Uzbekistan.
Another incident that Deep Nishar shared with us during the LinkedIN event at IIT was how a young entrepreneurs starting a magazine in China was benefited by free consulting from an industry expert from US who responded to his post on a LinkedIN group. According to him the consulting was worth more than $100,000 and at the same time the entrepreneur saved 6 months of time + working capital. These are just a few incidents of people digging a gold mine with these networks. With startups like YouPid exploring options to further widen the social media spectrum, we sure are going to witness some interesting innovations in years to come.

Real time web takes things to a completely different level. I am often alerted by readers on any downtime on my blog, error in any fact / figure I publish or if something is broken (errors on the site). At the same time any help that I require w.r.t design or coding is now sourced from my pool of 900+ Twitter or Facebook friends. It was thrilling to see how the entire community came  together within hours of the Wall Project Vandalization issue. At the same time the crew of Alladin (the movie) could respond real-time to twitterer's.
While many wonder if we have reached the peak yet and would there be a Social Media bust? let us first use the medium to its full potential. The way ahead would appear only then. Its not about asking whats next, its about realizing – Thats Next!
Please note: The reference to the wall project above was only to highlight the power of real time web. I have no specific comments to make about the wall project issue in this post.
Annkur P Agarwal is an e-commerce consultant and the founder of OnlyGizmos network. You can connect with him on Twitter / Blog or at Startup Saturdays (A HeadStart initiative).