This maybe just a coincidence but we started this year with the first part of the Interview with Poonam Sharma and on the first festival of the year we have the second part of the interview. In the first part you read about her adventurous life, her take on issues affecting woman and much more. The second part promises to be a cracker. Read on to know about Poonam's ambitions, favorite five blogs and lots more…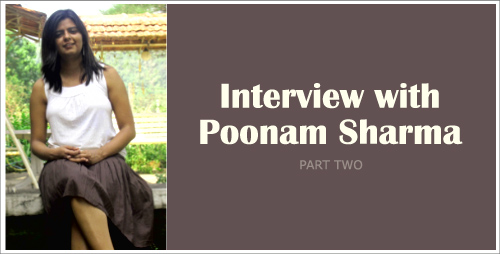 Q: Poonam, you want to be a movie director and your favorite films are all of different genre. We are sure you would be a successful movie director one day. Can you give us a sneak peek on what kind of movie would Poonam's directorial debut be and whom would you like to cast?
A: Like every dreamer, I have been foolish to announce to the world about my daydream to direct a movie. Honestly, I have LOT to learn before I can actually do that. I haven't taken a single step so far in that direction.
Personally when I go for a movie, I demand either a strong story or a great experience. Usually either of two suffices for a nice movie watching experience. So, if I were to direct a movie, it should have both of these. Something like Anurag Kashyap's movies Gulaal and DevD that defy prudishness and are unapologetic in their brutally honest portrayals. Or I would like to create great experiences like in Wake Up Sid that had a run-of-the-mill story but fantastic relatable experience.  If I could ever make a visually riveting movie like Avatar (in 3D) backed by a story (which is a typical Hindi masala movie but fits the visuals), I would say I have made success of my life.
Q: Alchemist Poonam and Visceral Observations. Two complicated words and has a lot of meaning behind it. Can you share with us the significance and the thought behind the names?
A: Alchemist (by Paulo Coelho) is a book, I am aware, people love to bash. But when I read it, several years ago, I found it beautiful, full of messages that made lot of sense to me. The protagonist Santiago desires something that is right near to him, yet he has to conduct a search round the world before he can get to it.  Life's like that. What I need is perhaps close by, but I need to make that effort to deserve to get it. Like mentioned in the book, I believe in some omens and instincts. And they have put me in good stead several times in my life.
Also, alchemist are these wonderful who could convert things into gold, I like to think that I as a wordsmith I do spin gold. 😉
As for my blog name, Visceral Observations, the word 'visceral' means intuitive, which is again a reflection of my personality. My decisions and choices in life are not overtly rational, but certainly intuitive. Hope this explains.

Q: We know you like to call yourself an activist. How do you think can one make a difference to create a better living for the people in the society?
A: Amend. I call myself a small-time activist. Small-time, because I really don't do much other than occasional teaching, writing and making protests (in person at times). There are many other people like my sister, who choose to work for NGO and work full-time in the social sector with dedication. Only such people can be called activists.
And yes, to your next question, I can certainly say that activists make a difference. My theory is if I can change the life of one person with my efforts, I have paid back my debt to life. I am still to get there, but hundreds of people are making a difference by touching the lives of the underprivileged and the troubled they come across every day. So yeah, I think activism makes a difference. And it can be done in many ways: creating awareness, counselling, donating, teaching, empowering people.
Q: You have blogged quite a few posts on Consumer Rights. With the power of RTI in the consumer hands, do you think the rights of the consumers have increased? Can you also suggest a few examples where you felt the consumer  used his right very effectively so that our readers can benefit from the learnings?
A: Consumer rights do not really grab our eyeballs in India. I think, Consumer Protection Act, 1986 till date remains most under-used law.
I am not being judgemental here, I too can give up (and have) when it comes to long-stretched battles because we all have paucity of time. Just recently, when my flight got cancelled, I got tired of arguing my case to airline to provide next possible replacement flight. When I realised they won't, and that I might be stranded for two days. I asked for full refund and booked a new flight that cost double. In that moment, I conceded my defeat as a CONSUMER. 🙁
However, there are people like Col. Rajesh Yadav and Amit, who refuse to be put down and have fought consumer court cases. Col. Yadav won a consumer court case against ICICI Bank when bank refused to after a debit card loss and fraud. ICICI bank had to pay him Rs. 80, 000 against the loss of Rs. 46, 000 from his account!

Amit is another hero, who irritated by overcharging at Bangalore Airport had filed a consumer court case. He won. (Though last I spoke to him, he was still waiting for the monetary compensation from the vendor.)
To me, they are the heroes of common man like us. Thanks to them, I know there are consumer courts, where you do not need to hire a lawyer and you can plead your own case. Usually consumer courts are faster. I recommend anyone who is willing to fight their case in a consumer court, read their interviews on my blog for tips and court procedures. Though it has not been easy for even these heroes to hold their ground, but their examples show us that it is DOABLE. We CAN.
For all the readers, who routinely post consumer rights queries on my blog, here is another post that I have written solely for this purpose. This post has links to all recourses available to a Consumer.
Q: Poonam's heart aches for ragpickers and wants to Hail and Save them, How do you think one can go about doing that? Have you been personally involved in any cause which are for the upliftment of ragpickers?
A: This subject is close to my heart. Every time I see small kids working as rag pickers, my heart does a painful somersault inside. I have written about this issue at various platforms other than my blog.
Not only is this child labour, but also even as a labour it is not recognised or paid well. These kids are not beggars, God, they do us a great service by helping in recycling our waste. For this, they pay dearly with their health and childhood. Ever taken a look at their fingers? They are badly cut, injured, calloused due to constant sifting through all sort of waste.
There is no chance of their attending school since they do this work full-time. Plus there is no real money gain: kabariwala seth robs you, MCD does not recognise you, policeman beats you and sometimes street bullies snatch your earnings.
Yes, I did try making some efforts for them. With the help of NGO (actually many NGOs), we did deliver gloves to ragpickers in some areas. We then visited the houses to request families to dispose of stuff, like broken glass that can injure, carefully. Told them a first level segregation of recyclable and non-recyclable things can be done right at home. That helps our rag picker kids.
Further, we organised teaching classes for these kids on weekends. I wish I could claim we were very successful. We were not. It was hard to retain kids for the classes. Even with snacks. (In fact, some came only for the snacks.) The group of students I taught on one Saturday was nowhere to be seen again on the next. Because these kids have to go and earn, the family needs the money. If you force them or are harsh, they will drop out completely. So you do the best you can. To this day, I wonder what happens to all those kids that are 'rescued' from child labour industries? My hunch is after all hue and cry, children perhaps go back to some other work, because we do NOT solve the root cause: the poverty of the family. The family needs employment. Period.
Which is why, I am a great fan of all the NGOs that let you sponsor a child's education. If your NGO tells you how money is being spent on a child, updates you on the child's educational progress, believe me it's a campaign we all must be part of if we can.

Q: You are an instructional designer. Not many people would be knowing about the profile of an Instructional designer. Our readers would love to know more about it.
A: Instruction Design is a study of how learning happens. Abroad, universities and colleges have courses on instruction design. In India, Symbiosis is the only institute that provides you a degree in the subject.
So as a training designer or instructional designer (ID), we design training program for a given subject and learner's profile. When I say designer, do not confuse me with a graphic designer. Most IDs in India have a dedicated team of graphic designers with whom they work.
So what do we do?
For example, Harvard plans to introduce a course in game design or Citibank wants to train its employee on a new banking software, they call in the services of an ID. As an ID, we do not need to have prior subject-matter knowledge of game design or that software. We have subject matter experts (SMEs) for that. We work in tandem with the SMEs to understand how and what needs to be taught and what goals need to be accomplished.
We (IDs), based on the profile of learner, decide what medium will we choose to design a program: Will it be through a video, or simple graphics or an animation or plain text information, a PowerPoint or via a mini game that aims to teach? We then decide the strategy to teach: Will our course have humor or a story or a scenario or simulation and so on.
A course plan is charted, a storyboard (SB) is created with instructions to multimedia team what to do, SME verifies the accuracy. SB goes into production a multimedia team brings our imagination to life. Our task doesn't end here. We need to have learner feedback and test them (the learners) to evaluate how effective the training program has been.
So, an ID is a director of a training program. I have designed training programs ranging from game design, visual design,  information security, supply chain management, business administration, corporate planning, ERPs, documentaries for schools and so on. As you can see, a career in instruction design is anything but mundane and can be a roller-coaster ride. You can learn more about ID, at The Writer's Gateway, a blog run by professional Indian instructional designer Rupa Rajagopalan.
Q: How, in general, would you rate the quality of Indian blogs? Share your favourite five blogs.
A: I find Indian blogs terrific. Be it politics, games, tech, social issues, or entertainment, you have fantastic bloggers in each genre.
From top of mind, if I have to name only 5, these would be:
Having mentioned them, I have to point out that I have a rocking blogroll. Each blog on my blogroll is worthy of being read regularly with interest. These blogs speak for themselves. So, they are all my favourites.
If you haven't interviewed these people here on Blogadda, then you must. Blogadda readers deserve to know more about them.
Q: What promotional techniques work best for your blog? Do you earn revenue through your blog? How does one go about it?
A: I DO NOT promote my blog. 8 out of 10 times, I update my blog, I don't inform anybody, do not even post on twitter or Facebook. Every loyal reader/subscriber I have had has been word-of-mouth. Also, I have had several other interview requests, but this is the first one I have ever agreed to.
Another example is the recently organised Avant Garde Bloggies Awards 2009. For this venture, after letting out the first information via blog and email, I did not spam anyone with it anywhere, be it twitter or Facebook. Only few, necessary updates were made. But I must add that it helped to know several wonderful bloggers and twitter-ers who helped to spread word via their tweets and blog posts. My sincere thanks to each one of them.
I have never made money out of my personal blog, so I would not preach about how to go about it.

Q: What do you find to be the most gratifying aspect of blogging?
A: Freedom to express yourself without any inhibitions and the discussion that comes with blogging is very gratifying. Sometimes, a conversation opens your mind, changes the way you look at things. And of course, appreciation and recognition that comes your blog is an icing on the cake. It has happened to me several times now, that I have gone to an event or a meet where no one recognises me. But if I mention my blog, they are like, "Oh, I know your blog. You are that Poonam." Suddenly I am no longer a stranger, but someone with whose opinions they agree (or disagree) and respect. That, I think, is the gift of blogging. 🙂
Q: What is your advice to someone who wants to start a blog?
A: Just get on with writing. Don't reconsider the idea/angle of the post too much. Start writing just as your thoughts start flowing, post will come on its own. Now is not the time to edit, editing is different process than writing. It will come later when you have put all your thoughts on blog.
Don't set a condition for yourself: That I will write when I finish this task or when I check this up and so on. Most probably you will never fulfill your condition and your writing will suffer.
And remember for writing well, you need to be a good reader first.
Lastly, interact with your commentators. Engage them. Because these are the people, whose appreciation and opinions will keep you going on your bad blogging days.
Q: Let's conclude off with a few favorites.
Color: Blue and Black. I need both, can't do without either of them.
Movie: From top of my mind: Casablanca, One Flew Over a Cuckoo's Nest, DevD, Gulal, Johnny Gaddar, Waltz with Bashir, Persepolis, Before Sunset, Eternal Sunshine of a Spotless Mind, Abhimaan, I could go on and on. Here is one such list of my favourite movies starting with each alphabet.
TV Show: None at the moment. I have not watched TV for more than six months now. But usually I like to watch dance based shows. I have loved both Nach Baliye and Jhalak Dikhla Ja at one point of time.
Book: Again from top of my mind: The Blind Assassin (Margaret Atwood), To Kill a Mocking Bird, (Harper Lee), City of Djinns (A Delhi book by William Dalrymple), Watership Down (Richard Adams), Riots (Shashi Tharoor), The Kite Runner (Khalid Hosseini), Angela's Ashes (A memoir by Frank McCourt), Shantaram (Gregory David Roberts), English, August (Upmanyu Chatterjee)..Oh, I could go on and on. You can get more info about my readings and choices at my Shelfari and Goodreads page.
Time of Day: Late in Night. I am a nocturnal bird.
Your Zodiac Sign: Aquarius
Thanks a lot Poonam for the interview and the first-look exclusive picture. We wish you the best for all your endeavors. It was a pleasure knowing the alchemist and for the first time the face behind 'Alchemist Poonam'. Readers, shoot in your questions now to Poonam and ask her something which you have always wanted to. Here is the chance. If you jumped in to this interview directly, do not forget to read the part one of this interview.