Every morning, there is a website which our celebrities would be surely visiting and praying that good things have been told about them. This is the reputation High Heel Confidential has built for itself. This week, we have interviewed the bloggers, the ladies behind High Heel Confidential Payal and Priyanka. For the first time ever, the Ladies of HHC have been gracious enough to send a photo just for our readers and we thank them for that. HHC is probably the only 'Desi Fashion Centric Blog'  which talks not just 'Bollywood' but all things 'Desi' pertaining to style and fashion. Get ready to explore the world of High Heel Confidential with some 'tadka laga ke' answers by Payal and Priyanka.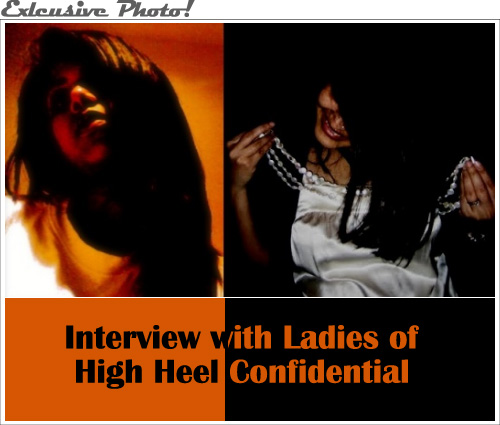 Q: When and why did you start blogging?
A: This blog came into being in August of 2007 and when we started blogging, in all seriousness, it was just for fun… a place to discuss fashion and throw opinions/views/verdicts at each other. Once it began to take off, we found that we were in a niche that was still quite unexplored and so we decided to make the blog a go-to place for all things fashion with relevance to the Indian scene.
Q: What topics do you generally blog about?
A: Always fashion. And always that which is current in or relevant to the Indian scene.

Q: Do you ever get stuck when writing an entry?  What do you do then?

A: Many a time. Especially on slow news days. Or on days when it's just the same celebrities making an appearance event after event (especially when there is a upcoming release to promote) and you pretty much run out of things to say. We sit back, take a breather and just get back to it. It helps that we have each other to lend perspective. And nothing works faster on a writer's block than a good dry martini.

Q: What promotional techniques work best for you and why?
A: Believe it or not, we've never used promotional techniques; word of mouth has been a strong influence in getting us our readership. A big thanks goes to all those who have told that one other person about our site and continue to do so.
Q: How important is it for the blogger to interact with their readers? Do you respond to all the comments that you receive?
A: Very. That's what separates a blog from say conventional media where there is a lag between the content and readers/viewers reaction to it. Here, reactions/comebacks etc. are always instant.

Ideally, we'd love to address each and every comment but considering it is just us two vs many, it becomes near impossible to do. Plus, every free second we get to ourselves, we are always hunting down material for the next post.
Q: How, in general, would you rate the quality of Indian blogs? Share your favourite five blogs.
A: Blogging in India is still in it's nascent stages but that doesn't mean there aren't some great blogs out there. In fact, we have so many favorites, narrowing it down to just five is a toughie! Our favorites include:
Q: High Heel Confidential – How did the inspiration for the name come by and do something unique like this?

A: We can't honestly remember how the name popped up but it totally stuck.
As for the inspiration behind the blog, we just started off with generic fashion related posts until the day we posted about an appearance of Kareena Kapoor's. Suddenly we saw a peak in visitors and the comments. We realized there were others like us who were looking for a place to discuss and dissect fashion and the fashionable. We picked a corner and decided to call it home. 🙂

Q: As you started, High Heel Confidential was writing more about Fashion Accessories. Today, we have companies like Bagsutra who offer luxury handbag rental service. Would love to have your views on this evolution.
A: Luxury bag rentals like Bag Borrow or Steal have been around for a while and it was inevitable that India would catch up. With the influx of global luxury brands, most people have become more label conscious and aspire for a piece of that luxury. While it isn't possible for a vast majority to drop the hundreds or thousands of dollars on one single bag, renting them makes it a far more attractive and attainable option for many. It's just one aspect of it though. Over time, people have become more aware of international fashion scene and are beginning to interpret it in a way that's suitable to their lifestyle.

Q: According to you what defines fashion? What are the fashion parameters by which you judge a dress or a collection?

A: Usually what defines 'fashion' is only fleeting, heavily dependent on cyclical and seasonal trends and influences. While it may be the 'it' thing that works that season, only innate style stands the test of time. There are no parameters as such… while looking at a collection we go by the freshness, innovativeness, interpretation of a trend or sparking off of one, the innate style sensibility the clothes carry and more than anything else, what appeals to us. Fashion and style being so subjective are hard to justify.
Q: Payal and Priyanka, have you done any formal course on fashion or does this come to your naturally? What are the things one needs to emphasize on, when writing as a fashion critic?

A: No, we have absolutely no formal training in any Fashion related field… all that we know comes only from our own passion for it, our taste for it and having educated

ourselves on it over time.
When writing as a fashion critic it's important to remember two things. One, it isn't always about you. Just because you like it and think it's the next best thing, it needn't translate the same with others. Sometimes, it's about what works on XYZ irrespective of your own likes and dislikes. XYZ might look great in a dress you hate and you've got to be able to make that call.
Two, one must separate the celebrity from the clothes. Just coz your favorite star wears a particular outfit doesn't automatically elevate the outfit.
Q: What kind of Fashion Style do you see becoming the trend in the coming days? How do you think Bollywood fashion has changed from the 80's to present and what are your views about the Page 3 style currently?

A: Sequins, exposed zippers, ruffles, exaggerated shoulders and velvet. All big for fall.
Eighties weren't easy on most of us but fashion being what it is, eighties have made a huge comeback this season, in an updated avatar of course, thank God. We've come a long way baby. Most of us anyway!
There is no broad-term Page 3 style but there are those who always get it right, those that never do, those who are stuck in a rut and those who don't shy away from experimenting. Either way, for us fashion voyeurs looking in from the outside, it all makes for a great visual tableau.
Q: You say a lot of good and bad things about how the bollywood stars dress up. Can you share with us some experiences which happened as a result of a post from your blog?
A: During the course of blogging we've established contact with some designers who sportingly engage  in dialogue with us and even encourage us. And then there are some celebrities who aren't really happy with what we do. You can't win 'em all. 🙂
Q: How difficult is it to get hold of all these wonderful pictures and then analyze without any disparity? What do you do when you are not doing this?
A: Getting pictures isn't the difficult part, what's really is time consuming is putting them in context that's relevant to the blog. When we aren't working on the blog, we are still working on the blog! It's a 24/7 gig.
Q: Who are the designers out there that you admire? Who among the Indian Glitterati is the best and the worst dressed and why?

A: Valentino Garavani, Oscar De La Renta, Hubert Givenchy, Yves Saint Laurent, Coco Chanel, Madame Grès, Halston, Sabyasachi, Manish Arora, Anamika Khanna, Ritu Kumar and Kavita Bhartia.
Everyone has their good and bad days but Twinkle Khanna, Sonam Kapoor, Kalyani Chawla and Priya Kishore seem to have more good days than bad. As for the not-so-well dressed, we think Raveena Tandon and Soha Ali Khan seem to have off days more often and it's a shame really because these ladies are laden with potential and we'd love to see them get it right one of these days.
Q: Payal and Priyanka, you both are doing an awesome job and also feature on our list of best bollywood blogs. How do you manage to be so regular? Don't you take vacations? 🙂
A: As long as there is wi-fi we'll take a vacation. 😉

Q: What do you find to be the most gratifying aspect of blogging?
A: When readers leave a comment or write in a mail saying how much they love the blog and how it's become a part of their daily routine. Can't get enough of that.
Q: Is High Heel Confidential a full time profession? Do you earn revenue through your blog?
A: We are only now beginning to see some revenue but it still is quite negligible. We are hoping it earns us enough revenue to qualify for a 'full time profession' soon.
Q: From High Heel Confidential, can you share with our readers, your favourite five bloopers and five best pictures :)?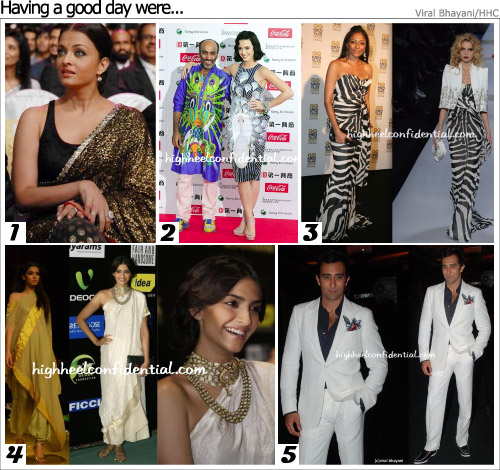 Having a very good day were: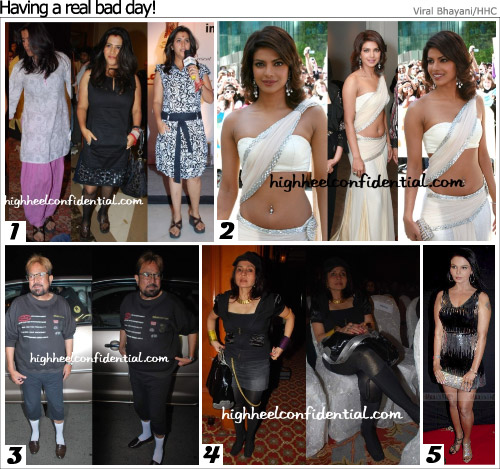 Having a real bad day! 😛
Q: What is your advice to someone who wants to start a blog?
A: Have a clear idea of what you want your blog to be. Be committed to it. Be patient. Be regular with updates. And more than anything else, have fun with it.
Q: Let's conclude off with a few favorites.
Payal's favorites



Color: Currently, Green!
Movie: This year, so far, District 9 has been a favorite.
TV Show: Addicted to the craziness of The Real Housewives.
Book: Am addicted to vampires this year. The True Blood series is all I've been reading this year.
Time of Day: Nap time!
Zodiac Sign: Cancer
Priyanka's Favorites



Color: At the mo… Fuschia and smokey greys.
Movie: Saw Funny Face again recently and the combination of Hepburn and Givenchy still gives me goose-bumps.
TV Show: Real Housewives. It's like watching a train wreck and you just can NOT look away.
Book: Currently re-reading (for the millionth time) After Dark by Haruki Murakami.
Time of Day: 3 am. When Jazz sounds smokier and night feels lighter.
Zodiac Sign: Leo.
Thanks a lot Payal and Priyanka for this awesomeness interview and the exclusive picture. We are sure celebs would be paying a visit to see if they have been mentioned. We thank you for continuously bringing good content and for being the best blog on Bollywood Fashion, Style and Trends with the desi centric touch!
Thank you Rati Agarwal for your input on the 9th question.