We are back with the second part of the fantabulous interview of Gul Panag. In this part of the Podcast, she talks about her adventurous side, her movies and lots more. We recommend that you hear the Podcast. There is more there than the transcripts here. Tune in, sharpen your ears and get ready to hear the angelic softness voice of Gul Panag.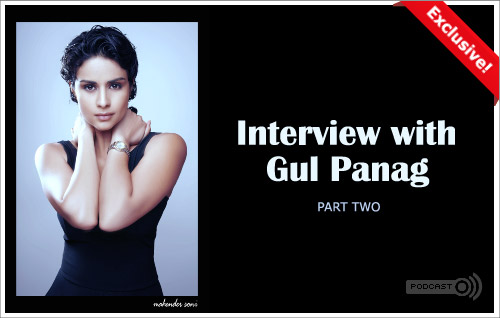 Click on the play button below to listen to Gul Panag's exclusive podcast – Part 2

Podcast of the interview with Gul Panag – Part 2
Q. Gul, you are an adventure freak and do a lot of biking and off roading?

I don't think freak is a good word, I guess its used for people who are not normal, I am extremely normal. Yes, I do have interests and I love to pursue them. I would like to say this on record that I don't like it when people use the word freak. I have heard many say that Akshay Kumar is a fitness freak, no! he is not. He is just a fit guy who takes interest in his body. The media has coined these terms – fitness freak, outdoor freak, that freak. I mean, just because someone has interest in something that is a bit different, it does not mean that he or she is a freak.
Q. Right.. 🙂 you flagged off the popular Lavassa rally near Mumbai as well?
Well..yes, I did flag off one off the cars at the the rally, there were some other well known people present there too and did the same. But yes ! I did that.
Q. Well, so can you share with us a bit about your offbeat traveling..a sneak peak into your adventurous life!
You can say that where there is a will, there is a way! Many people believe that Mumbai is a very crowded place and in order to escape this hustle bustle you need to take a trailer..all of that is very true, there are quite a few interesting places outside Mumbai where you can actually get of the road and make your own road. I have an SUV which is pretty comfortable, it's a custom made 4 x 4 Mahindra Scorpio,  I routinely take off, whenever I get time off, I head to Lonavala, take a track from there which isn't on the map and see where life takes you.

Basically, the idea is to try and be ready for a flat tyre, to be in a place where there is no mobile network, to live a life which is challenging and teaches you that there is a separate life from the routine life you live.
A couple of years back I did go to Ladakh on a BMW bike, at that time no one used to go to Ladakh, and the roads were really bad. This was in 2002. Today its become a happening thing to visit Ladakh every summer. At that time, we just passed around twenty cars on our way, but today you can spot this many vehicles just as you enter the one pass. Normally, as the snow destroys the roads every year, the Border road organization resurfaces the roads, but when we there the resurfacing hadn't started, so you can imagine the situation!
There are many passes there and there is this pass called the magnetic hill which is a kind of an optical illusion, it looks like downhill but is actually uphill. To check it, we poured some water. Water appeared to go downhill. Obviously it is optical illusion as water is not magnetically attracted. When you actually drive on it you realize that you are going down a slope and also BMW bike is not entirely made up of iron as an Enfield.
Q. Your upcoming movie Rann is a typical RGV film, can you tell us something about your role in the film and some inside scoops?

Rann is a film which explores the conspiracy between the media, politicians and the industrial powerhouses. It is a very interesting concept that scares us. It's a film which makes one feel that how helpless the common man can feel in this system. It is a real privilege to work with someone of the caliber of Mr. Ram Gopal Verma, he is truly one of the outstanding filmmakers our country has produced. He has a vision, he challenges conventions, challenges norms. He has what it takes to stand up and do something different.
Another film I'm doing is Rajat Kapoor's rectangular love story with Purab Kohli, Neel Gopalan and Ranvir Sheorey. It's a very interesting story about 3 boys and 1 girl. Also I have just completed the shooting of a Prakash Jha film which again has a very interesting storyline. And Mukta Art's Hello Darling, which is with Celina Jaitly (also on twitter @CelinaJaitly) and Isha Kopikkar.
Any inside scoops..well, I don't think I can remember of anything off hand!
Q. Gul, you love traveling and have traveled around the world, your latest trip being to Masai Mara! Which has been your most memorable trip so far and where?
Yes I have traveled a lot, but this particular trip to Masai mara has been really memorable, though I have traveled to Africa earlier on 7-8 occasions and visited many wildlife parks, but Masai Mara was simply incredible because it has the highest density of wild animals that one can ever see. The density of wild animals in Masai Mara especially upper Mara is extremely high, you can spot a handful of tigers and lions after every few minutes, and what makes it all the more interesting is way the Tanzanian and Zambian Governments have worked towards conserving their wild life, whereas we in India just simply do not care, even we do have a handful of lions and tigers in our country, but we prefer to kill them and preserve their skin for our future generations to see.
Those countries have very stringent conservation laws and poaching is equated to a criminal offense and attracts death penalty. In India we have around two million people who live below the poverty line, and if we are unable to take care of our wildlife then why can't we privatize the same, similarly as we have privatized many electrical corporations, educational institutions among others. Today, we hardly have any tigers of the indigenous species left except a few at Ranthambore, anyway lets just hope for the better.

Then I went to Mombasa which is one of East Africa's most exotic fort cities, I stayed in a lovely hotel there, had lotsa fun there, spent 4 days..in the sea, in the sand, in the sun, playing lots of beach volleyball and snorkeling. Infact, I have posted one of my pictures from the Mombasa beach on Twitter, though it's not a full profile picture. My twitter DP is one of the cropped picture of me at a beach in Mombasa, I wasn't sure if I wanted to post full length.
Q. Gul, you had quoted that –"My Miss India title has been a deterrent for me".

Well depends on what your parameters are! If it's just about getting into a movie and shaking a leg and you don't have much contribution in the film then a Miss India title is an exceptional title to have indeed! But if you are looking to do some good roles as an actor, there is some good cinema being made out there which needs a good actor and by good cinema I do not mean art films but meaningful films, and people are reluctant to cast a Miss India in such roles. I think there is only one actress who has broken the barriers of the beauty pageant tag and emerged as a good actor, that is Priyanka Chopra.. hats off to her!
Q. How much advantage does a Miss India title provide to its winner today?

Well, actually that's relative, because today there are much more avenues to become famous and well known as they were when I won the title around ten years back. So, today the whole attractiveness of the Miss India title seems to be draining. Today you can appear on a reality show and become famous, you can just appear on a Sach Ka Saamna, We can Dance, India's got talent, Who wants to be a  etc.. etc  and become a star, so today it is reality television that is heralding the status of turning people into stars instantly, so I think that the popularity of beauty pageants like Miss India is fading fast.
Q. What is your take on celebrities coming on reality shows and discussing their personal lives?
Well ! my take is that I do a job. I do my shooting and come back home and beyond that there are only my movies or my interests, I want to be known for my work, not anything else!
Q. Coming back to blogging, what do you find the most gratifying aspect of blogging?
The fact I can write and say what I want to say, just the way I want to say it, when I want to say it and put it across in a manner that is undiluted, normally when you see or read an interview, it tends to acquire an agenda of what the interviewer wants and that doesn't happen when you are blogging; secondly I love to share my opinions about certain issues with others, which becomes difficult to do with a newspaper or magazine because of the deadlines they want you to have, hence I find blogging a great medium.

Q. How in general, would you rate the quality of Indian blogs, can you share your favourite five blogs with us?
Aaah ! My five favorite blogs ! that's a tough one, but I think that Passion for Cinema is a great blog, your blog is a very good blog, there is one defence blog that I used to visit often, but I just cant recollect the name now, but honestly among the Bollywood blogs I think Blogadda.com is really very good, that's an honest opinion ! and ya.. Sulekha.com is a good blog too..
So all you listeners out there, keep visiting Blogadda.com for the Best Bollywood Blogs.
Q. Gul, what is your advice to someone who wants to start a blog?
Well.. be clear about what you want to write about, ideally don't just do it to gain publicity, do it for the passion & love of it and I'm sure people will like it.
Lets' conclude off with a few favourites of yours.

Your Favorite colour: My favorite color varies well…black, white, green, pink.
Your Favorite Movie: Right now it's Guy Ritchie's – Snatch.
Your Favorite TV Show: Entourage.
Your Favorite Book: Wind Up bird Chronicle.
Your favorite time of the day:  5'o clock in the morning.
Thank you so much Gul Panag for taking your time out for this interview. For all our listeners, we hope that you enjoyed listening to this podcast. For more blogger interviews do visit our interviews section. Do read popular blogger interviews with Suchitra Krishnamoorthi, Shobhaa De, Avinash Kaushik and lots more.
Once again, Thank you so much Gul. It's been wonderful to talk and listen to you. 🙂
Do not miss the Part 1 of this interview. We would love to have your feedback on our initiatives. Do write to us. Thank you for visiting!