We had promised you that we will make the last week of July a very exciting one for you. To keep up the promise, we have none other than Suchitra Krishnamoorthi's all exclusive interview for you.
Suchitra is well known as the innocent 'Anna' of Kabhi Haan Kabhi Naa. She has sung some amazing songs like  'Dole Dole', ' Zindagi', 'Dum Tara' & many more. Her book 'Summer Cool' is a hit and she is in the process of writing her second book. She sings, acts, paints, writes and blogs at Suchitra.com. Get ready to read the all exclusive interview of Suchitra Krishnamoorthi.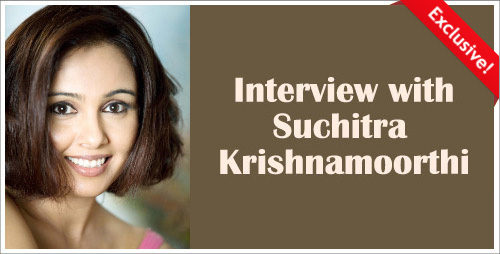 Q: When and why did you start blogging?
A: I started blogging in early 2006 on an invitation from Mallika and Deepak Chopra to contribute my views on their site intentblog. After a couple of years on their site, I decided to start my own blog on suchitra.com.
Q: What topics do you generally blog about?
A: Anything that strikes my fancy or provokes me at that particular moment and any topic that I feel the need to express myself on. I write on topics that range from the frivolous to the furious.
Q: Do you ever get stuck when writing an entry?  What do you do then?
A: Oh very often. I have all these thoughts and words buzzing about in my head and I start writing a blog only to find that after a couple of sentences the thought runs dry or I just get bored with the subject. Sometimes I save them for later, and sometimes I just hit the delete button.

Q: How important is it for the blogger to interact with their readers? Do you respond to all the comments that you receive?
A: Well, blogging is an interactive form of expression and the more people that participate, the better. I read everything and remember the commentators by name, but I respond to the comments only as and when I think appropriate. Its not possible to react to all of them even though I would like to.
Q: How, in general, would you rate the quality of Indian blogs? Share your favourite five blogs.
A: I haven't read too many Indian blogs so its hard to name even 1 let alone 5.
Q: The first post at your personal blog was 'I say a prayer' where you say 'The true villain is our individual and collective apathy'.  What do you think is the reason behind this kind of apathy right from the common man to the government and how can we bring about a change?
A: Apathy in a certain section of society comes from a combination of fear and hopelessness. Our system and our culture has not been very good or kind to the common

man, and so most often their reaction is "oh whats the use. What difference will it make if I say or do anything. People do nothing because they feel they have nothing to gain or are afraid of getting into trouble. That I can still understand.
But for those, who are in a position to move things and do something but still don't – I say its greed, selfishness and laziness. Its the attitude that as long as I have enough water in my garden to see my roses grow, how do I care if people have no water to drink.
I have no answers for how that can change, except that we need to move towards a freer and more egalitarian society – where each individual is given the respect and care that is the due of every human being regardless of wealth, social standing or political clout.
Q: 'If religion is a drug, and indeed the opium of the masses, let's all get really high and go all the way to heaven'.  What do you think about religious extremism affecting hundreds of lives everyday in different parts of the world?
A: Religious extremism comes from ignorance and closed mindedness which in turn breeds intolerance and violence. Religion-and all of them say the same thing whether Islam or Christianity or Hinduism – is meant to open and free the mind but on the ignorant it has a reverse shut down effect and that is the frightening tragedy.
Q: Suchitra is a singer, actress, painter, poet, blogger and a successful writer as well. If given an option to choose one of these, which one will you choose and why?
A: I chose all. Simply because I love doing them all. Most people struggle to find one concrete form of expression – I am lucky that I have discovered and allowed myself so many avenues.

Q: One of your blog posts against Pink Chaddi Campaign evoked a lot of varied responses. We hear news about atrocities on women everyday. Are the Indian males so chauvinist or what is the reason behind this kind of behaviour?
A: Fear and Insecurity. Such behavior comes from dread of one's own inadequacy and a cultural conditioning that forces them to act in a certain way so as to assert their supremacy. Somehow the moral fibre of the society has been the burden of the women and it has been imposed by men-because it is convenient and because women have never had the wherewithal to fight back. Isn't morality as much the man's responsibility as the woman's?
Why would any human being want to out any down or control another, unless it was the only way he feels powerful and has learnt to validate himself? And how sad is that.
Q: Your lovely voice while singing out hits like 'Dole Dole', 'Dum Tara', 'Zindagi' has not been heard for a long time. When can we hear you singing again?
A: Never say never. Music is in my blood – I've been singing since I was in the cradle. Just because the public hasn't heard me singing for a while doesn't mean my music has gone away. Its just resting.
Q: A comeback to films was through 'My wife's murder' and now two movies are under post production. What has changed in Bollywood when you took a break in 1994 and returned back in 2005? 🙂
A: The whole process of filmmaking is more democratic, organized and exploratory now. There are new themes and genres being explored and different kinds of stories being told which is frankly more up my street  than the "bachao-woh meri izzat loot raha hai" kind of baloney that dominated earlier hindi cinema.
Q: Your book 'Swapnalok Society – Summer is cool' is a big success. What was the inspiration & thought behind writing this one? Do we see sequel coming soon?

A: I wanted to write and so I did. I picked a subject that was familiar to me, a genre I identified with and then told the story in the best wayI knew how. One cannot explain the creative urge, except that to understand that it is there and when it is there you must do something about it or it will be lost in the wind.
The sequel called "The good news reporter" should be out by end of August or early September.
Q: Suchitra, You've been blogging since a long time. What are your views on the recent trend of celebrities wanting to interact with the online audience?
A: Its good. Like I said the world is becoming smaller and smaller and celebrity or not, self expression is in. Also, technology has made the world more equal so everybody communicates in a very healthy and conducive way.
Q: You have made your presence felt and excelled in all the creative aspects. Was it easy or tough? How do you manage so well?
A: I don't think about it, because if I spent my time thinking I would have no time to be doing all the things I do. I don't find it tough – I'm having myself a rather good time.



Q: What do you find to be the most gratifying aspect of blogging?
A: Its living in the moment. Instant gratification.
Q: What is your advice to someone who wants to start a blog?
A: Just do it. What are you waiting for?
Here are some of the questions asked by our readers 🙂
Q:  Suchitra, You disappeared from movies and singing…. to ab kya kar rahe ho?
(Asked by @khushi4all)

A: I was busy being a mum, painting, acting, writing, blogging, blah blah…
Q: If Kabhi Haan kabhi Na was made again, who should do your role?
(Asked by @viveksingh)

A: I think it would have to be a new girl. The current crop is too in your face and their sexuality too overt to portray the innocence of Anna.

Q:  Will you consider judging any reality TV shows, and which one?
(Asked by @sujoysingha)

A: Dunno. I haven't watched too many reality shows.
Q: One and only one question. Where are you??? Loved your albums, please come up with another.
(Asked by @dunkdaft)

A: Yeah okay 😉 .
Q: Let's conclude off with a few favorites.
Color: Pink
Movie: too many to name
TV Show: Friends
Book: The Summer of Cool – what else did you expect me to say 🙂
Time of day: Early morning after a good nights rest.
Connect with Suchitra Krishnamoorthi on her Blog and at BlogAdda

Thanks a lot Suchitra for such a wonderful interview. We are sure that all your fans would have felt very happy to read about you and your views.
Readers, do let us know your views on our recent additions – The 9 best Indian Interior design blogs and the guest post by Sukhdeep Singh.