We are sure everyone would have enjoyed reading the Interviews with popular bloggers (Part One and Part Two). We are now back here with a part three of this series. This part boasts a lot of well known names and those who are idolized by many. We also have some interesting International bloggers who gave us a lot of valuable insights into the world of blogging and we are sure you would reap the benefits after reading the wonderful interviews. Honestly, there is so much knowledge and inspiration in here. So what are you waiting for? Stumble, Digg, Tweet, add it on your delicious and bookmark it as you would not find such a resource elsewhere for sure.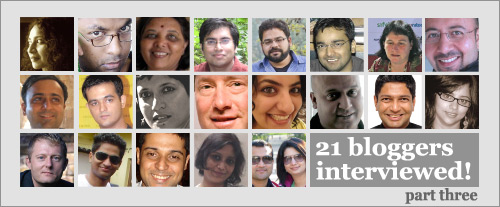 Update: Part 1, Part 2, Part 4.

Blogging provided me the perfect outlet for keeping my creative instincts alive.

If you want to be seen as a celebrity blogger, don't respond. šŸ™'

I don't really know where to slot myself. Probably a Dadi of all trades, Dada of none.
I actually received an offer to make a movie out from one of my blogposts.

Before you go out publicizing your blog/comic make sure you have 30 mins worth of content.

Most of the newsmakers have made appearance on Faking News as well ā€" from politicians, to actors, to Rakhi Sawant.

Use Social Networks for Social Change: Facebook, MySpace and More.

Our journalism is driven by such unreasonable deadlines that quality has to suffer.

Blogs are about connecting with people, not about the quality of writing or ideas.

Writing in any form gives me the route to break free from the mundane rigmarole of my daily schedules.

My first ā€œjobā€ was a CEO job, so I obviously made a lot of mistakes.



A big factor in humour is timing. It has to be said in the right place, in the right context.

The internet has played a big role in shaping who I am today.

I blog about anything related to yumminess, tastiness and anything scrumdidlyumptious!

The biggest change in the blogosphere is the respectability which the blogger is getting.

Each new comment, fan, follower – It's all an awesome reminder that you're doing something right.

If I could get to do this kind of work for the rest of my life, I'd die happy.

I blog because it has affirmed my belief that I count, My voice matters and is heard.

Always carry a smile and stay away from religious and political conversations.
We thank all the bloggers for taking out time for the interviews and sharing so much insights. All of you are awesome and we love you all! For all those who are reading, we will appreciate if you post comments and share with us your thoughts on this interview.  We love you as well! Have a good time at BlogAdda.