Watch out we are  MBA and are now ready to Romance with Chaos. Let us introduce you to the 'hero' of our story. His friends know him as an entertainer who expresses himself through myriad mediums such as literature, music, public speaking and much more. He is a blogger and the author of two very successful books.
Curtains up! Welcome Nishant Kaushik, who calls himself a Procrastinator,  Dreamer & Believer. Nishant is also a foodie and loves cheese and chocolate. Thank you for taking the time and giving us this interview. Here is the first question.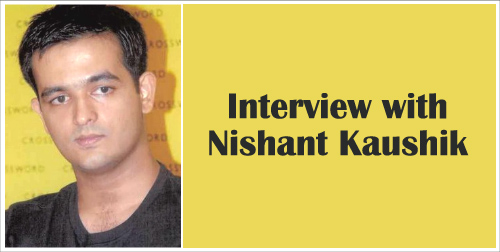 Q: When and why did you start blogging?
A: I've been blogging since I was a little kid. Only then the same stuff was termed as a diary entry. Writing in any form gives me the route to break free from the mundane rigmarole of my daily schedules, and so I lunge at every possible opportunity to blog.
Q: What topics do you generally blog about?
A: My blogs are usually around socially sensitive issues such as civic sense, terrorism, compassion. Sometimes I also use some abstract themes, as seen in my poem 'Avaricia'.

Q: Do you ever get stuck when writing an entry? What do you do then?
A: I get stuck very often. The best solution according to me is to not whack my brains over it, and instead just take a light coffee break and give myself time to think.
Q: 'Watch out! We are MBA' was your first book, followed by 'A Romance with Chaos'. You have been writing for mainstream media earlier. When did the moment of realization dawn upon, that you can write a book? Did any particular incident inspire you?
A: There was no particular incident that really inspired me. Writing a book had been on my mind since as early as 2001, when I was in my first year of college. I wanted to write a story of a school kid's rendezvous with adolescence. By the time I kicked the laziness, I was already in B-school, so the theme shifted to that of an MBA.
Q: We are sure our readers would love to know from Nishant Kaushik on what his books are all about and why they should buy it this weekend. Do share details about your books.
A: Both my books are very real, very relatable to, and funny at the same time. They are simple stories of simple people who lead very complex lives. What readers will get from these books is an ability to laugh at their own regular problems. The books are hardly preachy and are laden with humour something that all of us really need in our lives.

Q: Your first book talks about the life of a MBA student and the pressures faced by them. Recently, a few Indian authors have written books about life in IIT, IIM and discussing about college life. Why is this sudden urge to write about the graduation experiences in the form of a book?
A: Our days from school and college are probably the best days of our lives, which give us a lot to cherish about. This was precisely the reason I wanted to write a book when the idea first struck me. I'm sure other writers in this genre would have had similar reasons.
Q: Do you feel doing a MBA is more worthwhile with about 5 years of work experience? If given an option, what would you have done?
A: An MBA after a certain bit of work experience certainly adds a lot of value, as students are then able to correlate the classroom teachings with what they have learnt on the field. In my case, however, I am glad I did an MBA right after graduation. Once having landed a comfortable job, I would have probably felt too smug to give it up and then pick up course books again!
Q: We are seeing a lot of new authors experimenting with different styles of writing and publishers are glad to support them. What do you have to say about this trend? Is it much easier now to find a publisher? What were your experiences in trying to find a publisher?
A: I don't think it has become any easier to find a publisher. In fact, the competition has just toughened further with the increasing number of authors in the arena. I had to wait rather long before my books were accepted by publishers, as most publishers have very stringent guidelines and criteria for approving manuscripts. Moreover, the turnaround time of evaluation of the manuscripts is also pretty large.

Q: Music has been an integral part of your life. Who are your favorite music directors? Which is the song which you enjoy singing at any given point of time? If you have to propose to a girl, which song would you sing? Have you ever thought of taking part in music based reality shows?
A: While proposing to a girl with a song sounds like fun, I can't exercise that privilege as I am already married. But some of my favourite romantic numbers include 'Careless Whispers', 'Nothing's Gonna Change', 'Jet Plane', 'Linger', and 'Annie's Song'. My favourite musicians are A.R Rahman, Coldplay, The Cranberries and Shankar-Ehsaan-Loy. I'd love to participate in music reality shows, and I might do so in the future. But I ultimately want to sing for films, and I hope to see that come true some day.
Q: Nishant, you do a lot of Mimicry as well. Everyone has a distinct style and so does Mithunda. Was he your inspiration? Whom do you enjoy mimicking? Which is your all time favorite dialogue which you enjoy mimicking and your take on the laughter series doing the rounds on various channel these days?
A: I almost idolized Mithunda when I was a kid. I don't just mimic celebrities, I tend to mimic my friends and relatives as well. Thankfully they all take it in the right spirit. When in college, I had done a stage mimicry of Hrithik's character "Rohit Mehra" from 'Koi mil Gaya'. Apparently, some of my colleagues met him a few weeks later and told him about me. I am told he was keen to meet me. Unfortunately, I could not make it in time then. I will probably humour him some day!
Q: Friends play a very important role in one's life and it showed in your book as well. Can you share with us three examples where your friends were instrumental in getting things done for you?
A: Oh, they have played an important role in my lives alright. The biggest support I got from them was during the placement week in college. That phase can be quite a nerve-cracker, but thanks to their support it was easy to scrape through. Then of course, I exploited their unconditional help whenever I wanted them to fill in my attendance when I had to bunk classes. But their best gesture was when they all packed their bags at the last moment, without reservations, to come all the way to Ahmedabad to attend my sister's wedding. I really thought that was wonderful.

Q: If you were given a chance to change one thing from your personal, college and professional life, what would it be and why?
A: I'd love to shed my laziness. I think that's my biggest weakness. I can do much better in life if I can overcome this single problem.
Q: Author, Singer, Mimicry artist, Speaker and much more which effectively means you were made to make a mark in the creative world. Have you ever thought of earning your bread and butter from the creative industry and leave the IT industry?
A: I had not really thought of that until you brought it up. Now that you have asked me, it sounds like a really plausible idea. I might consider it some time in the future. Right now, I will stick to both the industries though.
Q: How important is it for the blogger to interact with their readers? Do you respond to all the comments that you receive?
A: It is very important to get feedback from one's readers. That's the best way for a writer to mature with time. I do try and respond to all readers. Even if I don't, I usually do remember most comments that I receive on various blog entries.

Q: What do you find to be the most gratifying aspect of blogging?
A: Blogging helps me express much more than what I can express vocally. When we talk to people, we are pulled back by social inhibitions, awkwardness and the likes. But when we blog, we are confined to our own little world. We express the way we feel like, and we can say what we feel like with complete authority. In the true sense, my blog zone is the single place where I can completely be myself.

Q: How, in general, would you rate the quality of Indian blogs? Share your favourite five blogs.
A: To be honest, I don't follow too many blogs. So it would be unfair if I rate them. However, I do follow a particular blog called http://gaurav-parab.blogspot.com. It belongs to a friend, and I think he is one of the most brilliant writers of recent times.
Q: What is your advice to someone who wants to start a blog?
A: Sign up, and create your blog zone today! Do not dilly-dally simply because you haven't got your best idea yet. Good ideas don't come by immediately, but a regular writing habit is sure to take you there soon.
Q: Let's conclude off with a few favorites.
Color: Blue
Movie: Too many, but I'd rate The sound of Music in English, and Lagaan in Hindi.
TV Show: How I met Your Mother, Friends, Everybody Loves Raymond
Book: A Thousand Splendid Suns, The Kite Runner
Time of Day: Early in the morning

Your Zodiac Sign: Cancer
Thank you Nishant Kaushik for taking out time for this wonderful interview. Friends, we have something for you this week. We will give out two copies of Nishant's book autographed by him to the commenter who comments with interesting questions/feedback/conversations over here. What are you waiting for? Ask him questions about his book if you've read it and engage in conversations. Nishant Kaushik will answer your queries about his books, if any.
Connect with Nishant Kaushik – Blog, Facebook