Camera, Ready, Action! Take 1. Cut Cut! Kya yaar woh drift barabar nahi aaya! Once more! Take 2. I wonder if you know, how they live in Bollywood, you gotta see it and experience it then you know you have to go. Perfect!! Kya shot tha yaar! Aspi Sir, Tussi great ho! Now can we have 5 minutes of your time for an interview with BlogAdda?
Yes, We have interviewed none other than Aspi Havewala. The director, the scriptwriter, the music director and all in one of the popular blog Aspi's drift. He has been gracious enough to spare some time for this interview with us. For all the fans of Aspi, here is the interview unplugged.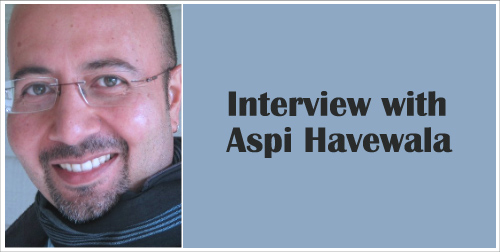 Q: When and why did you start blogging?
A: My Dad was a writer… he's written for Indian Express, UNI, PTI, Loksatta, Gujarat Samachar, Jam-e-jamshed, and a bunch of others. He put me on the sports beat for Indian Express during my middle and high school years. Like most desi Dads, he would tell me to be an engineer or doctor, but he was happiest when one of my articles would get published. My mother, on the other hand, was an English teacher and a great storyteller. So all this came together in my love for writing.
I understood this at a very early age: writing was part of my DNA and it made my family happy. I've always written… even if just in my diary, or newsletters at work, or technical articles. When blogging took off, I got really interested in learning about Web 2.0 and SEO… so I took my writing online.
This was in late 2007.

Q: What topics do you generally blog about?
A: Since one of my goals with blogging was to educate myself on how search engines worked, I MOSTLY blog about things related to Bollywood to maintain keyword density and watch how traffic flows. Often I'll break out and blog about other things such as Hollywood, books, TV to see how Google handles the sudden shift.
That, and Himesh Reshammiya. I don't need any reason to blog about him.

Q: Do you ever get stuck when writing an entry? What do you do then?
A: Writers block! Who doesn't get those from time to time? I'm a big believer in this philosophy: you can only produce good Art if you consume lots of good Art. For example you can't be a good writer of fiction if you don't read lots of good fiction written by others. It educates, informs and inspires you.
If I'm stuck, I do two simple things. (1) Increase my appetite for consuming Art … in my case I read, I watch, I discuss. (2) I wait. If I start enjoying myself, I know I'm headed down the right path because my posts come when I find something that entertains and amuses me.

Q: Aspi's Drift is one awesome blog focused on Bollywood, Music and much more. What made you drift towards Bollywood and Music and how do you think it is different from other blogs catering to the same audience?
A: Thanks my man! I love music, I love Bollywood… it was easy to focus on that. My attempt on The Drift is to always write something that you can't find elsewhere. A unique take on what is happening around us. I don't want to write about "Oh X happened and here is what I think about it". I want to write about "Oh X happened and here is a completely different way to enjoy it".
That's the attempt. It doesn't always work. But what can I say? I try.

Q: Let us talk about Bollywood. There was a very interesting piece in Wall Street Journal on how 'terrorism' is depicted in Indian Movies. Do you think Bollywood Movies follow the stereotypical path and try not to tread in the unknown path? What kind of Movies would Aspi like to see and why?
A: I think the way Bollywood grapples with terrorism revolves around how Indians deal with race. That article that you refer to addresses the difference between how Muslims are depicted in Hollywood and Bollywood. In the US, you'll see an affinity to side-step race completely. The approach is universalist in that we are human beings so let's forget our race and interact as humans. Indians tend to believe that race is an integral part of who you are and defines you to a great degree. So they are more likely to address this head on. This shows in the films.
I think it's an important cultural difference that places Bollywood in a unique position to talk about terrorism. But it works only if the movie isn't a Hollywood retread.
What kind of movies would I like to see? Films that surprise me. If you are a writer and follow films, you tend to think a bit like a screen writer and can see surprises coming from a mile away. I haven't seen a Bollywood movie since Farhan Akhtar's Don remake that surprised me. You know, the twist in Don was a bit hokey, but at least there was an attempt… I am a sucker for anyone who takes a risk like that.
Q: Himesh Reshammiya is fairly popular amongst Bollywood 'masses'. Would you think Himesh is successful? Is it more about marketing and less about voice in the Bollywood Music scene nowadays?
A: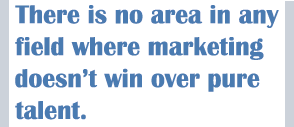 For the record, I think Himesh is a terrific composer and has a really good voice! I'm very aware of the fact that I'm commenting on someone else's artistic creations on my blog. It takes more to do what Himesh does (compose), less to do what I do afterwards (critique).
The problem with Himmy is that his behavior really puts people off. It's so backlash-ready. You see, being popular isn't enough in the industry. You have to gain the respect of various industry insiders and get on the inside track. Himesh might be popular with the masses, but he's created such a crass image for himself that the upper crust of Bollywood won't engage with him. And that's a huge problem.
To answer your second question: there is no area in any field where marketing doesn't win over pure talent. It's a fact of life. It applies everywhere. You have to suck it up and deal with it.
Q: Lets move over from Aspi's Drift to Flying Zombie Robots, Naam toh suna hi hoga! 🙂 It's rare that a guy can write about Bollywood & Technology with equal ease. Why did you stop writing on that blog as it provided the readers with some very interesting reviews? Will the robots get to fly again soon?
A: I'm a huge fanboy! I read several graphic novels every week. I draw, I sketch… I teach myself how a particular graphic novel might have been put together. FZR was meant to be a space to review Tech and Comics. But afsos! I just never get the time to update that blog. And I find twitter to be perfect for writing mini-reviews so I might shut that blog down entirely.
Q: You have been working in High Tech for a while now and have seen the mobile trends changing. Can you list 5 mobile trends for 2010?
A: Man, you are going to put me to work while talking about my hobby?!
Smaller, Easier, Sexier, Faster, More. Those are the trends, hands down, every year.
People expect more of their mobile devices. I now expect my mobile to know who my friends are, where I am, what I need to know based on the questions I've asked before, entertain me when I'm bored  and do all of this without too much fuss. These tie to Social Networks, Location, Mobile Search, Gaming and Usability.
Time Pass is always an ever-green trend on mobiles. Someone once said: the Killer App on the phone is Killing Time.
Q: Indian Television has changed over the years. Rakhi Sawant and Rahul Mahajan had their swayamvar on TV and shows like Emotional Atyachaar are getting too real. Where do you think is the Indian Television Scene heading to? Are the changing times responsible for this or is television changing the way the youth of India are thinking?
A: Yeh duniya ikk surkuss hai! And everyone likes to watch. That's reality TV for you. Look at the US. Reality is popular, it's cheaper to produce but it doesn't do so well on reruns. Hence most of the money that channels used to make by syndicating their popular shows isn't possible with reality shows. But in India, syndication is an immature market… so you don't have to worry about that. Reality is a really good fit for the desh.
The people who produce TV shows are the ones who watch TV. So art imitates life imitates art. TV programming is driven by demographics, essentially the people and their material wealth. People are influenced by what they watch. It's a creature that feeds off itself.

Q: AR Rahman in this year's Filmfare awards said that he loved the music of Amit Trivedi, Pritam and others. We are seeing a trend where the music directors sing for their own compositions and guys like Vishal are singing for others as well.
A: This is like being in the right place at the right time. Most composers will test out a song by doing scratch vocals. If the song sounds good and no big name is needed to sing, then their vocals get burned on the master copy. So they become published singers.
But it's also because the new trends in Bollywood films have allowed composers to recognize the importance of voice casting. You don't necessarily cast the best sounding voice in a song. You cast a voice that really suits the song, the mood or the thoughts or voice of the actor. This allows someone like Vishal… who has a great mainstream, ordinary but accessible voice… to make a killing.
Q: You are an avid follower of shows like Indian Idol and Saregamapa (The musical reality shows). These are the perfect platforms to showcase the aspiring singers. Strangely enough, barring a few, why don't we get to hear others often? Do you think the singers are doing something incorrect or the shows need to follow up to help them achieve the desired success?
A: If you look at these reality music shows as a platform for great upcoming singers, you might be looking at it the wrong way. The shows are meant to entertain. They do a great job of that.
Sure there is American Idol, but in the US the music is sublimated by the image because the artist has to sell both. In India, the non-filmi market is piss-poor. So you have to rely on filmi singing. In which case, your jhatkas and thumkas on the show amount to nothing because some (usually better) looking person is doing the adaas on screen for you.
Having said that, singers on these shows do make a better living through singing … they end up doing shows and making money off that.

Q: Aspi, share with us your dream? Direct a movie or Creating a gadget? If movie is your choice, who would be the dream cast along with the music directors and why? If a technological innovation or gadget is your choice, what would that be?
A: My REAL dream is that I'm in a cabaret with Bipasha Basu. But to answer your question: how about I make a movie in which all kinds of crazy gadgets feature prominently? I can cast Himesh as a super-smart inventor who creates shock emanating wristbands. He becomes a super-hero and irresistible to women. We'll name the movie after the super-hero character – "Vibrator". Can you imagine the songs Himesh will compose for that? We need to get this out before RA.1 otherwise SRK will say we copied his idea which was copied from other movies. In Bollywood, it's bad to be a second hand copy.

Q: Do you promote your blog? What promotional techniques work best for you and why?
A: Forget the hard work of promoting. There are some easy guaranteed ways to make your blog popular.

Write the words 'twitter' and 'Shahrukh' in as many sentences as possible.
Ditto with the words 'hot' and 'Katrina Kaif'
Write a mommy blog dedicated to raising Pappu.
Be Aamir Khan. But this advice applies to only one person really.
Q: How important is it for the blogger to interact with their readers? Do you respond to all the comments that you receive?
A: It's important but time consuming. Unless you are Ram Gopal Varma. In that case, your blog IS about responding to comments. Having said that, this whole fragmentation of the conversation is a bitch! How do you integrate comments you get across your email, Google Buzz, twitter, Facebook and your blog. It's enough to drive Kangana Ranaut crazy! Wait a minute…
Q: What do you find to be the most gratifying aspect of blogging?
A: Mostly that I am entertained by it. Yes, I am a self-absorbed person. But on the up side: I'm low maintenance. I entertain myself for the most part.
Seriously though… once in a while I'll contact some creative types that I admire. They'll send me a note back saying they read Aspi's Drift all the time. I always get a big kick out of that.
Q: How, in general, would you rate the quality of Indian blogs? Share your favourite five blogs.
A: Blogs are about connecting with people, not about the quality of writing or ideas. If you write a post about how your son Pappu vomited all through the night because of something he ate and you get 145 comments hoping Pappu gets better… then you've connected and you have a great blog post.
But whenever someone does something original that I can't find elsewhere and they do it from the heart, it impresses me. I think much of them.
Q: What is your advice to someone who wants to start a blog?
A: I have two bits of advice. First, write something that goes beyond stuff that your friends feel obligated to read. Then it'll be all rock and roll. Second, don't ever listen to me!



Q: Do you earn revenue through your blog? How does one go about it?
A: I use my revenue to evaluate offers for syndicating my content. So I can't tell you… that information is confidential. I make money on my blog via Google Adsense and the Amazon Affiliate program. Outside of that you can make money by leveraging your blog for other assignments.

Q: Let's conclude off with a few favorites.
A: Ah, I feel like a flaky Bollywood celebrity!
Color: Orange, because it has all the optimism of yellow and all the passion of red.
Movie: Don because Amitabh and Zeenat both get to play bad asses.
TV Show: Anything with Himesh in it.

Book: I recently reread "The Virtues of War" by Steven Pressfield. It's a brilliant book about ruthless backstabbing, murder, war, victory, defeat, sex and intrigue. It's my favorite book on Leadership and Management.

Time of Day: Any time in the company of the Drift Memsaab and my two boys, Motorsandal and Youngling.

Your Zodiac Sign: Leo, but I'm really laid back and only mildly lion-ish
Action time again for Aspi as he rushes off to spend some time with Drift Memsaab.
Readers, hope you enjoyed reading this wonderful interview and would regularly follow the drift called Aspi's Drift. It was a pleasure interviewing Aspi and wish you all the best. Ciao for now 🙂