Every house in India has an uniqueness of its own. There are some amazing god gifted & talented people who help you in creating your special home. If you are looking to design your home, then this blog should be on the top of your list – Rang Décor.  Rang is a Hindi word that means 'Colours' and this blog is all about colourful and cheerful homes. This amazing blog started because the blogger 'needed a space exclusively for archiving & sharing interior design ideas from India'. Glad that she started this. The lady behind this blog is interviewed today. Ladies and Gentlemen, Archana Srinivas is here with her favorites and lots of info about her personal and blogging life. Enter into a colourful world with Archana Srinivas.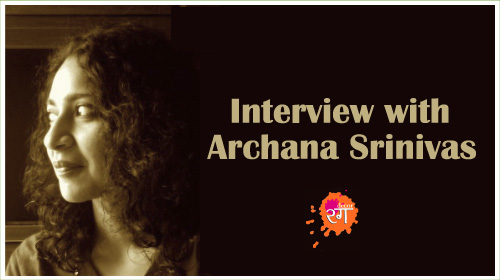 Q: When and why did you start blogging?
A: After spending years in advertising & web-designing, I decided to take a break and spend more time with my daughter which was a great experience; however I did miss the creative part of my persona. Blogging provided me the perfect outlet for keeping my creative instincts alive. I started Rang Décor in January, 2007, just a couple of months after I started my personal blog  'Rang- The Colours of Life' a space where I share my various interests like photography, food, travel, art & everyday musings.
Rang Décor came into being at a time when there were very few blogs covering Interior Design from India. I wanted to showcase to the world, a blend of rich traditional and contemporary interior designs from India.
Q: What topics do you generally blog about?
A: Rang Decor features interior design ideas which have an inherent Indian sensibility. It also features various traditional Indian Arts & Crafts and showcases work by Indian artists & painters. We are passionate about traveling and I post about our various travel destinations like boutique hotels, home-stays etc. The blog also covers various local art-events, craft-fairs & store tours.
A rather new feature 'Rang Decor Reader's Creative Spaces' where readers of my blog share creative corners of their home with everyone. This feature has become extremely popular since it showcases real people's real homes.
There are many posts where I share simple DIY ideas from my own home with my readers.

Q: Do you ever get stuck when writing an entry? What do you do then?
A: Every blogger/writer goes through a phase when he/she doesn't find anything inspiring to post about. During that phase I just stay away from posting and try & draw inspiration from my offline life. 🙂
Q: How much time do you spend online every week? Do you actively promote your blog?
A: Being a multi-tasking willingly-stay-at-home mother and a freelance photographer, I try to squeeze in a few hours of quality time for my various blogs. I have never consciously (nor actively) promoted my blog. Many of of my readers have come across my blog while searching for interior design ideas from India. However, after being featured in various international interior design sites and magazines, Rang Decor now enjoys a good network of design lovers from across the world and has become increasingly popular.
Facebook has also provided me a fantastic platform where I have been able to interact, post, showcase and share various interior design ideas with like-minded people.
Q: How important is it for the blogger to interact with their readers? Do you respond to all the comments that you receive?
A: Blogging as a medium is all about sharing and getting inspired, so it is quite important to be in-touch with one's readers. I usually try to respond to the queries and questions of the readers through emails or comments. Sometimes it gets quite difficult to respond individually to the readers and that is when I try addressing their queries through specific blog posts.


Q: What was your vision when you started 'Rang Decor'? After being applauded by so many including Foreign Media, do you think you have been able to achieve what you had set out for?
A: Quite frankly, when I started Rang Decor, I was looking to create a space where I could archive and share interior design ideas from India. The big achievement, in my opinion, has been in reaching out to to such a diverse global creative community and in creating a platform where Indian Decor ideas can be so creatively blended into any contemporary design in any part of the world.
Q: You started out with Advertising and then moved to web designing and finally settled on to become a celebrated blogger and an avid photographer. How and when did you realize that this is what you want to do? What next?
A: As I mentioned earlier, creativity has always been an integral part of my persona. While these took form by way of a creative advertising campaign or an innovative website in my professional career, subsequently blogging providing me the perfect platform to remain inspired and be in touch with my creativity. It has also opened up a fantastic window to communicate with the bigger world and tap many more opportunities than I ever realized.
It has landed me with photography assignments by various clients both in India and Internationally. My readers have also inspired me to take on new initiatives in the areas of design & creative consulting; something I believe would be a relevant extension to the Rang Decor offering. I have also created a Facebook page for my photography, where I share my work with everyone and where people can contact me for photographic assignments at Archana Srinivas Photography.

Q: You are passionate about interior design, travel, rustic food photography & capturing the beauty of everyday life. What are your other passions which the world is not aware of? 🙂
A: As much as I love sharing my interests and passion with the world, there are some things in life that are better left private…

Q: When you are not blogging, you are a creative consultant. Can you enlighten us what exactly does the role of a creative consultant is? What do you think are pre-requisites for being a creative consultant?
A: The experience gathered over the years as a creative person in the roles of art director, web- designer, interior design enthusiast, blogger, photographer has propelled me towards creating  a role for myself, wherein I have a vision of being an ideas person, areas where I can infuse some creative dreams and inputs to people in need of some inspiration in various fields. Right now, the role is a little ambiguous but hope to come up with something more concrete in the near future. 🙂
Q: You have traveled to many exotic places and some beautiful hotels. Can you share with us your top 5 destinations which you would like to go again and the top 5 hotels which are very inviting?
A: As a family we love traveling to many off-beat places across India. Our love for staying in hotels/resorts with a history has taken us to some very remarkable places.
Our favorite destinations:
Rajasthan – The land of vibrant colours, amazing sandstone architecture and alluring sand-dunes.
Kerala – The peaceful backwaters, the pristine green rolling hills of Wayanad.
Hampi, Karnataka – The grandeur of Vijayanagara Dynasty that can still be experienced through it's ruins.
Coonoor, Tamil Nadu – The hillstation of the south with colonial mansions, toy trains and pristine natural beauty.
Tamil Nadu – The traditional Chettinad mansions of Karaikudi, the temple-towns of Trichy, Madurai, Kumbakonam and the lovely beaches of Pondicherry.
Our favorite hotels/homestays:
Q: Can you share with us your top 10 clicks for each room (For ex. living room, bedroom etc) for our readers?
A:
Few pics of our home that was featured in Apartment Therapy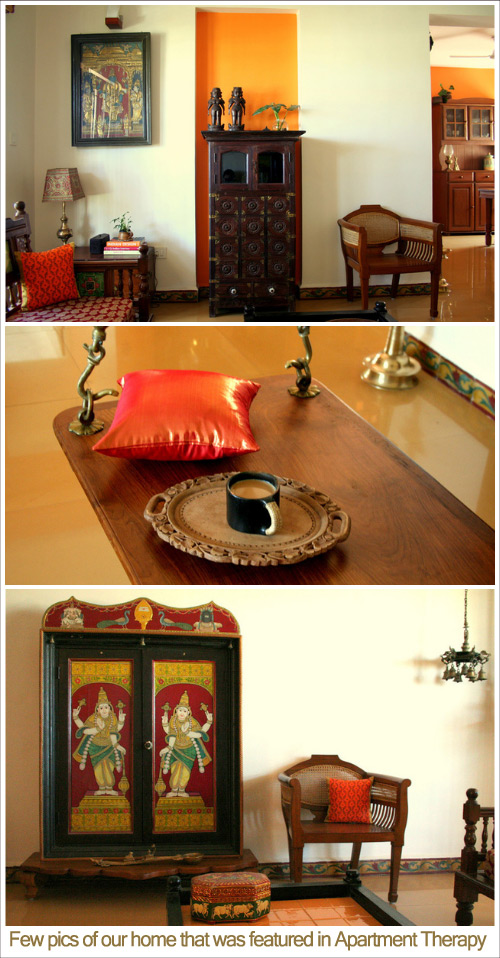 Photos from various Rang Decor Readers Creative Spaces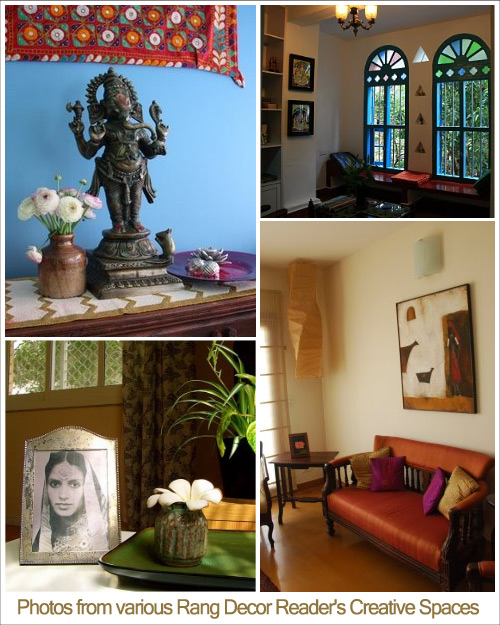 Do-it-yourself ideas from my home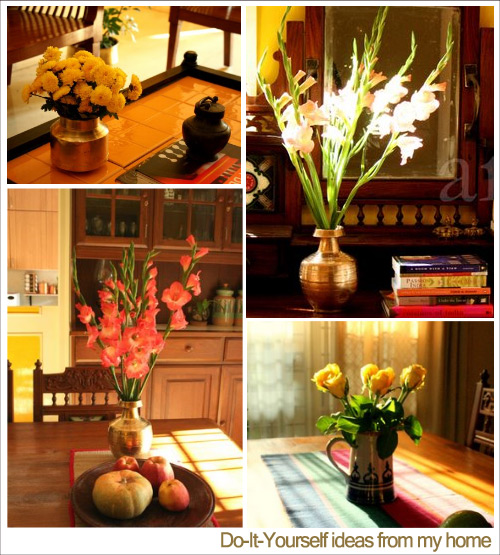 Q: Indian art and Interiors are among the oldest known forms in the world. The older palaces and palatial mansions were known for their intricate detailing. How do you think the designs have evolved in India and what kind of future trends do you predict in this space?
A: You raise an interesting anomaly that I would echo on Indian art. While we have possibly one of the oldest, richest and most diverse history on interior decor, many of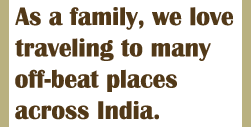 these are in desperate need for revival before getting lost to the world. Some of these are now seeing a gradual revival by way of NGO's and others private organizations, the key challenge in the future, will be in blending these traditional ideas in a contemporary sense, to build relevance to a larger audience, both from aesthetics and a functionality perspective.
I have many readers who are working very hard towards reviving many diminishing arts of India.  I also exchange ideas with many young creative individuals who are getting inspired by our Indian design ideas and are trying to incorporate this in their works.
Q: What do you find to be the most gratifying aspect of blogging?
A: Definitely the fact that it provides me with the platform to share things I am passionate about with people with similar interests and the interaction that is so instantaneous. 🙂
Q: How, in general, would you rate the quality of Indian blogs? Share your favourite five blogs.
A: There are many Indian blogs that have made a niche for themselves and I wish them all the best. I have many favorite blogs so I guess I am going to classify them according to my favourite five topics. 🙂
Q: What is your advice to someone who wants to start a blog?
A: Just go with your heart, post about things that you are passionate about and love to share with others.

Q: Do you earn revenue through your blog? How does one go about it?
A: As of now Rang Décor is an Ads-free blog. Many sponsors/advertisers have approached me and I am giving it some thought.
Q: Let's conclude off with a few favorites.
Color: Orange
Movie (s): Frida, Billy Elliot, Amelie, Cider House Rules, Dead Poet's Society, How to make an American Quilt.
TV Show: I admit I watch almost all the cookery shows on TV right from Nigella Express, Top Chef to Chak Le India:-)
Book (s): Have many favorites The Kite Runner, The Alchemist, Atlas Shrugged, Maps for Lost Lovers.
Time of Day: Early Morning
Your Zodiac Sign: Scorpio
That was a interview filled with colours and beautiful images. Thank you Archana for such a colourful interview and we are sure our readers would have found a reason to redesign their house.  Readers, if you have any questions on anything related to Indian Interior Designs or anything mentioned in the interview do ask her.
You can connect with Archana