Kanika Bahl is a textile designer from NID, Ahmedabad, and has been working in home furnishings and Indian textiles for more than 4 years now. Her interests include home interiors and world cultures. A Delhi girl, she recently got married and moved to Pune. She blogs at And Another and also manages another one 'The Big Fat Indian Wedding' which she started as a preparation for her wedding!
Now, She is venturing into Indian Interior Designs and vows to blog more regularly! She reveals her secret plans to us in this interview where she speaks about her professional life, personal life, interests and lots more that we have this interview in two parts. Here is the first one.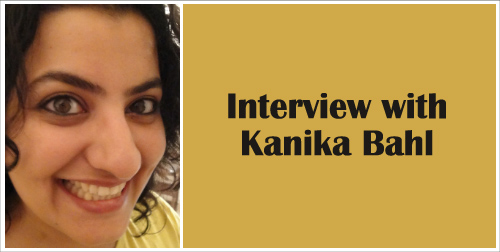 Q: When and why did you start blogging?
A: I started writing my blog AND ANOTHER in February 2008. The blog came into being as a need for self expression and a creative outlet. I was working as a textile designer with an export house then and my blog gave me a respite from my routine. I could write about my inspirations and online finds and found a voice even if some days at work were dull.
Q: What topics do you generally blog about?
A: I blog about design- Indian and International that inspires me. Since I am a Textile Designer my inspirations come from the world of textiles, largely home textiles and

then some fashion. I have become very interested in interior spaces recently so a lot of my posts are about that. I also like to cover some cultural aspects of India and upcoming Indian designers and works in my area of specialization. I blog about my travels and market finds…I blog about all things beautiful to me!
Q: Do you ever get stuck when writing an entry? What do you do then?
A: Oh yes! There are so many days that I have nothing to write about…and I don't. Sometimes I have some great images to share but I don't have much to write about…so I just post the images and let them do the talking 🙂 When in between an entry…I sometimes save an unfinished draft and come back to it after a break…have some juice, do something mundane like laundry and come back. I think I still have some unfinished blog posts.

Q: What vision did you have in your mind when you started 'And Another…..'. Do you think you have been able to achieve that? What are the things that you want to do on your blog and not done as yet?
A: I never really started my blog with a vision…my blog seems to have just grown on its own! I have been inspired by so many other blogs though and always dreamed about being as creative and inspirational as some of them.

Q: You have been working in Home furnishings for more than 3 years now. Share with our readers some tips on choosing the best furnishings and important things to take care of while furnishing a home?
A: I have been working with soft furnishings and home linen for over four years now. I was working with some established export houses based in the Delhi NCR region and enjoyed my work a lot.

When it comes to decorating your home, it is very important to first know about your likes and dislikes since your home is the most comfortable space for you and your family. To completely own your home and find happiness within its confines, it must reflect your personality.
Here are some links to finding your home style:
What's Your Decorating Style?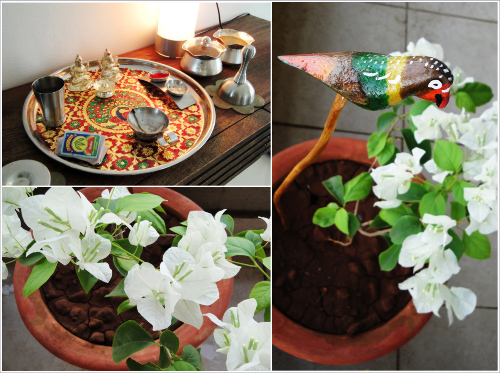 So once you know your personal style start by incorporating it in your home. It might not be possible to do that completely since there are other members of the family to think of… So ask your family, have active discussions, involve your children..it'll make the whole decorating experience a more rewarding one!
For me personalization of space is also very important. The house for me is not a showcase for other people, but a comfortable haven for one's family. For this a house must be cozy and feel lived in.
Personalize your space with things bought on your travels, put up those favourite pictures on the wall, have an old sari which you love but don't wear anymore…why not make it into a throw..or simply frame it and have it as a focal point of the room! Don't be afraid of mixing styles and eras…colour coordinate and you'll see that the oddest of pieces in the same colour work really well together!

I personally like a dry neutral palette in the larger pieces of my home and then accent them with splashes of colour in the smaller articles. I like a lot of light and air and so I have curtains in my house that allow me that. I personally would want to go in for cheaper (but pretty and well thought) fabric options like cottons and linen, striped plain or printed for my curtains, cushions etc since I am most comfortable when I know I can change them with my changing tastes…I get bored easily. Most importantly..have FUN while decorating.
Q: India has been always known for its textiles. What innovations according to you has happened over the years that were very inspiring and useful?
A: Yes India has always been a hot textile destination and continues to do so! Lately, I see the world adopting a lot many traditional Indian techniques and giving them a global home, I find this very inspiring. Our technique of block printing has travelled the world and I see many International companies and Designers interpret it in a more modern language which is great! Our abilities of handcrafting, hand stitching and embroideries are very rich and strong and this is something I feel that differentiates Indian textile design from the rest of the world. The craft intervention by NGOs in this sector has given these traditional techniques a new lease of life!
Another area that has come up is the Natural Fibers. India is now producing a large variety of fabrics and textile products from natural fibers like Banana, Bhindi, Bamboo, Sisal along with the Organic Cottons, Ahimsa Silks and Linen. This whole shift towards these natural fibers has been phenomenal and hugely successful.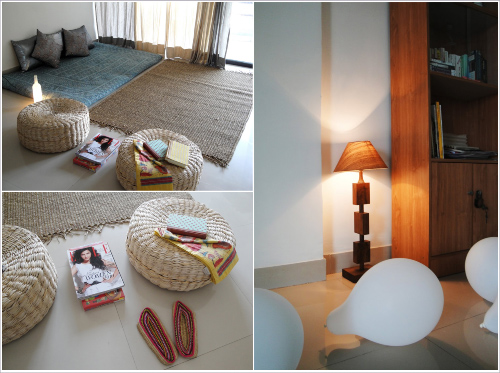 Q: How did you get interested in interior design and textile designs? What do you find so appealing and rewarding about your career in home furnishings?
A: I grew up in a joint family with my brother and my two cousins. When you live in a big family the sense of personal space does not exist but I remember being the only child in the family fighting with my parents for my own room! I hated the idea of having to share my space with my brother 🙂 When I was 13 I finally got my own room after lots of tantrums and crying sessions. I was the only kid in the house who had her own room (my brother did get one too by default…but his was much smaller he he). I painted my walls and my door a bright yellow and my almirah a bright blue with yellow doodles on it…I think I have been interested in interior spaces since then!
I have always loved decorating..I was the official gift packer of my house, I always decorated my house on diwali and I started celebrating Christmas just because I got to decorate some more! As I was nearing my 10th Boards a cousin of mine got through NIFT and graduated as a leather garment designer. I got to know about NIFT and NID through her.. and that's when I knew a new career option had opened up for me.

I took up Textile Design in NID since I felt that every aspect of it was inter linked with culture and our evolution in society. With textiles you get to learn so much about our cultural history which I was very much interested in. One can tell stories of civilization, its people and trade practices just by studying the textiles of a particular region.
What I love about my work is that the time frame of the design to final product is very small and that it gives you instant feed back. I like making things pretty and beautiful! The setting up and display of my collections and to finally to be able to visualize them in a living space gives me a great high! Textiles are things that people live with, interact with everyday of their lives, hold them, feel them several times in a day and that's just great isn't it?
These are smaller pieces that don't hit your wallet too hard and can bring you instant cheer. If one needs a change of look…one can achieve it by simply changing the textiles in that room without having to change the furniture and other fixtures. Apart from being functional, textiles the world over have been a source of beauty and luxury for ages.
…… Time for a break. 🙂 as Kanika has gone to water her plants and light the mosquito coil in her garden. Readers do come back next week to read the awesome second part of this wonderful interview with Kanika Bahl. Till then Shabba Khair 🙂
Update: Read the second part of her interview.