While walking down the streets, travelling to work or while you actually work, you see something or someone that makes you go red with anger and your body's natural instinct makes you want to whack him/her/it. Yes! It is natural and happens to everyone. Right, na? We know you can think of so many things right now – we are listening – share it with us. And we know you are good writers – describe it well and you'll win goodies! 🙂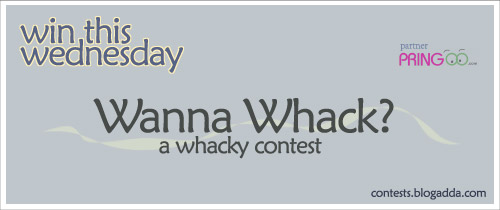 BlogAdda, in partnership with PringOO, is proud to announce this week's contest called 'Whack!! this Wednesday'.
Blog about five (5) incidences from your daily life where you felt like

Whacking

someone or something and tell us why.

The Blogpost should not exceed 750 words.

Incorporate an image (with a linkback) from Pringoo.com which you can creatively use in your blogpost. (for ex. An object that you want to use to whack someone!)
Add a Link in your blog post, mentioning this BlogAdda contest announcement AND leave a comment here (stating the link to your post), so we know for sure, that you are participating.
The contest runs an entire week, starting Wednesday May 19, '10 and ends on Tuesday, May 25, '10, 11:59 pm IST.
Results will be announced on the BlogAdda website by Friday, May 28, '10.
And here's the most interesting part, the TOP THREE winning entries can choose personalized goodies (T-Shirt/Mug) from Pringoo and will also be showcased on the BlogAdda website for the entire duration of the contest.
Thank you for an overwhelming response for 'Mystery Fiction' contest. Sidin Vadukut, Managing Editor of LiveMint.com will judge the entries and we will announce the winners on Friday, May 21 over here.