We at BlogAdda, strive to serve the best to the community and make the voice of Indian Bloggers heard. We have our share of wonderful moments and we feel proud when bloggers write to us that we are a part of their precious moments as well! As they say in life 'expect the unexpected' – We would like to share with you one such incident.
As you all are aware by now that BlogAdda is running a series of contests and our first contest was 'Write a tribute to Anil Kumble' where you could win his coffee table book called 'Wide Angle' which was worth Rs 6000. We received some great responses and Prem Panicker agreed to judge the contest. It is amazing to read and know the way Prem Panicker judged the contest and announced the two winners Suranga Date and Brindha Seshadri.
While waiting for the gift to arrive, Suranga Date was cooking something special for us in the background (Not Sabudhana Khichdi :P). While handing over the book to her, she proved this line correctly – Ek haath se de aur ek haath se le (Give with one hand and take with the other hand). This is what she prepared specially for us.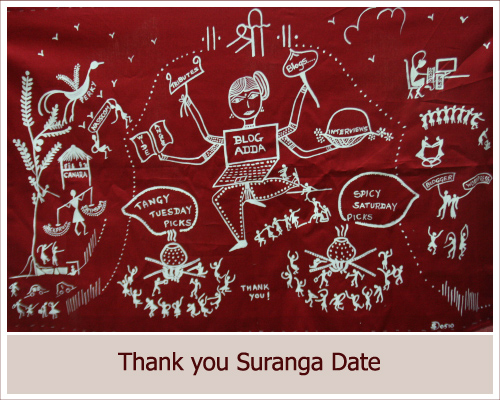 We have no words to describe what we felt while she unraveled this awesome piece of art made by her specially for us. She has captured finer details including the mention of Payasam by one of our team members and the recent contest.
Thank you Suranga Date for taking out time and for such a lovely creation of personalised art. It is now adorning the walls of BlogAdda (Even the facebook ones :P). We feel a sense of gratification when we receive something like this and makes us realize that we are on the right path to serve you the best. Thank you readers and friends for appreciating our work and pepping us every single day, keeping on our toes, to make this the largest and the most vibrant community of Indian Bloggers. Thank you. Thank you so much!