The time has come to finally announce the results of the Wide Angle Contest! Writing a tribute for anyone is not easy and a true tribute is well researched and comes from the heart! We received overwhelming response for this and each and every post is a True Tribute. Prem Panicker agreed to be the judge and pick up the best two tributes to Anil Kumble. Not only that, he wrote in a wonderful note on how he chose the winners. Thanks a lot Sir!! Here is what he had to say about the contest and the winning tributes.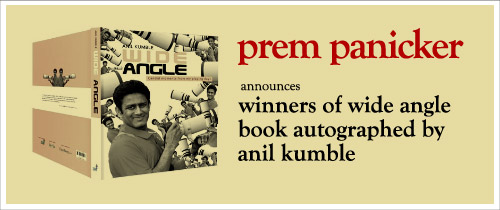 Prem Panicker, as you all know, is Managing Editor at Yahoo India and blogs at prempanicker.wordpress.com. He writes:
First up, it is nice to see so many entries in the list, and to sense the genuine feeling of admiration and affection permeating these posts – feelings that are richly merited by the quiet achiever the writers set out to honor.
That said, when BlogAdda asked me to judge this contest, I was reluctant. Having read the essays, most more than once, that reluctance has only gotten magnified.
Appreciation – of sporting excellence or indeed anything else – is personal. There is no right way or wrong way to express individual appreciation; ergo, there is no way to judge whether one person's tribute is "better than" another's.
Having in a moment of madness said yes to BlogAdda, however, I HAVE to make choices. So right upfront, let me say this: to pick two 'winners' is not to pick ten other 'losers'. I applied a set of personal filters and picked accordingly; another 'judge' would have picked differently.
A quick note on what I was looking for – or rather, what I was not looking for:
A recitation of facts is not a tribute; a seriatim list of achievements is not homage.
Facts are like milestones in the career of an achiever – they mark progress, but do not speak to the story of a great journey, nor do they define the destination. They are at best plot points in the story, but the story of greatness is neither contained in, nor defined by, these milestones.
What then is greatness? It is an intangible – you recognize it not because of measurable achievement but because of that intangible, the 'x factor', if you will. You recognize it not because of the achievements of the truly great, but because of what what you feel when in the presence of true greatness: a sense of awe, of wonder. A sense of bemusement that this person, to all appearances a human being like yourself, is capable of transcending the limits of his own human-ness.
Anil Kumble is an authentic 'great', a giant in his field, not because of the raft of wickets he took, or the games he won for his team often against impossible odds, or because he once bowled with a broken jaw and took out the star performer of the opposition. He is great because when we are in his presence, we begin to believe we can be great, too.
We begin to realize that if, in every waking moment, we refuse to be anything other than the best we can be– if in everything we do we push ourselves to the limits of our abilities and then beyond– if we set our own standards rather than allow ourselves to be defined by the standards of others– If we do all of that, we can be great, too, in what we do – whatever it is we do.
In this collection of essays there is prose and one poetical effort; there is depth and detail, there is the impersonal and the self-referential, there is good writing and there are instances of carelessness in grammar and syntax–
But when judging these dozen pieces, what I was really looking for was that sense of awe… the sense that the writer had gone beyond the facts, beyond the statistics, beyond the "unforgettable moments" , and delved deep to the very essence of the man. And in doing that, discovered in himself the desire to aspire to a fraction of that greatness.
Whoa! That was one awesome tribute to Anil Kumble and all the participants by Prem Panicker. Now its the time to announce the two winners. They are: 😀 😀
Congratulations to Suranga and Bindhu! You win an autographed 'Wide Angle' book by Anil Kumble. Send us your details asap.
We would like to acknowledge all the other participants and take this opportunity to let you know that there is more coming up soon later during the day. Also, we have decided that we will pick up two participants randomly and they will each receive an autographed book of Nishant Kaushik. Follow us on Twitter and Facebook to find out two lucky winners!
Update: The two winners of the autographed book of Nishant Kaushik are Hitchwriter and Sagarika. Congratulations!!
Thanks a lot to all those participated. Every post was brilliant but as Prem said 'to pick two 'winners' is not to pick ten other 'losers' , For all those who participated and others, we have something VERY exciting for you today. Stay tuned at the Adda for more details. 🙂