'God could not be everywhere and therefore he made mothers' and 'of all the rights of women, the greatest is to be a mother', says the wise. Mother's day is round the corner. On this occasion, let everyone know how special your mom is. Write a tribute/poem to your Mother and you stand to win some very exciting goodies. Read on…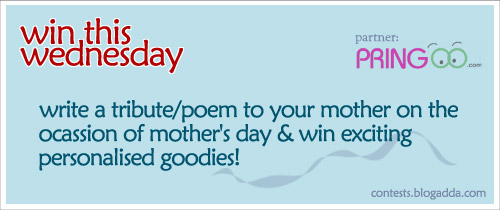 BlogAdda, in partnership with PringOO, is proud to announce a 'Tribute to your Mom' contest.
So what is the contest all about? Very Simple:
Write a blog post in less than 750 words with a tribute to your mom and include a special gift for your mom! For gifts, visit PringOO website and you will find an interesting array of products. Choose the one that you feel can be the best gift for your mom or suitable for your post, and embed the widget (Here is an example) available from the right bottom of the product page in your Blog post.
Needless to say, add a Link in your blog post, mentioning this BlogAdda contest announcement AND leave a comment here (stating the link to your post), so we know for sure, that you are participating.
The contest runs an entire week, starting Wednesday May 05, '10 and ends on Tuesday, May 11, '10.
Results will be announced on the BlogAdda website by Friday, May 14, '10.
And here's the most interesting part, the TOP THREE winning entries can choose personalized goodies (T-Shirt/Mug) from Pringoo and will also be showcased on the BlogAdda website for the entire duration of the contest. So, what are you waiting for? Pick up your pen, er, keyboard and start writing. Never before you had a chance that you stand to win for something as dear as this – Tribute to your Mother.
Note: If you have earlier published an entry about your mom and want to participate, add fresh content to it and publish again with the terms & conditions mentioned above. Just submitting the old entries would not work since they are not discovered to your current readers and we are looking for fresh creative content. New entries are recommended.