For all those amazed by the works of the very talented Kanika Bahl, we are here with the second part. In the first part of the interview, Kanika spoke about her early blogging days, her interest in Interior Designs and more. In this second part she talks about her love for gardening, her NID days and lots more. Read on …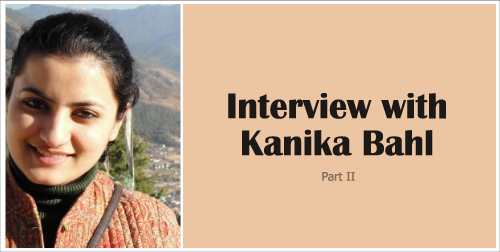 Q: Fashion Designing, Journalism, Anthropology and designing were some of the career options you thought of before you finally plunged into Textile Designing from NID. How did you zero into that? How was your experience at NID? We would love to know some secrets of NID and what sets it apart from other institutions.
A: What is great about NID is that it allows you to be confused for an entire year before you have to select your field of specialization. This is the Foundation Programme at the undergrad level. During this time, one is exposed to various fields of design and NID allows you the freedom to explore for yourself and experience these disciplines first hand. The Design School recognizes the fact that a student coming straight out of school is unsure still. It is during this time that I got interested in textiles however I was unsure till the last day. I take my decisions the other way round..I am unsure of what I want to do…but I have always known about what I don't want to do in my life. I practice the process of elimination…I think it sounds a little strange but this works for me and that is how I zeroed down to Textiles 🙂

Q: You love gardening & you have a secret terrace garden as well. 😛 Can you share with us a few personal tips on how to maintain a garden in a flat?
A: Its not really a secret garden even though I wish it was…just like the book!
Yes I live in a beautiful 2 BHK in Pune that affords me the luxury of two spacious balconies. I moved in only about three months back. I have a great view of the gardens down below and the swimming pools from the front balcony. Both my Husband and I love to sit there early mornings / late evenings and so the need to make the space beautiful and inviting. I love blooming flowering plants but I don't know too much about them for I am only a beginner.
Currently I have roses in different hues of red and pink (Pune has great weather for roses, they bloom all year long), a white bougainvillea which is gorgeous, a Tulsi and a softer cacti variety ( I need to find out what it is called! I also have dana and paani clay pots for the birds along with some African wooden birds bought at an exhibition, in some of my pots. It is still very small but it is definitely growing! My secret is a dutiful Husband who waters them daily, I turn the soil every couple of weeks and thats just about it! For a beautiful garden it needs to be buzzing with activity, I find new buds in my roses every couple of days, I have Mainas and Crows who visit the garden for a drink…these are my regular customers. The sparrows come only sometimes….I hear they are threatened now and that is very sad! I also get a lot of bugs and bees…an occasional grass hopper and a lot of bird shit! I have to clean my balcony everyday…but its worth it! For a beautiful garden have a varienty of plants, and pots in various shapes and colours. Have flowering plants along with the evergreen varieties it adds to the fun.
It is important to have pot holders to keep the pots from leaking and for a cleaner balcony. One can have small lanterns, fairy lights, tea light holders etc to decorate the balcony and plants..I still have to do some of that…when I feel there are far too many mosquitoes in the open..I simply light a mosquitoe coil…and all is well!

Q: What do you find to be the most gratifying aspect of blogging?
A: To find that the number of followers on the side bar has gone up! To know that there are some people out there, who share your interests, likes and thoughts and then come visiting to your blog and make wonderfully lovely comments is extremely gratifying. Like I said earlier, recognition, admiration and Networking are the most rewarding aspects of blogging.
Last year I was contacted by Mr. Hansuli Matter who is a Swiss architect and teacher of design. He is Head of Bachelor Design and member of the management of the Department of Design Zurich University of the Arts (ZHdK). He got to know about me from my blog and then I met him along with his group of 12 students in Delhi to talk about design, working women in India and India in general. This was a very rewarding experience for me and I was super proud of writing a blog. Such experiences make the whole blogging experience very rewarding and encouraging!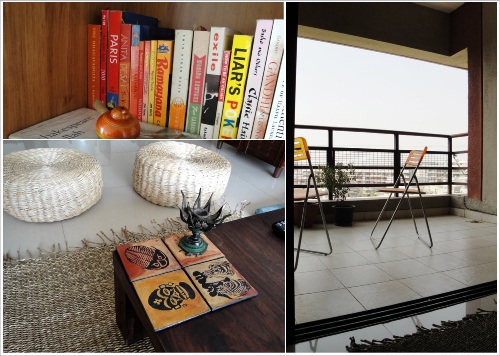 Q: How much time do you spend online every week? Do you actively promote your blog?
A: Oh I spend a lot of time online..not just on my blog but just travelling through the virtual space, looking at other blogs..some that I actively follow. Now that I am on a forced break (a very welcome one) from my regular work I find myself online more often and am spending more time on my blog. In the past I have not actively promoted my blog. I was very lazy (I still am) when it comes to that but now I am seriously thinking on those lines, to be more regular with my posts, to network with co bloggers who share my interests etc. I have started making serious efforts to reply to all the lovely comments on my posts and also visit the blogs of my new followers. Recognition/admiration and networking are the most rewarding aspects of blogging for me and I do hope to be a more active blogger now!

Q: How, in general, would you rate the quality of Indian blogs? Share your favourite five blogs.
A: I feel the Indian bloggers still have a long way to go in terms of depth of content and professional management especially in the field of Design. There is a lot of activity and buzz now and makes it all very exciting!
The top 5 blogs I really like and follow are: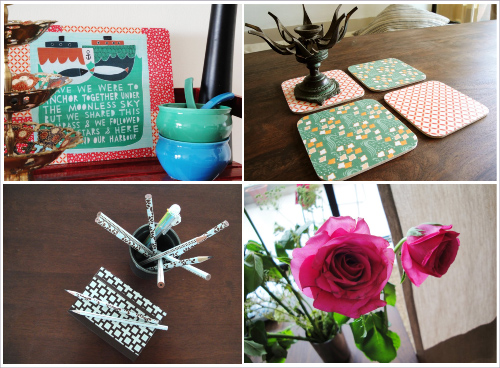 Q: Kanika, has anyone contacted you for work after seeing your blog? Do you earn revenue through your blog?
A: Yes I have been contacted for work on several occasions and I get a lot many queries asking for advice and help from people living outside of India as well.
So far I have totally neglected the revenue aspect of my blog. I have very insignificant earnings through my blog but I am now thinking of actively promoting my blog and am planning to take steps in that direction as well. Earning revenue from something that I enjoy doing so much will be great!
Q: What is your advice to someone who wants to start a blog?
A: Just start…don't think, thinking can come later!

Q: Let's conclude off with a few favorites.
Color: White (but white is not a colour but the absence of it), grey and indigo.
Movie: Children of Heaven an Iranian film by Majid Majidi, Gabbeh, Directed by Mohsen Makhmalbaf
TV Show: Friends is my all time favourite, Sex and the City and Travel & Living Chanel for all day watching.
Book: Eucalyptus By Myrray Bail
Time of Day: Mornings and early afternoons when at home
Zodiac Sign: Cancer
Thank you Kanika Bahl for taking the time and giving us this wonderful interview. We are sure our readers would be already thinking of redressing their home and you would be their inspiration. Readers, shoot in your queries and ask tips to Kanika right here.