A Picture is worth a thousand words. During our vacations we see a lot of picturesque places. Sometimes we wish we capture them and sometimes they just go by leaving their trace in our eyes. You would have captured some of these moments over the years for sure. Here is a chance to exhibit the best ones which you have captured and win!!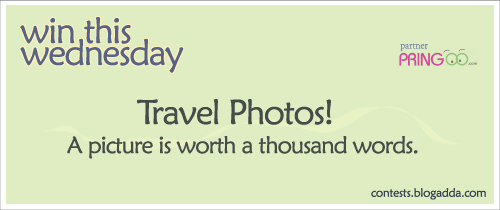 BlogAdda, in partnership with PringOO, is proud to announce this week's contest called 'Travel Photos'.
Post 5 of your best travel photographs from your journeys anywhere in the world clicked by you and describe what the picture tries to convey or in what situation it was taken.

Travel photographs could be of a scenery, a monument, places of worship and the likes, typically outdoor.
Incorporate an image (with a linkback) from Pringoo.com which you can creatively use in your blogpost.
Add a Link in your blog post, mentioning this BlogAdda contest announcement AND leave a comment here (stating the link to your post), so we know for sure, that you are participating.
The winners will be chosen on the basis of their photographs and the way they describe it.

In case of any discrepancies, the decision of the judge(s) will be final.
The contest runs an entire week, starting Wednesday May 26, '10 and ends on Tuesday, Jun 1, '10, 11:59 pm IST.
Results will be announced on the BlogAdda website by Friday, Jun 4, '10.
And here's the most interesting part, the TOP THREE winning entries can choose personalized goodies (T-Shirt/Mug) from Pringoo and will also be showcased on the BlogAdda website for the entire duration of the contest.