The hour has finally arrived when the results of 'Whodunnit?- The mystery Fiction contest' will be announced. Our readers and the participants have been spending sleepless nights and some have joined twitter just to get the breaking news. 🙂
The wait is finally over as Sidin Vadukut – The Managing Editor of Livemint.com who had to spend sleepless nights judging this contest is here with the results. We thank him for taking out time to read so many entries. You can know more about him by reading his interview at our Adda. Do not forget to follow him on Twitter to have interesting conversations with his patented sense of humour. Here is what he has to say about the posts, contest and how he chose the winners.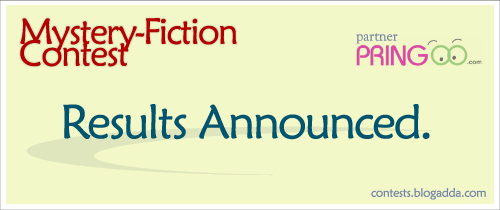 Sidin writes:
Sometimes it has to be the butler
Why do mysteries captivate? What makes us read mystery stories and mystery novels with wide eyes and quickening hearts? And why do so many readers experience such joy, perhaps even closure at some level, when a mystery is solved and loose ends are tucked away?
I am no scholar of such high literary or cognitive conundrums, but given that Blogadda kindly asked me to judge the Mystery Fiction contest, I am going to muse aloud my experiences with mystery fiction, before announcing the winners in this delightful contest.
Human beings, I think, hate ambiguity. While some of use ambiguity successfuly at work and at home to manage relationships–"It is not a question of whether you need a Macbook or not honey. Forget it. Do what you want. Just don't ask me next time."–we deeply dislike it in our fiction and stories. A murder must have a victim, a culprit, a motive and a method. Nothing is, or must be, by accident. Coincidences are suffered silently, but only so much and no further.
But then at some level we are also dissapointed when puzzles unravel too well. When everything makes too much sense. Or maybe it is just me. Which is why, perhaps, while I grew up enjoying Sherlock Holmes, I have now begun to enjoy the dirty, unclean and often cruel solutions of Martin Cruz Smith. And the honest, realistic drudgery of the Martin Beck novels.
In both those cases the problem solvers, Arkady Renko and Swedish policemen respectively, are anything but like Sherlock Holmes. They are small, hazy characters with nothing to set them apart but their overall ordinariness.
But in the end the characters are all incidental. Only the solution matters. And so it was with Blogadda's Mystery Writing Contest. Lila was dead. But who killed her? Reunion, the short story by Ajay Nair, that needed a solution, is tight and adequately ambiguous.
While judging the contest I looked for not just the right answer, but also for presentation. Many people got the right answer. And many people got the perfect wrong answer. Who can resist the identical twin?
My choices are as follows:
The Party by Soumya – They were the worst years of his life. But the best years of Lila's life. A delightful irony.
BlogAdda "who dunnit" Mystery contest by Shankha – "I have started perspiring I can figure out something, something so terribly frightening, I am losing my breath." A Belgian in Kolkatta. Very nice.
I have only chosen two. While there were so many other who got it right, not one really stood out. These two did.
Our Special Thanks to Sidin Vadukut once again for taking the time out to judge this contest and announce the winners with a special note for them.

All the winners are being sent an email as to how they can get the goodies. If you don't receive an email from us by tonight, do let us know. Once again, all of you are awesome and we enjoyed reading every single entry. We love you all! Come back in sometime as we have another special contest for all of you.