Namaskaram! This week we interview a very special blogger and writer. He has done his engineering from REC and his MBA from IIM-A. One of the early bloggers from India, he also writes for mainstream media and has written a book to be published early next year. His post about 'Travails of Single South Indian Men of Conservative Upbringing piece' is talked about even now. He is used to taking other people's interview. For a change we reverse the roles and interview  Sidin 'Sunny' Vadukut of Domain Maximus . He takes time off and gives us this wonderful must read interview. An interview with proper mixture of humour and relevance. If you don't enjoy reading, as they  say, paisa wapas. 🙂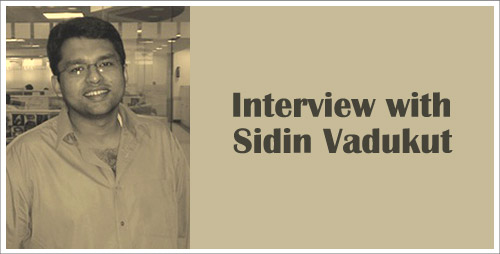 Q: When and why did you start blogging? Was it out of curiosity or something else?
A: Oh yes, you make a good point. I have been complimented many times by women on my cuddly yet manly demeanor, and this animal sexuality I exude. For a person who works in media, where many women are there in the workplace, this is a curse. I manage somehow. But let me reply more specifically when I say that I began blogging around October 2002.
I really started writing with any regularity in engineering college on our online noticeboards. We used to have one of those hideous DOS-based Pegasus Mail noticeboards where I wrote humorous essays on a number of topics. These were then read by members of the college literary club and practically no one else. The only time anyone bothered to read the club's ramblings was when we organized an erotica writing competition a few weeks before graduation. I sat at my DOS computer center PC for hours and hours and hours and tried and tried and tried but nothing came. And that erotica thing didn't work out either.
After graduating, with a few free months before I started work at a factory in Chennai, I began to write long, digression-full email newsletters to a few dozen batchmates. It had movie reviews, random essays, thoughts, ruminations, jokes, bad jokes, poor jokes, abysmally poor jokes and, to use an old BBC term, butt-clenchingly piss poor jokes.
Then in October 2002, someone showed me this blogging platform called Blogger by Pyra Labs. And I thought it was awesome. Better to post up my writing on the web rather than spam so many inboxes week after week. So I posted up everything. And then sent reminder emails to everyone every time I wrote something. "Hey check out my brand new blog post!"
Q: What topics do you generally blog about?
A: Nothing at all actually. The blog has always been absolutely random. If I think something is funny I write it up. But then I am easily amused. So you'll probably hate a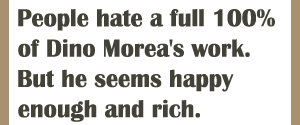 good percentage of my posts. Which is fine. People hate a full 100% of Dino Morea's work. But he seems happy enough and rich.
But seriously, ever since I started writing for newspapers though I've tried to avoid overlap across my various pieces. So while most of my newspaper work is office culture, history, books, reviews, tech and editorials and opinion pieces, the blog continues to focus on ethnic humour, travel, pop culture, cricket, existential angst and bondage.
Q: Do you ever get stuck when writing an entry?  What do you do then?
A:  Ayyo! Don't remind me. This time I was blogging ok. And then I thought, what the heck I should take off my jeans and change into bermudas, ok. Terrible, painful stuckage happened. But there is trick with a lead pencil to extricate oneself. I must blog about it.
I actually don't approach a blog post that way. As a carefully thought out process. Once I think of something I let it sit in my head for a while. Which explains the long gaps between postings. This is to help me do two things: flesh out the idea, and see if the funny-ness of it holds up. I am not thinking of the post or taking notes or anything. Just keeping it in the back of my mind.
And then one day when I think it is time I sit down and spend a couple of hours writing it down. I don't do drafts. Or large scale re-writes. 99% of the posts are written in one sitting, over around two hours or so, with the last thirty minutes purely used to look for spelling mistakes and such like. The missus does the final proof read and sign off. If it doesn't get posted the same night, 95% chance it will never get posted ever.
My stuckages are normally just a few minutes long. I go get a cup of coffee, read a Gene Weingarten column, a Dave Barry book from the shelf or a Lucy Kellaway and I am good to go again. Exactly like how I… err… Sorry nothing more.

Q: Do you earn revenue through your blog? How does one go about it?
A: I used to earn enough from AdSense to pay for the hosting and domain name. I've just recently turned the only ad-space on my home page into a permanent ad for GiveIndia.org. They are good people and do good work to channel donations to bonafide NGOs.
But indirectly, I owe my entire writing career to the blog. I got my first column because of it. And almost every assignment I've received after that I owe to the blog and to the wonderful readers who sent out links and forwarded posts and so on. Exactly six hours after I posted, in 2006, that I was going to pursue writing full time I got an email from Hindu Businessline offering me work. They'd read my blog. I wept with joy.
Q: How important is it for the blogger to interact with their readers? Do you respond to all the comments that you receive?
A: Really depends on what you want to do with the blog. In the beginning I don't think I was too bothered about the community on the blog. Back then the blog was a vent of emotion. And then as traffic picked up and writing became a livelihood for me I think I have become more conscious of it. Especially in terms of getting feedback. For me the most useful part of this interaction has been the feedback. So many DM readers are such wonderful, honest people. One bad humour column somewhere and I'll immediately get an email or a Twitter message with feedback.
This immediately crushes my confidence, destroys my will to live and makes me browse through Infy's Human Resources pages. But the feedback is always constructive and always honest. So the readers on the blog have played a huge role in my maturing as a writer over the last 7 years. But I still don't do it as much as I should. I should be responding to comments more.  I do respond to most emails and normally chat up anyone who uses the Google chat box on the blog sidebar. And yes always responsive on Twitter. So you could say that my reader-interaction is improving.
Q: Which tools/plugins do you use to efficiently manage your blog? Any widgets or tips you would like to share with our readers.
A: WordPress. It's awesome. I use The Morning After template. And I use a few widgets. The only two apps I would recommend is Disqus for comment management and Dropbox for hosting pictures and files. Both make life laughably easy. I am also increasingly trying to use Scribd to embed my mainstream work on the blog.

Q: What promotional techniques work best for you and why?
A: My writing. Period. I don't promote the blog otherwise. I use it in my email signatures. But I don't think that works much. So if I write well in the papers people will come to the blog. And vice versa. So no more promotion that what you see on the blog itself. The occasional Desipundit cross-post is a great help though. No real hawking of the URL as such.
Q: What is your advice to someone who wants to start a blog?
A: Start it. Write. Get feedback. Write again. Don't think about it and intellectualize and make a game plan and take notes and shit like that. Just start your blog. And get feedback. Think over this feedback maturely. And work on your writing.
Though if you want to make it popular I think you need to focus on one of two things: Style or Substance. So you could be a funny blog like Krish's or Arnab's. Just comment on anything with a unique style. Or you could be clearly theme based like Mutiny or Acorn. Or a mix of both: funny ethnic.
If you want to use it to vent then go ahead. But if you want to showcase your writing then be smart about it. Give readers a reason to come back. Identify a style or theme usp. And then own it.
To be continued…..
Friends, We are sure you would have loved the interview. Due to the extremely descriptive and humourous answers, we have decided that it would be really good to have it split into two parts, so there is one more part coming up.
In the next part, we have Sidin Vadukut talk about the quality of Indian Blogs, difference between mainstream media with respect to blogs, the role of media and a sneak peek into his upcoming book.  Don't forget to check back again and do drop in your comments. This is  a chance for you to ask questions to someone who generally asks others. 😉
Update : Interview with Sidin Vadukut of Domain Maximus Part 2