There was a man called Chacha Chaudhary whose 'brain is sharper than a needle and faster than a super-computer' and his creator's name is Pran Kumar Sharma one of India's most successful Cartoonist. That was a time where comics were sold in books. A NID student while reading the comics in the bylanes of Delhi experienced the Eureka Moment and started to create something called Indian Webcomics. The Student's name is Saad Akthar and is the soul behind one of the most popular Indian Webcomic's site, Flyyoufools.com. We got a chance to interview him and Saad answered the questions in a way which we are sure our readers would love to read. Here is the interview with Saad Akhtar.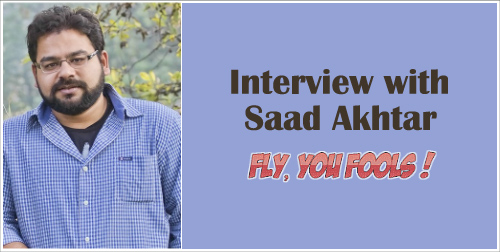 Q: When and why did you start blogging?
A: I had been blogging since 2004, but like most blogs it wasn't going anywhere and not getting many visitors. Eventually, I decided to close my previous blogs and focus on making a webcomic, which worked out quite well! Most blogs are rant fests anyway, and my comic maintains that tradition.
Q: What topics do you generally blog about?
A: Most of my comics are about the small (or big) irritations of life in India. Everything from half baked security checks outside malls, to credit card calls to moral policing and finally the best-hated institution of this country: TV Serials.
When I started the comic I was experimenting with different topics, and comics on petty whines won! So now I keep noting down such things and try to come up with a story.

Q: Do you ever get stuck when writing an entry? What do you do then?
A: Watch Japanese Porn. Haha, kidding, since you know watching porn degrades our culture etc. But anyway, getting stuck with ideas is not a big problem with me, because I have a long LONG list of ideas for future comics. The biggest problem is getting down to making a new comic.
Since I'm not doing this full time, I get very little time to make new comics. Maybe on weekends, maybe a few nights after work.
But sometimes there'll be a flash, an idea, and I'll make the comic in a few hours. It's quite unpredictable. Earlier the regular readers used to complain, but now either they're used to the irregularity, or they just don't care (I'm hoping it's the first one).
To overcome this problem: Maintain an idea list. Use tools like Evernote (or any other note taking app) on your phone to note down the idea as soon as you get it. There's an urgency about this. You'll forget the idea within seconds or minutes. Once it's written down, you can expand on it later.
Q: Do you promote your blog? What promotional techniques work best for you and why?
A: Yes, I promote my comic. But through the social media. I experimented with paid Google ads, but the returns aren't worth the cause (for my site). Social media is free, and it's huge. People recommending my comics to their frands (yes frands) sells more than me selling it to them.
Having a social-networking-friendly site is important. Provide (big visible) buttons/links to share your blog on Facebook, Twitter, Orkut, Email. Pay attention to comments. Comment on other people's blogs.
I also allow my comics to be embedded in other people's blogs. I give a html code at the end of every comic to make it easier to paste the image/link. These things help bring a lot of traffic and new readers.

Also the site has to be search-engine friendly. Specially a webcomic where there is no text, only images. Pay attention to tags, put your comic's dialogues in alt text fields. Get a SEO plugin if you're hosting on WordPress. These things also help.
One third of my site's traffic comes from Google searches (and some really risqué keywords, I might add). One third comes from direct links and the rest comes from Twitter.
Promotion on Twitter has worked out best for me.
Q: How important is it for the blogger to interact with their readers? Do you respond to all the comments that you receive?
A: Obviously it's very important. If you are a beginner then you can respond to every comment. In fact, you MUST. Eventually there will be a point where it's just impossible to do that. But at least take feedback from your readers. Observe which post is popular, and why.
Twitter is a great medium to interact with your readers. People don't comment that often, but they'll let you know their views on Twitter. Also link your Twitter profile to your blog so your readers can follow you.
Another important point are the hate comments. They'll come eventually. This is the Internet after all. Hate comments are like the foundations of the social networking world. Those and frandship requests. Both are inevitable. The important part is to take them in your stride. The Internet's anonymity and audience brings out the animal in people. Let it be.
Q: The name of your first blog 'The China Diaries' was about your experience in China with a lot of photographs. Can you share some of your interesting adventures in China with our readers alongwith some photographs?
A: Ah! Where did you dig that up from? I had taken it out of circulation. I was working in Microsoft Research for 6 months in Beijing and didn't have too many people to talk to. Eventually my friends got sick of my daily mails with mundane details of my life, and they asked me to start a blog. This was a good strategy, because now they could ignore me. But it got me started on blogging.
Adventures… Well most adventures in China begin with "You wouldn't believe it, but I ate a….." and end with "… and the next morning I woke up in a pool of my own filth, next to a…".
I have had my own share, and they're not share-worthy.

Q: Let's move over to your next blog 'Non Creative Fiction'. It started with photographs from saddi Dilli and slowly moved over to Webcomics. Why the transition to Webcomics? Did any incident or person inspire you?
A: Yes. The 2nd blog never got off the ground much, but transitioned into Fly You Fools somehow. I had a bunch of strange/quirky/funny photos and I started using text captions on photos along with blog text. That was fun, so eventually I killed it, and started a webcomic full time.
If I had to nail down one photo/incident that triggered this, it would be the Toe Nail Guy. If you're a regular reader of my comic then you'll know the Toe Nail Guy.
There's a long post detailing the history of the Toe Nail Guy on my comic's blog.
Q: You are an Interaction designer which is not very common. Can you tell us more details about Interaction design? Were Webcomics a natural extension to what you were doing as a Interaction designer?
A: Interaction Designers work with any digital medium that requires human-machine interaction and create user experiences. This is a fancy way of saying we make websites look good, and work well. Obviously, it could be mobile interfaces, your TV menu, your car, or the space shuttle. But who are we kidding…
Q: #chetanblocks is one hashtag you will never forget in your life. 🙂 Did you ever in your wildest dreams imagine that it'll grow up so big and with so much media coverage? What were the positives and the negatives for you from the incident?
A: Oh yes, the obligatory #chetanblocks question! Well, no obviously I didn't expect it to get popular. It was a huge misunderstanding to begin with. I gave him the popular "All you base are belong to us" internet-meme-line, and he didn't get it. He thought I'm promoting piracy etc etc and anyway, Twitter took care of the rest.
Then as usual, the media realized something more interesting than lost cats is happening on Twitter, and since anything on Twitter is newsworthy now, they did their bit of reporting.
Fact is, stuff like this happens daily on Twitter. Just because a celebrity was involved, they went nuts.

Q: You are married to your college mate, Archana who is also a new media designer. We would love to have a exclusive comic from your stable on how you fell in love and eventually getting married. Can you? 🙂
A: One of our marriage vows was never to do a comic on her. (Ed.: Saad, we will accept this!)
Q: We know that Saad is a very reserved person and let the comics do the talking. Which is one comic of yours you think got the maximum publicity either for good/bad reasons?
A: The comic on the Slow Internet Speeds in India! That was something that most people could relate to. Everyone poured their heart out. Some were sympathizing. Some (EVIL PEOPLE) were gloating on their fast connections. Damn you!!
Q: You have been voted by Mid Day as the Indian Twitterer of the year ahead of Shashi Tharoor and many more. What do you have to say about using twitter as a medium for building communities? What kind of trends do you see in the coming years created by the Indian Twitter users?
A: Twitter is great! I don't know about much of a community builder it is, because the community features didn't really work out (Lists etc). But it's great for connecting with other people.
And hashtags really bring people together on a mission. I think in the future brands/companies will be paying more attention to twitter as a feedback platform and complaints inbox. E.g. Recently a café chain was being twitter-flogged because a manager at one outlet was (allegedly) asking for a cover charge. They got on Twitter and cleared the controversy, and apologized. This, I think will increase.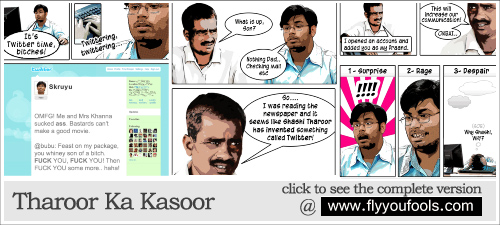 Q: What do you find to be the most gratifying aspect of blogging?
A: The fact that no matter what you're into, there are similar people out there. And they can find you, and you can find them. This is more of an internet phenomenon, not just restricted to blogs/twitter.
Q: How, in general, would you rate the quality of Indian blogs? Share your favourite five blogs.
A: I think Indian blogs are at a good point right now. Contrary to what Vir Sanghvi says, there is no Indian Blogging Elite. Most blogs don't take themselves too seriously, which is a good thing. Lot of healthy personal opinion, a good mix of general/targeted topics. Great humour, good mix of politics… It's great!
A few blogs/comics I like are:
Q: What is your advice to someone who wants to start a blog?
A: Just go ahead and start. No one pays attention to the early posts anyway… keep blogging and eventually they'll come. Google ensures this. Network with other bloggers, leave comments, help around. Build up your network on Twitter, then use it to bring in traffic.
But before you go out publicizing your blog/comic make sure you have 30 mins worth of content. If it's just 2 posts, they wont return. Also make it sharing/subscribing friendly.

Q: Do you earn revenue through your blog? How does one go about it?
A: I have Google ads on the site, but they're mainly decoration. If ads are going to be your primary revenue source, then you need lots of traffic. Or if your site is domain specific (photography, health, movies) and you have substantial readership, then you can approach that domain's brands directly for advertising. But first you need traffic. For that you need popular content.
First get those two, money will follow. (This is what I keep telling myself). Maybe in two years, google will send a check and you can buy a new shirt with it.
Q: Let's conclude off with a few favorites.
Color: #ffffff
Movie: The Big Lebowski
TV Show: HBO's Rome
Book: Guns, Germs and Steel
Time of Day: Hammer Time.
Your Zodiac Sign: Woah, really?
Thanks a lot for such a wonderful interview Saad! It was a pleasure interviewing you and getting to know a lot of things, especially your adventures in China and one of your marriage vows too :P. Readers here is your chance to ask Saad anything and everything about Indian Webcomics.