At the time when the ladies are busy watching the Balika Vadhu, Yeh Rishta Kya Kehlata hai and what not, there are some of them who spend their time blogging and make use of their free time to engage in wonderful discussions. She is a Masters in Physics, used to work for what is now one of India's biggest IT company, TCS and India's most sought after college, IIT Mumbai.
She is fondly known as Ugich Konitari (means 'someone just like that') and blogs at Gappa. She manages multiple blogs and is a contributor to Limerickwala as well. Let us welcome Mrs. Suranga Date, 60 years of age, one of India's senior most and respected blogger to our Adda for this very inspirational interview. For the first time, she reveals her photo in an exclusive with BlogAdda. The stocks of Balaji Telefilms would crash once this interview goes live as people will start blogging taking cue from Mrs. Suranga. Here is Mrs. Suranga Date unplugged for you.

Q: When and why did you start blogging?
I started blogging in May 2006. Prior to that, blogs were never my scene. I was conversant with making webpages, and in general  IT-fied, if one may say that.
There were many reasons for starting.  My son had just started a Cricket blog, and  that was really my introduction. He was on blogger, so I got on to blogger. Didn't even know there were other platforms.  Add to this the fact that I had "voluntarily retired from service" (as they say), and after the initial euphoria, had settled down to a life where there was a bit more free time than before. What of course helped, was that right from childhood, I have enjoyed writing, both prose and verse, thanks to a huge amount of encouragement from my parents.
The additional thrill factor here was that you could write what you wanted, folks would read, enjoy, tell you off, praise, whatever;  there wasn't anyone sitting behind a desk, twiddling a red pencil, and handing sheets back to you, and saying "Sorry".
You just wrote, enjoyed, and basically got on with life.

Q: What topics do you generally blog about?
Difficult question. Many times, it is about my childhood memories, seen in a new light as a senior.  Sometimes it is about everyday personalities that I encounter in my daily life. So many that one takes for granted. Occasionally, it is about people who I admire for the way they deal with problems in their life. Many times it has been about children and how they think.
Medical science and research is of great interest to me. I am interested in life stages, fascinated by the brain and the human body. It interests me to learn how the brain makes decisions, and how intelligence of certain kinds can be encouraged in children, sometimes  considered incapable. Sometimes,  I need to blog about it because it delights me so much. Sometimes I am cynical about some research. That makes me blog too.
Occasionally, I get really angry about something and do a sarcastic blog.  Like on the monkeygate-cricket  thing in Sydney, Slumdog, our ministers, etc.
So you see, I don't really know where to slot myself. Probably a Dadi of all trades, Dada  of none.
Q: Do you ever get stuck when writing an entry? What do you do then?
A:  See, there is no schedule for blogging. So it's not like I sit there and nothing happens.
Most of the time, I can't wait to blog about something, and the thought  speed always, but always, threatens to drown the speed of my two fingers on the keyboard. Now that you ask, I must say, that I have never really got stuck.
But, should I ever suffer from a bloggers block, I will probably go make myself a nice cup of coffee, make something special for a meal,  call a friend to chat, do some housework, or even sleep. (Just realized I don't need a bloggers block-I do this all the time !)

Q: Do you promote your blog? What promotional techniques work best for you and why?
A:  I am not in the commercial domain. So I don't earn anything. (Someone once encouraged me to do Google Adsense, and after a few days, I must have messed up something, because the Google types cancelled my account)…
I love to read other blogs and comment whenever I have something to say. I sometimes participate in  things where you (or someone else)  nominate your blog or post for something like an award. In such situations, you get to read and enjoy  many new blogs.
It's become a standing joke when I email all my friends to vote for me for something, and they all do so and hear nothing later on.  (It doesn't cost and I never lose my deposit, unlike several people we know, who cause excessive noise and lies pollution once in 5 years). Once in a while one has tasted success. But overall you end up meeting many new bloggers and make many new friends.
Lately, someone has been extolling Twitter.  I must have made 1 post till now (for votes). I have no idea how this thing is supposed to work, why someone would be interesting in pearls of wisdom thrown out in fractured English, why there must be continuous updates. Sometimes, I see people coming to my blogsite from Twitter. I have yet to figure out how they do.
Q: How important is it for the blogger to interact with their readers? Do you respond to all the comments that you receive?
A: The interaction with those who write comments,  is the fun part of blogging. I always answer the comments, mostly individually, but occasionally en masse, depending on the nature and tenor. I greatly value that someone actually takes the trouble to read and comment on my post. I am simply overcome by the fact that out there, there are so many folks who regularly read what I write!
The comments are usually nice, and constructively complementary, but occasionally there have been amazingly abusive comment, like when I did a post on cigarette smoking; the guy just went angrily ballistic, and came back the next day and wrote another angry abusive comment. I have left both the comments there.

Q: What do you find to be the most gratifying aspect of blogging?
A: Very clearly, the huge amount of friends I have made there.  I have friends ranging in age from 25 to 84, across the world.  They communicate with me even outside the blog. And you know, what's interesting, is that first you imagine the persona of the blogger from their blogposts which you read often.  You have an image in your mind, of the personality. And when you actually get to the know the person, either in person or even outside the blog, on email etc., its uncanny how the two match up.
My blogger friends are world wide.  There is a 76 year old lady in Seattle who posts photos and I write poetry based on those, which she adds to her posts. Like she says, "we are a pair!".  Then there is a lady in her forties in Australia, whose grandfather taught polo to the Jaipur royals, and her father in his eighties, was a cricketer. He enjoys some of my posts, and since he has age related sight problems, she reads my  blog posts (sometimes about cricket) to him. I called up my 84 year old blogger friend in Tucson, Arizona, on a recent short trip to the US,  and you wouldn't have known she is deaf, because she has a phone that spelled and  displayed what I was saying! The stuff you learn about technology!
I am basically a people person. So I feel blogging is just made for me, as it were…

Q: You are one of the Senior bloggers of the Indian Blogosphere. What keeps you going and who inspires you to keep the wonderful posts coming?
A:  What keeps me going? Who inspires me?  Life, with all its troubles, happy days, sad days, worries.  And the ability to feel that I can write anything  on any subject of my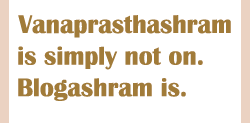 choice. I feel grateful, that I have lived the life I have, with the opportunities that I have had right from when I was a child, till now.
It also certainly helps that what I write, compose or draw  is not dictated by anyone else's standards, and possible marks and rewards.  A certain amount of bravado and  a conviction that you don't need to confirm to certain societal norms (so long as you don't hurt anyone),  in general public also works in my favour.  Of course, being a woman helps.
Travel within India and outside and interacting with people everywhere is a big inspiration.
As such, Vanaprasthashram is simply not on. Blogashram is.
Q: Recently, you met up with your fellow bloggers who share the same thoughts and or on the same wavelength as you are. You have made a lot of blogging friends, what are your thoughts on 'Online Friendship'? Why are people apprehensive about it?
A:   I would distinguish between Online friendships made through blogs, and those made through social networking sites (SNS).  SNS originated in a country where people interaction is more organized, privacy is a huge concern, life situations do not involve hoards of people all the time, and family bonds normally, not always strong. So someone decided that if you indicated a persons qualities/properties/inclinations  in on-line pages,  you could garner a social group(s).
I feel this is slightly redundant in the Indian context. Our society and "inclusive" socializing makes for different kind of friendships, based on connections through family and friends, school etc. People who are already friends keeping in touch through these SNS makes sense.  Though there are always interesting success stories about people who met on the Net, one does worry about fake folks posing as someone else, and messing up a young person's life.

Q: You are one of the contributors on 'Limerickwala'. How different is community blog to a personal blog?
A:  This isn't a community blog where you sign up, and get a Welcome email.  On the way back from our first blogger lunch, where we had already started commenting in limerick form on each other's blog posts, just for fun, one of our group, brought in this suggestion for the Limerick  blog.  Of course, most of us jumped on it.  We started as 3 contributors and slowly have added  some more. We all have different extraneous interests and so our choice of topics to "limerick" about is diverse.  And we automatically respect each other's space.
We did a limerick on the oil-PSU strike early 2009, when papers reported salaries there in excess of Rs 1 lac a month.  The thing was inundated by PSU types, commenting  in  limerick form, poetry form as well as prose.  And we had to write another limerick in reply, separately.

Q: You are known for 'The Art on current happenings', that too using Microsoft Paint as a tool :). Can you shed some light on what thought process goes into it while making one?
A:  Please, I didn't know I was "known".
A blogger friend from Australia, in her seventies, did a kind of "discovery of MSPaint" post, and I was supremely attracted to it when I  saw I could fiddle around with it, kind of non-trivially.  I also do some stick figure art as a hobby where  I do personalized  pseudo warli paintings (as personal gifts), to depict happenings in a person's life. So I thought this stuff like MSPaint was made for someone like me who had a problem with the anatomical proportions of real figures, their expressions  etc.
I started the Reghotya (means Scribbling in Marathi) blog  as a art commentary on happenings  around me, in the country and the world. As in my main blog, being shocked or angry about something triggers  some artistic outputs.  Of course since my art ability was severely limited, I had to add a wordy part. But that was the irreverent part. One depicted one's take on the event and then had a good bloggy laugh at it.  I am just surprised that people actually click and go see that blog .
What makes all these kind of endeavours possible is that  you can give free reign to your thoughts and creativity, and enjoy the resultant output.  It doesn't matter if no one comes around to read it. You can sit back and enjoy it in your old age. (Speaking about which, maybe it is  time to sit back)…
That was sheer awesomeness! Isn't it? We went back to the 70's and 80's and yeah we won't ask you about roads. 🙂 Readers! Here is your chance to ask Mrs. Suranga what you always wanted to know about her, her times and her blog. This interview is not yet over. There is another part coming up pretty soon. Watch out for this space and the part 2 of this wonderful inspiring interview.
And here is the part 2 of her interview. Don't Miss it!