On a sunny day in London, a couple walks into a travel agency and asks, 'We want to see all the beautiful places between London and Delhi. Can you suggest us a good package tour?'. The travel agent jokingly replied 'Travel by Road'. 'Ok,thank you', said the couple and left the agency. This week we have interviewed the couple who travelled to Delhi from London by Road. We welcome Tushar and Pooja to our Adda for this exclusive interview where they tell us the REAL story on how it started and also share their experiences with us. 🙂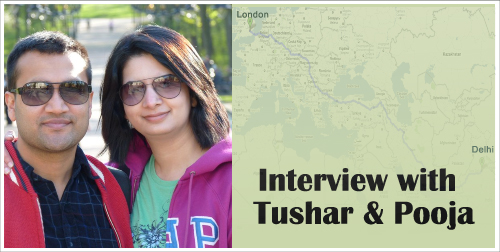 Q: When and why did you start blogging?
A: I recently completed a 12000 kms long journey from London to Delhi by road with my wife. We started blogging to share our experiences along the way. Our goal was to provide information and entertainment to people through our blogs.
Q: How important is it for the blogger to interact with their readers? Do you respond to all the comments that you receive?
A: Very important. The feedback from readers is very useful and helps a blogger in many ways. Good comments are a reward for a blogger and any criticism can be used to improve the next blog. Yes, I always try to respond to every single comment on my blogs.
Q: London to Delhi by Road! What made you think this and did you think of any other option before finalizing this one?
A: London Delhi by Road was a longstanding dream that came true very recently. We researched for 1 year before beginning our trip. When you plan a journey of this size, a lot of things change as you go ahead. For example, the original route that we had designed had to be revised because of political issues. The goal was to safely drive from London to Delhi and overcome any obstacles on the way. During the journey, If we liked a place, we stayed there longer and if we didn't like a place, we tried to get out of there before the scheduled date.
Q: How important is co-operation from the family when you undertake such a trip? Was there any skepticism or fear or was it full-on support throughout?
A: Co-operation from family is always a big confidence boost. In our case, our family was very worried and initially did not want us to go ahead with this journey. It was a bit of a struggle to convince everyone about the whole idea. But we were determined and when they saw our passion for the journey, the skepticism turned into excitement and full co-operation. It was a crazy idea and it drove everyone crazy. Initially, our families and friends didn't think we were serious and just laughed if off. But when they realized that we are really serious about it, everyone panicked!
Q: You have written about the difficulties to find a sponsor for this event. Why do you think was it difficult to find sponsors for such a cause?
A: When I started looking for sponsors for this journey, I had no credibility as an adventure traveller. I was just following the dream. Most of the companies did not even respond to our emails. Others simply responded back with a no. The remaining few either supported organised events or had already exhausted their marketing budgets for the year. The current economic climate was also not favorable towards finding sponsors for such an event.
Q: While zeroing down the current route, did you consciously avoid any countries? If yes, why? Which according to you was the most hospitable country and one where you felt like escaping fast?
A: We did not consciously avoid any countries. We were well aware of the political issues in the countries on our route. For example, Kyrgyzstan was going through political unrest and riots were happening in Osh just a week before we were scheduled to arrive there. We still went ahead but arranged for an escort to come and get us at the border.
Without doubt, Uzbekistan was the most hospitable country on route. The people there love Indians. Not only the common citizens, the police and custom officials also have the highest regard for Indian citizens. We were given full co-operation by everyone. In fact, we felt privileged many times thanks to our Indian roots.
China was the most difficult country on our route. The roads were extremely bad, altitude was very high, food was not the best and there were no bathrooms or toilets. All this also had an affect on our health and for that reason we wanted to get out of there as soon as we could. But the people were very nice and friendly.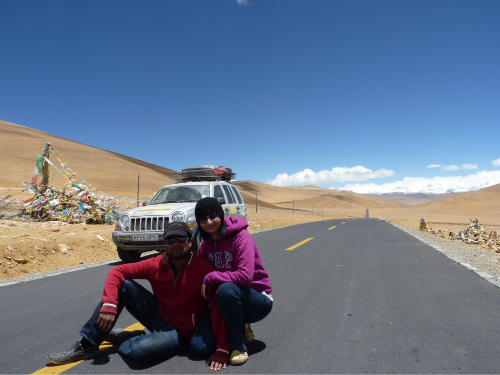 Q: As a couple, it is not easy to have similar interests and passion for something like this. This question is to both of you. How easy/difficult was it to persuade each other and push each other to do this trip? Are you both fond of animals and which other causes did you think of before deciding on this one?
A: I am very passionate about driving and a road trip to India would be the ultimate driving experience for me. Once I expressed this idea to Pooja, she agreed to go ahead with it based on the condition that we should do this journey for the welfare of abandoned animals in India. Pooja is very passionate about animal welfare. This journey gave both of us the opportunity to do what we both have always wanted to do. We both had our own reasons to go on this journey so we did not need to convince each other much.
Q: It seems you faced some resistance in the 'Post Soviet States'. How was the experience in general and any particular incident which is still etched in your memory?
A: We were stopped on numerous occasions by police and custom officials who wanted to check on our documents. Once they were satisfied, we were allowed to go. However, many times we did have to pay the police or custom officers solely because we were foreign citizens driving a foreign vehicle on their land.
Q: One of the things while you travel across continents is that you meet different people from different backgrounds. What is your biggest take from this roadtrip?
A: This trip has been an extremely humbling experience for us. We have seen how people live happily in adversity. In a region like Tibet, where people don't even have access to clean bathrooms or toilets, people still seem very happy and content with their lives. This journey gave us a chance to appreciate the small luxuries of life that we take for granted every day. In China, we drove on gravel for around 2000 kms. When we finally got a proper road, I had tears in my eyes. I got out of my car and literally kissed the road.
Q: Share with us 5 incidents which will remain in your memory forever. Again, both of you can answer this one.
A: 1. The hospitality we enjoyed in Uzbekistan
2. In Tibet, Pooja fell ill at midnight due to lack of oxygen . We were at an altitude of 16400 feet and had to drive all night through some very remote parts of Tibet to reach a lower altitude with an oxygen mask on her mouth. At 3 in the morning, the car also stopped in the middle of nowhere. Thankfully, it started again. It was the scariest night of our lives.
3. Drinking camel milk and horse milk in Kazakhstan was a very interesting experience and one that we will always remember
4. Negotiating with police and custom officers in different countries became a normal routine and something that we actually started enjoying.
5. The moment we saw the sign 'Welcome to India' at the Nepal India border. We will always remember that feeling. It is something that we will cherish all our lives but is hard to describe.
Q: What would you advice to those interested in making such trips for a cause? Do you think you missed a few things that you should have carried with you in your trip?
A: If you are going on a high altitude terrain, do carry oxygen mask with you. We did not carry it and became desperate for oxygen when Pooja fell ill. While deciding what to carry, you have to first think of those things that you will need during an emergency such as camping gear, medicines, spare parts, first aid, packed food, stove, fuel, water tanks, jerry cans etc. It's a long list. Don't wear new or expensive looking clothes. You need to gel with the local community wherever you go. If you stand out and look like a foreigner not only will you distance yourself from the locals, but will also loose out on some memorable experiences. Always carry a smile and stay away from religious and political conversations.
Q: What is Freindicoes all about? Were you able to collect funds for Friendicoes? How is it like to be in India currently?
A: Friendicoes is a registered non-profit charity operating in the city of Delhi since 1979. They concentrate on the belt between Delhi and Agra and in and around the state of Haryana. They do a fantastic job at rescuing and taking care of abandoned animals in India. Yes, we did manage to collect some funds for Friendicoes but it was not easy. We think people in India are still not as aware or conscious of animal welfare as people are in the west.
We received a very warm welcome in India and are loving our stay here. Our journey generated some media attention too and we are more than happy to share our experiences and spread awareness about our cause as much as we can.
Q: What do you find to be the most gratifying aspect of blogging?
A: The feedback (both positive and negative) of readers is very rewarding and inspiring for a blogger. I enjoy writing more when I know that I will have an interested audience waiting to read my blogs. The replies and comments from readers always motivated us during the journey and kept our spirits high.
Q: What is your advice to someone who wants to start a blog?
A: Write sincerely. Your words should simply reflect your feelings.
Q: Let's conclude off with a few favorites.

Tushar's favourites

Color: Orange
Movie: Forrest Gump
TV Show: Everybody Loves Raymond
Book: Anything by Lee Child or John Grishan
Time of Day: Evening
Your Zodiac Sign: Scorpio
Pooja's favourites
Colour – Maroon
Movie – The King and I
TV Show – Frasier
Book – Fav children's book – Bimbo and Topsy by Enyd Blyton and Fav Adult Book – A Thousand Splendid Suns by Khaled Hosseini
Time of Day – Afternoon
Zodiac Sign – Virgo
Thanks a lot Tushar and Pooja for this awesome interview. When and where is the next trip? Would it be around the world in 80 days? We are sure our readers have enjoyed this interview and maybe some of them would get inspired and undertake a similar journey as well. Readers pour in your questions to Tushar and Pooja. 🙂
Our special thanks to Tara Bhatt for letting us know about this wonderful initiative.

Connect with Tushar and Pooja on their Blog, London to Delhi by Road