"Find a job you enjoy, and you'll never work a day in your life." says Confucious. What is a 'Dream Job'? When we announced this contest, we wanted to know 'What type of job do the Indian Bloggers dream about'? Some of us know from the time we are very young what we want to do when we grow up. Others are still trying to figure that out. Some have tried a career or two, then went on to do something completely different with their lives. The response was overwhelming and we sincerely wish that each one of you get your "Dream Job' and be happy in life.
The difficult task of picking up the winners from such awesome entries was bestowed upon Nishant Kaushik. For all those who want to know more about Nishant Kaushik, he is the author of two best selling novels and working on the third one. You can visit his website or read his interview to know much more about him. Nishant here we go, it is all yours.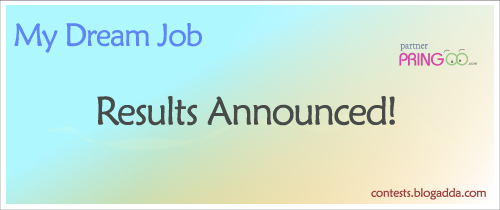 Nishant writes:
At the outset, it was an absolute treat to read through such diversity of thoughts on what people dream of as a perfect job. The posts had a delectable blend of humour, passion and pathos behind their emotions. Such tremendous facility with the pen, combined with the lucidity of the messages, much conveys that Indian writing has indeed come of age!
Nishant Kaushik is the author of two bestselling novels – 'A Romance With Chaos', and 'Watch Out! We Are MBA'. He is currently working on his third novel, and also indulges in his passion for music by the weekends. And when he gets some time off all of this, he also works as a consultant in an MNC.
Thank you Nishant once again for taking out time to read so many entries and judging the best ones. For all those who missed out or did not participate in this one, you have another chance – On the occasion of friendship day, we have a 'Friends Forever' contest. Write about the wonderful moments you shared with your friends and what does friendship mean to you and let everyone know.