'A true friend is someone who is there for you when he'd rather be anywhere else' and 'In the end, we will remember not the words of our enemies, but the silence of our friends'. What is life without friends? The wise say that 1000 relatives = 1 friend. We are sure all of you have had special friends in different phases of your life. Some may be still in touch and some may have lost touch. Let us recollect all the good times and remember those wonderful moments spent with our friends. On the occasion of 'Friendship Day' on Aug. 1, we present to you "Friends Forever' contest.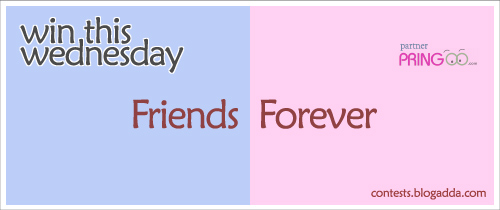 BlogAdda, in partnership with PringOO, is proud to announce this week's contest called 'Friends Forever'
Let us remember our friends right from the nursery days to our present. Wherever they are and whatever they are doing, let them know that we are right here waiting for them. 🙂 Here is a chance to remember the good times we spent with them. Here is a chance to show your gratitude. A blog post would remain forever and so will your friendship. Share the wonderful times you had with your friends, an interesting story, great moments – your post should help relive those wonderful times! Go ahead and write one now!
Choose an existing item from Pringoo.com or create your own design. Incorporate that in your blogpost and if that is not possible, linkback to your product of choice on Pringoo.
Add a Link in your blog post, mentioning this BlogAdda contest announcement AND leave a comment here (stating the link to your post), so we know for sure, that you are participating. This is important.
In case of any discrepancies, the decision of the judge(s) will be final.
And here's the most interesting part, TOP FIVE winning entries can choose personalized goodies (T-Shirt/Mug) from Pringoo.com.
The contest runs an entire week, starting Wednesday Jul 28, '10 and ends on Tuesday, Aug. 3, '10, midnight IST. Hurry Up!
Results will be announced on the BlogAdda website by Friday, Aug. 06, '10. So, what are you waiting for? Write down your thoughts now and share the link with us! And yes, Aug. 1 is going to be a good day and we wish you all a very happy friendship day in advance! 🙂