The list of awesome inspirational Indian bloggers is growing and our interviews are a proof of that. Every week we get tons of recommendations and we too come across some amazing bloggers who deserve to be interviewed. Wish we could interview them all, but we try to give you the best. Presenting to you, the part 4 of the Interview with Popular Bloggers series at your Adda.
Many of you would have missed reading some of these interviews and many of you would want to catch up with these interviews again. So what are you waiting for? Stumble, Digg, Tweet, add it on your delicious and bookmark it as you would not find such a resource elsewhere for sure. Do not miss reading the Part One, Part Two and Part Three of the interview series..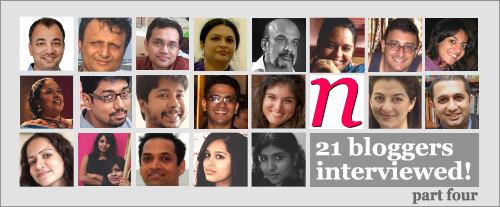 Social media is about people. Brands are incidental to the discussion online, about and by people.


I find the Indian blogs well-written, relevant, interesting and sometimes, rivalling the best of mainstream media.
Blogging saves me from suffocation. I can express myself over my blog and at times I am lucky enough to find people who understand me.

I believe I've become a far better writer thanks to active blogging.


Youth and beauty has a limited shelf life but your wordpress typos will still be there when the aliens take over.

Blogging is known for creating two way communication, and interacting with readers is something I've loved from the beginning.

But what makes a blog interesting is the authenticity of the person.

The Indian blogosphere is a vibrant place. And I wish I could read more and more .

You can't really experience blogging or social media unless you have conversations with people in the process.

If you're a happy person who sees everything in bright colors and pink hearts, stay away from blogs. Start a cult instead.


Monetizing your blog is like monetizing your honeymoon—you could probably do it, but you're missing the point.

Blogging gets you more interaction with your target audience and unexplored prospective ones as well.

Be responsible for what you write. Don't write anything that you wouldn't want to be heard saying in decent company.

As with all writing, a blog should reflect one's personal interests. After all, we write best of what interests us most.

Our advice to anyone starting a group blog: Use each other – play on each others' strengths, develop chemistry, divide responsibilities, and keep an emergency bottle of wine at work for when you want to kill each other.

I also believe the best promotion for your blog is your content.

(The gratifying aspect of blogging is) Getting your voice out there, even if it's in a limited form and only for the eyes of 600 people a day!

Bloggers and writers: be true to yourselves at all times and at no point write something just to please other people.
We thank all the bloggers for taking out time for the interviews and sharing so much insights. All of you are awesome and we love you all! For all those who are reading, we love you as well and will appreciate if you post comments and share with us your thoughts on these interviews.  Have a good time at BlogAdda and read interviews with bloggers!