She has a vision. A vision to link her home country, India more tightly with the American community. As a cultural entrepreneur, she is the Founder and CEO of Ixoraa Media. This week on your adda, you have the chance to interact with Lakshmi Pratury, the person responsible for getting TED to India and now sharing untold stories from around the world with The INK Conference. Get inspired as the beautiful Lakshmi Pratury talks with BlogAdda in this Exclusive interview.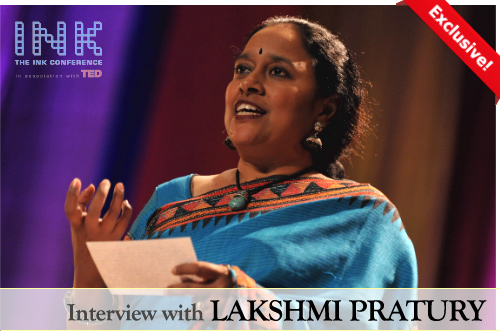 Q: When and why did you start blogging?
A: I started blogging around 2006 but have not been too diligent about keeping up. I find blogging as a way to express my feelings on small matters, simple things and personal observations. I do not need to go through someone else's decision on whether what I have to say is important or not. And I am not looking for a mass following but connection with people who think alike. I see blogging as a way of self expression.
Q: What topics do you generally blog about?
A: It varies, one day I may blog about the latest iphone app that has everybody excited, on another day it could be about my neighborhood 'dhobi' who is still ironing clothes using the old coal-powered iron. It's about what fascinates me that day, that moment but could also have relevance to others. What I wear, what I buy are not imp. for me to blog about but what I think of various issues – that's what blogs are about.
Q: The purpose of the INK conference is 'Sharing untold stories from around the world'. A very interesting concept. Can you tell us more about how you made the INK conference happen and what is unique about it?
A: Last year in November, I co-hosted TEDIndia. It was the first time ever that TED was coming to this part of the world, especially Asia. Around 1000 people from 46 different countries attended the conference in Mysore near Bangalore. There were many Indian attendees who had heard about TED, and it was a great opportunity for them to experience one in their own country. We also had 100 TEDIndia Fellows from across India, Pakistan, Bangladesh, China and other parts of Asia, who are young, enthusiastic people doing great things. After the conference, more and more people were viewing TED Talks, organizing TEDx events. People here were obviously very excited about this whole concept.
Our plan with TED was always to host only one event in India and not to make it an on-going conference. I wanted to continue on the momentum that was generated by TEDIndia. So, we entered into an agreement with TED where I would host The INK Conference as a totally separate conference, in association with TED. TED is providing us strategic support, and will upload some of INK's popular talks on TED.com following their current editorial principles.
INK is unique because it is not your regular conference. It is a community event that transcends different disciplines and topics to celebrate ideas. This ensures a cross pollination of ideas, where our highly curated audience and speakers have an opportunity to mingle.
Our talks are also interspersed with music and comedy.
We do not have any parallel sessions and all attendees listen to all talks, which gives everyone a unique opportunity to network.
Q: At Intel, you were at a position where you would have been the next VP. You quit that post to do something for India. What all things were going on in your mind when you took the plunge?
A: I would not want to say "I would have been a VP at Intel" as no one knows what would have happened if I stayed. All I can say that deciding to leave Intel was one of the toughest decisions in my life. I grew up in the corridors of Intel and considered it my home. After my father passed away, I wanted to do "something" to connect US and India but didn't know what to do.
All I knew was that as long as I stayed at Intel, I would not be able to think of anything else to do as I would feel guilty for doing so. I quit Intel NOT knowing what I wanted to do. It was one of the most scary things I have ever done in addition to being the most emotional. For almost a year after I left, I would start driving toward Intel office automatically every morning. And I could not get myself to enter the building for a few years because I could not stand the thought of signing in as a visitor. My mind was a complete blank filled with equal amounts of fear, excitement and apprehension.
Q: You are also the brains behind "Aamra Grove" . Can you share with our readers about what it is all about and whether we can expect another edition of the same?
A: In 2007 and 2008, we hosted Aamra Grove, which brought together a diverse group of accomplished Indians from around the world and across disciplines to focus on shaping the thinking, policy, and progress in the Indo – US corridor. This is an invitation-only event. We hope to have the next edition of Aamra Grove next year.
Q: What was the experience like to be with Dalai Lama while your company provided them the expertise of webcast? Did you benefit from his teachings?
A: I celebrate the human spirit and I am a collector of people. I have always been fascinated by His Holiness the Dalai Lama. He somehow managed to transcend all religious and geographical boundaries to become an emissary of peace. I believe that success is the ability to have a great message combined with the expertise to spread that message. He is a brilliant combination of the two. I wanted to observe him and understand what is behind his success, without coming in the way – just like a fly on the wall! And I had the opportunity to do so. We were working with his private office from inside his private compound for close to a month watching him give his teachings every day and hearing the English translations of his talks.
My conclusion is that the key to his success is that he has a child-like quality in his interactions with the world, combined with an adult wisdom to let the chosen people around him run his life. He is genuinely interested in you in the moment that he interacts with you and he knows what you want and takes that extra step to ensure that you get what you want. For example, when I first met him, he thanked me for doing the webcast and then put his arms around my shoulder and said, "Let's take a photo together" , and asked his photographer to take our picture. He knew that it would mean a lot to my entire team to take a picture with him, but we would not have the courage to ask him. So, he made it happen and it was his way of thanking us.
Another key ingredient of his success lies in the group of people in his private office, who are talented and completely dedicated to their jobs – from the person who is his official photographer to the person who responds to his appearance to his private secretary – they all have a genuine love, respect and dedication towards him personally. And one gets a feeling that they would do ANYTHING for him. All of them follow a very simple life and seem to put their work ahead of their personal comfort. I am sure that this is true of all the leaders but I had the privilege to observe only his routine and hence am able to comment on it.
Q: With the first TED held in India, so many TEDx conferences followed this year. How difficult was it to bring TED to India and now INK conference? How often will it be held in India?
A: The curator and staff of TED are some of the most forward thinking individuals. I have been attending TED since 1994, and I have known all of them for a while. I knew that they had their hands full with two conferences and was sure that they would not want to do a third. So, I was pleasantly surprised and even shocked when Chris agreed to let me co-host the first ever TED in Asia in India. Chris Anderson, curator of TED, was born in Pakistan and grew up in India. So, he had an emotional connection to India and was looking to do something here. It was a case of great alignment of thought, action and opportunity. Making the decision is always the easy part and making it work is a huge task. I was truly lucky about working with a great team from the US as well as India to make our collective dream come true.
After the conference, the talks that came out of TEDIndia became popular online, traffic from India grew exponentially and many people started hosting TEDx events. To continue on the momentum, we wanted to host an annual conference that is inspired by TED. The INK Conference, in association with TED, will be an annual event.
Q: 'Idea Evangelist' is the tag you are associated with. What five ideas do you think can be implemented at the rural base to bring about a change in their lives?
A: First of all, I do not believe that I am qualified to answer this question. One would not ask me to list five great ideas to improve the performance of a computer chip or five fashion trends that are going to catch on like wild fire because I am not a subject expert. Similarly, what is relevant in a rural setting ought to be asked of someone who has spent a considerable time there and understands the issues. I have spent less than 60 days in a village setting and consider myself no expert. So, please understand that whatever answers I give are an outsider's or worse an urban person's perspective. So, I would not guarantee the practicality of the following ideas. These are just a list of outsider observations:
I am a great believer of vocational training. I think that we have an opportunity to train great carpenters, plumbers, construction workers, hotel receptionists, nurses, health workers, car repair, bicycle and scooter repair – the list goes on. If we can train in these areas, they can serve their areas as well as surrounding areas.
A lot of work needs to be done in the "last mile" of government fund disposition. Accountability initiative looks at what happens to Sarva Shiksha Abhiyan funds once they reach the district level. We need people on the ground who can make it their profession to track the funds all the way to a school level, find the most relevant ways to spend the money, organize school authorities and parents to write to the government requesting for the funds to be used in more productive ways than what they are specifically assigned for.

There is room for professional "grant writers" who take on specific issues from the areas

.
Making information transparent at a local level can create relevant work. Right to information act allows you to ask for the status of anything being processed by the government. But if we can have a private / public partnership, every rural village can use their locally trained force to enter all the data that is relevant to that area. Once the data is available, the number of right to information petitions would go down and it would help each person to see the progress of their paperwork in a transparent fashion.
With increasing attention to healthy eating etc., organic farming could be a great thing to develop in villages. The key is to have people who are good in business and marketing to help the villagers gain market share. It might be a good idea to get a set of local youth trained in business – especially finance and marketing.

Rural areas are a treasure trove of cultural creations

– be it Madhubani art or music or storytelling or dance or handicrafts. We need to find ways to preserve these traditions and make them economically sustainable activities.
Q: India will be one of superpowers to reckon with in the coming years. What, according to you, should be the roadmap for India to be among the superpowers of the world?
A: To me, being a super power is to be at the top of globally recognized awards and not be just happy with how far we have come from our starting point. And it is also the ability to give recognition based on talent and not based on lineage or caste or wealth. When we get to be a meritocratic society where one can have their "Indian dream" fulfilled, we would be a super power. I look for the following non-economic indicators to declare success:
One of the key components of being a super power is the ability to integrate diverse talents into one area and let them think unconditionally. In short, research is the backbone of being a super power. Internet came about after decades of DARPA research, every drug we use has years of research and testing before it is released in the market. India needs to spend a lot more on research and make scientists / researchers as important as our economic indicator. The number of Nobel laureates, scientific patents that come out of work being done in India ought to be measured and cultivated. We ought to increase the research capabilities of our universities and bring in as many brilliant people from around the world as possible and give them the best facilities.
The second important this is to be all rounder – in sports and cultural activities. We need to spend a lot more on sports and athletic activities. We need to pursue to be the top winner of medals at the Olympics where the world's best come to compete. We need to invest in creating our own voice in music, dance, theater. Every city / town / village should have a thriving theater culture where we gather in a physical setting to support local talent. We need a national endowment for the arts along with strong individual philanthropy that supports the arts. We need to be as proud if our children want to become sprinting stars or song writers as we would if they become call center employees.
The visual imprint that we leave for future generations is a very important cultural legacy. What business people like the Medicis did for Italian architecture is invaluable.

We need buildings and landscapes that do not simply emulate the west but create our own imprint.

I spoke to many builders and they say that the corporate owners want buildings done fast and the best way to do that is to import steel and glass and pre fab materials to finish off as quickly as possible. I dream of a university that can emulate Nalanda with its unique architecture, or an office complex that has a strong Indian influence and a housing complex that brings in the community interaction aspects and integrates the flora and fauna of the local setting. Features like verandahs and front lawns encourage community interaction, having a central courtyard with rooms around it increase interaction among family members. I am not an expert on architecture but I would like to see India develop it's own visual imprint that can be emulated by others.
Q: What inspires Lakshmi Pratury? What is the most difficult thing you had to encounter in India while organising these events?
A: The indomitable human spirit inspires me. People inspire me. I am a collector of people and every day, I meet someone or I make an observation by what people do that gives me hope, inspiration and excitement. For every bad news that we read in the papers, there are thousand good deeds that go unnoticed. My mission in life is to make myself and others notice the good that goes on in this world and make heroes out of wonderful people.
When I decided to come back to India after spending most of my life abroad, I expected it to be very difficult. And I was wrong. I feel at home here. From personal friendships to finding good people to work for me – I found nothing but the best. The only issue that I struggle with is that as a community, we do not place as much value on intellectual stimulation as we do on acquiring physical things. We care for labels much more than we care for content.
For example, we charge one lakh per person to attend our conference because we believe that to build an infrastructure for a knowledge community that we want to create would take that kind of resources. I know plenty of people who would drop more than a lakh to buy one saree or a watch but they feel that the amount is too much to come to a conference. We do not give enough importance to experiences as we do for labels. And when I say "we", I include myself. Even while planning an event, I have to stop myself on cutting corners on small items. We are all about creating magical moments, unique experiences and letting people put a value on intellectual stimulation. Despite my criticism, I must say that I am delighted by the number of people who are welcoming what we are doing and supporting it by being there.
Q: What is your advice to someone who wants to start a blog?
A: I believe that blogs, like anything you ought to do, are for yourself and to be true to your observations and your own voice. I personally do not like blogs that are filled with gossip and sensationalism but am fascinated by someone who gives a unique perspective of the world that we all see. We can do all we want to make sure that the voice reaches as many people as possible by doing online marketing, promotions etc. But what makes a blog interesting is the authenticity of the person.
Q: How important is it for the blogger to interact with their readers? Do you respond to all the comments that you receive?
A: It is important for any writer to respond to his/her readers. I try my best to keep the dialogue going.
Q: How, in general, would you rate the quality of Indian blogs? Share your favourite five blogs.
A: I don't read blogs based on their geographical locations. I usually like to follow blogs of people I know and respect. Here are some samples –
Q: What do you find to be the most gratifying aspect of blogging?
A: To say what I want to say, and not have someone judge it based on whether it has any "news" value.
Q: Let's conclude off with a few favorites.
Color: Shades of red, deep red, maroon, brick red (not bright burnt earth tones), deep blue, turmeric yellow, white and off white.
Movie: Different movies for different moods – Amelie, When Harry met Sally, any Telugu movie with Siddhartha for feel good, Rajnigandha, Ek Baar phir, Arth for looking into relationships with a lot more honesty than romances where couples walk off into the sunset. Almost anything with Gene Hackman as I find his acting riveting, all the movies by Raju Hirani as he has the ability to make a very serious point / statement through humor, movies like Sholay, Koshish, Mirch Masala, Telugu movie Shankarabharanam for their timelessness and finally, movies like Dev D, LSD for their edgy voice. And the list can go on!
TV Show: West wing closely followed by Law and Order: SVU and Grey's Anatomy.
Book: 'Grapes of Wrath' for letting me experience the life of a migrant worker, 'To Kill a Mockingbird' for a sense of integrity of human kind, 'Sacred Games' for understanding the delicate balance of love and crime, 'The Great Indian Novel' for its sheer brilliance of story telling, 'The road not taken' by Robert Frost, 'Where the mind is without fear' and many other poems from 'Gitanjali', 'On marriage' from Kahlil Gibran's 'Prophet', and Telugu poetry by Devulapalli Krishna Shastry for giving me the foundation on which I make most decisions in my life. 'Mahabharata' for finding solutions for any business problem that I encounter and the list could go on here too!
Books are my passion and collecting autographed books is my hobby. I can walk out of a saree shop or a jewelry shop without buying anything but I CANNOT walk out of a book shop without buying a book.
Time of Day: I love the early hours. I jog/walk in the early hours and I love watching the sunrise when I am outdoors.
Sun Sign and Date of Birth: Scorpio, Nov 13th
Thank you Lakshmi for taking out time for this wonderful interview and your detailed thought-provoking responses. You are a constant source of inspiration. We wish you all the best for the INK conference and in all your future endeavors. Readers, here is your chance to connect and interact with Lakshmi Pratury.
Connect with Lakshmi at Lakshmi's Lounge