It is now time to announce the 'Share your Diwali Moments' winners. Without wasting much time, we hand over the post to Bhavna Bhatnagar who will announce the winners.
"I love how this month has been all about Diwali for me. November started with the frenzy of Diwali prep, leading to the slightly nippy yet bright morning of Diwali, which then culminated into a beautiful night lit by the brilliant illumination of hundreds of earthen diyas. The following weekend, as I packed up the Diwali decor and popped in yet another chota gulab jamun, I sighed and wished that Diwali lasted just a little bit longer. I should have asked for more, because looks like BlogAdda was listening!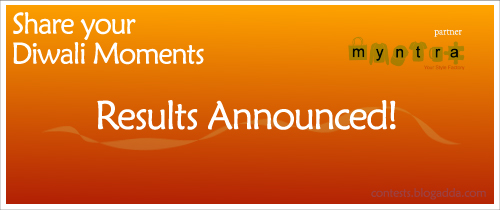 BlogAdda offered an opportunity to extend my Diwali celebrations right till the end of the month, and well, here I am, reliving not just mine, but many other Diwali memories shared by bloggers extraordinaire. As I read through your entries, I smiled, nodded, sighed and reminisced along with you. The theme that struck cord with me was that almost everyone was nostalgic about the festivities from their childhood – the anticipation and the preparations for the day, the traditions followed – similar, yet unique in each household, the enthusiasm (or lack of it for some!) for firecrackers, the family gatherings, and the longing to recreate that bygone era again. I also thoroughly enjoyed reading about and seeing your Diwali celebrations from this year. Thank you, for sharing a glimpse of your life with BlogAdda and me, and your readers.
Here's what I enjoyed from your posts:
To begin with, Suranga, thank you for sharing such a selfless and unique way of celebrating the festival. I am sure you made the kids at Vatsalya very happy again this Diwali, as you have done each Diwali for so many years! Farida, it was heart warming to read about how you and your siblings celebrated all the festivals without a thought to religious affiliation, and how you long to do the same now. I hope you are able to bring about that change with more like-minded people in your current neighbourhood. Pratibha, your post reminds us all to be careful when handling or playing with firecrackers, if not avoiding them completely. I do hope your young relative is recovering well from the incident.
Abhishek, I am sure a lot of your (women) readers, who have had to answer the very important question of what-to-give-the-maid-this-diwali, would have loved your post! Your light hearted prank with the firecrackers…hmm…not sure how that would go down with those of us who aren't that fond of patakas, especially Rinaya, who has had one too many hilarious incidents with firecrackers ;-). Rinaya, you do need to let us know what happens next Diwali! Restless and Always Happy: I love how your online names work so well together! Restless, thanks for your helpful Diwali prep and cleaning tips! Always Happy, just so that you know, I have been humming 'jab ghar ki raunak badhaani ho…' since the last three hours, thanks to you! 🙂
Mansi, I could feel the excitement you and your family must have felt given that you were celebrating Diwali in India after five years. And psst: Loved your lehenga! I can see why your niece decided to follow you around! Kalpana, as I read your post, I gasped! The maniac cleaning, hay allergies, anti-histamines, bumpy driving with eyes shut at every sneeze, the aching rib cage, the once in blue moon cooking… whoa! You just described accurately a portion of my Diwali day! We should exchange more notes 😉
Putti's mom (sorry, I couldn't figure out your name from the blog!): How cool are the diya cookies! I am sure they must have been a hit! Megha, the tri flavoured kheer looks yum! And I am going to try out your bottle and lights idea the next time I have guest over. Lakshmi, thanks for sharing such a simple recipe for dum biryani. I think even a non-cook like me could give it a shot!
And, I can't say enough about these über creative ladies who blog at The Key Bunch and Colours Dekor. Rekha, thanks for sharing beautiful moments from your Diwali celebrations with all of us. I have since been on the look-out for boat shaped seed pods! Patty, those tea-lights in a bed of rose petals look sublime. And that picture with your living room in the background is so inviting – just the right ambiance for close family and friends to get together on a festive occasion!
Now for the three posts that win the vouchers from Myntra (in no particular order):
Vidya: Your post touched my heart. Your post, and your blog, is as much a celebration of the incredible woman your mom was, as it is a tribute to her many beautiful memories. From the simple rituals of a festival to bigger celebrations, it's a mother who sets the traditions for her family, and your post was like a journey into what Diwali and other festivals have meant for you, your mother and your family through the years. Thanks for sharing your memories with us.
Mindful meanderings: As I read through your post and saw the beautiful pictures, I felt as if I have been invited to your ancestral home to celebrate Diwali with your family! I enjoyed the very well structured, visual journey through the entire day, starting with oil massages to family lunch to rangoli making and finally the lighting of diyas. I loved the part about Shivaji Killas and the huge paper lantern – traditions not known in the northern part of the country. Thanks for sharing your family celebrations with us.
Tulika: I relived my train journeys to Lucknow as a child through your post. Not that I travelled without a reservation ;-), but the experience of taking a night train and then taking the rickety auto rickshaws (what are they called again?) once out of the railway station – all came back to me. The fact that you made it for Diwali as a surprise – I am sure, it must be your family's favorite dinner table story :). But the winning stroke of your post was the gorgeous handiwork of your four year old twins! Thanks for sharing the early works of the two very talented artists currently residing in your home! :)"
Thank you Bhavna for taking the time out and judging this one. A special thanks for this detailed post. Truly appreciate. Friends, check out the brand new contest for you called 'My Oldest Book and Memories' and win. To know more about Bhavna, you can read her interview at your adda and read her blog at 'An Indian Summer'.