Happy Diwali and Happy Dhanteras to one and all! Today is the auspicious day of Dhanteras which is meant to bring 'dhan' and prosperity in the house. Earlier, marking this occasion, we had introduced a contest 'Good over Bad' to depict the essence of these occasions. Here we are again to mark the second aspect of it. The joyous Diwali and Dhanteras brings in lot of positive vibe in the family and around India! So here's your chance to do so! BlogAdda introduces a bright contest for Diwali! Winning the contest will bring in lots of goodies and tonnes of prosperity! So what are you waiting for? Pen down your thoughts on your blog and connect with us at your very own Adda.
UPDATE: We are pleased to inform you that Bhavna Bhatnagar will be the judge for this contest at your adda.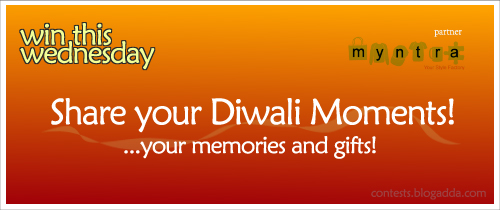 Write about your special memories during Diwali and/or one memorable gift you gave or received in Diwali. You can add Diwali Decoration images of your house and suggest some very simple ideas on how you decorated your house. Make it an enjoyable read and a visual treat! 🙂
Copy paste this code in your blogpost using the EDIT HTML (Blogspot) and HTML tab (WordPress). (We have made it so simple :P)
Go to <a title="Check out Myntra Diwali Offer" href="http://www.myntra.com/"
target="_blank">www.myntra.com</a> and check out Myntra Diwali Offer. Shop for Rs 500
and get Rs 500 off on your travel with Cleartrip! Also visit the <a title="Largest
Community of Indian Bloggers" href="http://www.blogadda.com/" target="_blank">
largest community of Indian Bloggers</a> at <a title="BlogAdda.com"
href="http://www.blogadda.com/" target="_blank">BlogAdda.com</a>
In case of any discrepancies, the decision of the judge(s) will be final.
The contest will end on 16th November 11.59 pm IST.
So, what are you waiting for? Write down your thoughts now and share the link with us! People who participate in the contests are known to get a lot of new readers on their blog! 🙂