Dussehra the festival which is celebrated all across India epitomes victory of good over bad. We are sure all of you believe that ultimately the good wins over bad. Carrying on this thought, we are pleased to announce the next contest, called 'Good Over Bad'.
BlogAdda in association with Myntra.com is proud to announce the contest called the 'Good Over Bad'. Read on to find out more about it.
Update: We have been forced to extend this as people have been writing to us requesting to do it because of the Festive Season. Contest Extended!!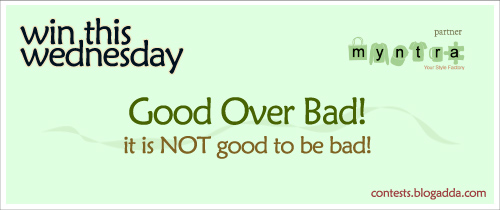 You can share with us incidents where good wins over bad. It could be a very small incident too. The incidents can be one you have witnessed, or you heard of.
If you have overcome any bad habit of yours or seen any of your friends overcome something, then you could share the experience with us.
If you have contributed towards any social cause or created awareness and made a difference in the society, that is also welcome.
Remember it is not necessary that it should be your own initiative, it could be anything which you have seen someone else do it or know something of that sort. All we need to depict is that, good always wins over bad, even though little late but it always does. On happy occasions of Diwali and Dussehra, let's all pledge that we will always strive to be good and support good causes.
Copy paste this code in the EDIT HTML (Blogspot) and HTML (WordPress) tab of your blog post (We have made it so simple :P)

Buy <a title="Buy Social Causes T-Shirts at Myntra.com"
href="http://www.myntra.com" target="_blank">Social Causes T-Shirts</a>
online at <a title="Myntra.com" href="http://www.myntra.com" target="_blank">
Myntra.com</a> and visit the <a title="Largest Community of Indian Bloggers"
href="http://www.blogadda.com" target="_blank">largest community of Indian
Bloggers</a> at <a title="BlogAdda.com" href="http://www.blogadda.com"
target="_blank">BlogAdda.com</a>

In case of any discrepancies, the decision of the judge(s) will be final.
The contest runs an entire week, starting Wednesday Oct 20, '10 and ends on Tuesday, Oct 26, '10, midnight IST. Hurry Up!
Results will be announced on the BlogAdda website by Friday, Oct 29, '10. So, what are you waiting for? Write down your thoughts now and share the link with us!