Isn't there something about the smell of freshly printed books? There are many books you would have read and shared in your lifetime but refused to part with some. Those are special. You would have read them multiple times and still could read it one more time. There are memories associated with it – collected money to buy it, gifted by someone dear or found it after a long search! You now have a chance to share those special moments and win something that you like, books! We have something special for all the book lovers.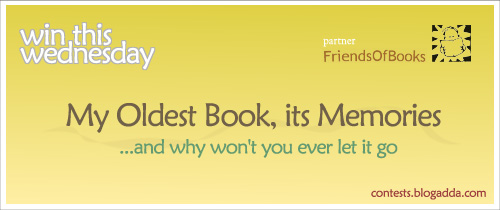 BlogAdda and Friendsofbooks.com present to you a brand new contest for all the book lovers called 'My Oldest Book and its Memories'
Tell us that one book which you have kept on your book shelf for a very long time. Let us know the time since it's with you.
Share with us the reason, why won't you let that book go.
If at all, you give that book away, then whom will you hand it over to and why?
You earn brownie points if you post a picture of it and post it with your entry. ๐Ÿ™'
Copy paste the below code in your blogpost using the EDIT HTML (Blogspot) and HTML tab (WordPress). (We have made it so simple!)
and I connect with bloggers at BlogAdda.com
In case of any discrepancies, the decision of the judge(s) will be final.
The winners will get gift vouchers from FriendsofBooks.com
The contest will end on 30th November 11.59 pm IST.
So, what are you waiting for? Write down your thoughts now and share the link with us! People who participate in the contests are known to make new friends and  get a lot of new readers on their blog! ๐Ÿ™'