Last week, some of our Addaites were on a secret mission. A mission to find the The Secret Scouters of Mumbai. Their modus operandi is to pack the weekend recommendations into a brown paper bag. They are also equipped with a fake-detector, a best-deal-finder and a new store/restaurant/club radar.
After a tip off from one of our readers, we confronted them in a joint at causeway. This is what they had to say in defence. 🙂 We are pleased to welcome Mansi Poddar and Kanika Parab, the secret scouters with Brown Paper Bag. They are the ones responsible for delivering the best deals every week in your inbox. Let us enter the world of The Brown Paper Bag.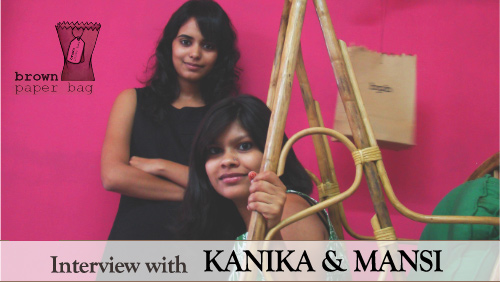 Q: When & how did BPB come into being? What vision did you have while starting BPB? Do you think you have achieved it?
A: Brown Paper Bag began as a personal blog in early 2009. Mansi had just moved back from 10 years abroad, and missed New York terribly. I was looking for things to do in Mumbai, and couldn't really find a fun source – it all mostly circled around the same Woodside Inn and Blue Frog.
Kanika had moved from being a features chief sub-editor at Mid-Day to a web start-up, and missed covering the Mumbai lifestyle beat.
So BPB was basically a way for us to kind of meet these two needs, a blog that would go beyond the regular stuff to find a secret city, one that we felt sure existed, but was yet uncovered.
Q: Can you tell us about BPB and about how you both met to start this one? Also, let our readers know more about Mansi and Kanika! 🙂
A: Kanika and I worked together at another web start-up in 2009 – we shared a lot of aesthetic and creative synergies, and decided to start bpb.
The idea for BPB happened during an un-related editorial meeting on a Tuesday: I can't remember which one of us planted the seed, but we sent out the first weekend email that Friday. In three days, we figured out the name, the aesthetic, what it would be, and our first five recommendations – and I think it was one of the best line-ups we've ever put out. The whole thing was completely spontaneous and organic and right, and we've barely changed branding since then.
Mansi Poddar has recently returned from New York, where she worked in PR and media, holding positions at Mayor Bloomberg's Human Rights Commission and as the Director of Public Affairs at Leap NYC. She has also written for numerous publications, including Wall Street Journal, Huffington Post, The Chicago Tribune and Elle Magazine. Mansi holds a Masters degree from New York University in International Affairs.
Kanika Parab has been deeply involved in lifestyle media for over five years, including being the Chief Sub Editor (Features) at Mid Day. This St Xavier's College graduate has written for a range of domestic and international publications, including Wall Street Journal, Huffington Post, Seventeen Magazine and more.
Q: Do you ever get stuck when writing an entry? What do you do then?
A: We believe that rhyming is the solution to everything. When we suffer from writer's block, we craft spontaneous verses over chat, each of us coming up with an alternate line for the same poem.
Q: We have seen various suggestions on BPB right from travel to food & drinks and so many others. How do you go about discovering the events, places and workshops? Do you personally verify their services or attend the events? Do some of them approach you to get themselves featured?
A: Everything you see on the site is scouted out by us Secret Scouters and is strictly editorial. Our modus operandi: before we pack our recommendations into a brown paper bag, we embark on a mission, climbing piles of cool, bringing it all down and sifting through the rubble to separate the good from the bad. The best of these our subscribers receive in a daily or weekly email. If we haven't tried it, a friend, family member or loyal subscriber has. A lot of brands approach us to get bagged, but we recommend them only after a test drive.
Q: Sometimes good suggestions can fire back in a bad way. Have there been any incidents where suggestions by BPB were not correct or controversial? What did you do then?
A: All our suggestions are tried and tested, so we're sure about the product we are featuring. That being said, sometimes when you're in the lifestyle space personal tastes play an important role and sometimes readers do not agree with us. But that's not always a bad thing considering it leads to lively debate on the website.
Q: At the moment, BPB is a free for all website. Do we see a premium model coming in the near future where BPB would recommend based on interests or offer paid services? (If we just gave you an idea then consultancy charges apply :P)
A: There may be no such thing as a free lunch in Mumbai, but you can count on BPB's daily 'Breakfast' newsletter and Weekend Guide to be free. We even have a free phone concierge service! As of now, we have no plans of shifting to a paid model.
Q: Which is that one joint/event that BPB wishes to cover and hasn't been to as yet? If BPB were to open a hangout joint what would it be about? What tips would BPB give to a person who is starting a hangout joint?
A: We would love to cover the Jaipur Literature Fest and will be there next year. A BPB hangout would be a place where everyone feels young with yum treats that take you back to your childhood, fantasy books on the shelves and an actual fountain (of youth) at the centre.
Q: You cover Mumbai extensively. When do we see BPB branch out in other cities?
A: Sooner than you think.
Q: Most of the times you would be thinking on the same lines but we are sure sometimes, there would have been difference of opinions. At that point of time how do you tackle it? What is your advice to someone who is interested in starting a group blog?
A: If we don't agree on something (which luckily is pretty rare), we hear each other out and try and do what's best for the Bag. It helps when conflict resolution occurs over a drink. If all else fails, we toss a coin. 🙂 Our advice to anyone starting a group blog: Use each other – play on each others' strengths, develop chemistry, divide responsibilities, and keep an emergency bottle of wine at work for when you want to kill each other.
Q: If both of you were given an option to become the queen of a city, which city would it be and who would you like to be the King?
A: Mumbai for sure. We would pick a new King every month. The interview would be gruelling.
Q: If not BPB, what would you all have been doing? We would love to know your other interests. 🙂
A: Mansi would have been a sailor and Kanika, a children's fiction writer.
Q: Do you promote your blog? What promotional techniques work best for you and why?
A: The promotion techniques that have worked best for us are guerrilla marketing campaigns. We've done mysterious brown paper bags showing up on restaurant tables with free booze and dessert; freebies for people who've dined solo and more fun stuff.
Q: What do you find to be the most gratifying aspect of blogging?
A: We are no longer a blog, we're a website. We do however, have a blog section on which we share random thoughts, personal rants.
Q: How, in general, would you rate the quality of Indian blogs? Share your favourite five blogs.
A: We're (finally) seeing fun, interesting and well-written content in the Indian web space. Our favourite Indian blogs are:
Q: What is your advice to someone who wants to start a blog?
A: It's super easy, fun and free so what are you waiting for?
Q: Do you earn revenue through your blog? How does one go about it?
A: Again, we are no longer a blog. We have not yet started advertising on the bpb website or newsletter yet. But we do lease our content to a bunch of international websites that pay us for it and also link back to us, giving Brown Paper Bag branding.

Q: Let's conclude off with a few favorites.
Color: MP: White, KP: Green.
Movie: MP: Lost in Translation, KP: The Beach.
TV Show: MP: Westwing, KP: How I Met Your Mother, Grey's Anatomy.
Book: MP: Mating by Norman Rush, KP: Laughable Loves by Milan Kundera
Time of Day: Midnight.
Your Zodiac Sign: MP: Aquarius, KP: Capricorn.
If you have not yet subscribed to the Brown Paper Bag, then do it now. What are you waiting for? We have just got a bail application for Mansi and Kanika from Malini. It is time for us to say alvida for now. 🙂 Readers, shoot in your questions now.