Anu Malik. Pritam, Nadeem Shravan and many more pray everyday that they do not get featured on his website. A few like Vishal-Shekar applaud him for his work and dedication. He is known for his 100 word music review blog, where he reviews Indian Film Music. His blog about Social Media is also known for the latest social media insights and digital marketing opinions. Very few are as multi talented as him. We are pleased to interview Karthik this week, the brains behind ITwoFS, Milliblog and Beastoftraal.
All the fans of ITwoFS, and Milliblog, this is a must read interview for you. In case you have not visited ITwoFS and do not know the concept behind it, visit the site now and you will be surprised! Here is Karthik in a freewheeling interview with us.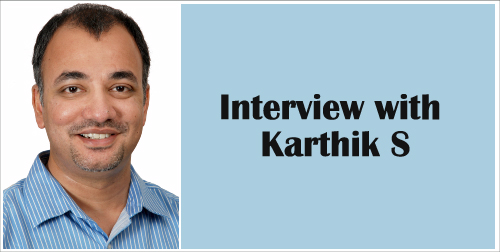 Q: When and why did you start blogging?
A: My first 'blog' was Milliblog the 100 word music review blog, that I started in July 2005. Prior to that, since 2000, I have been managing a website (in which I used to post periodic updates – much like a blog), ITwoFS – Inspired Indian Film Songs. That started out as a need to catalog all my findings that I was posting in assorted online groups and discussion boards.
Q: What topics do you generally blog about?
A: I manage 2 blogs and a website. The first blog is Milliblog, a music review (predominantly) blog where I review music (Indian film music – covers Hindi, Tamil, Telugu, Malayalam and Kannada film music) in 100 words. If I do a 200 word review, it simply means, just buy the damn CD. I have expanded the blog's scope to add movies too, but time is a huge issue.
The second blog is more professional in nature – http://beastoftraal.com. I started this given my interest in the social media space in India. I've been at it since December 2008.
Q: Do you ever get stuck when writing an entry? What do you do then?
A: On beastoftraal, I don't. It is usually an impulsive topic that eggs me to blog about something so I just go with the flow and write it. On Milliblog, some of the terrible soundtracks do pose a problem. So I created a new term – NW1W (Not Worth 100 Words) to mark such terrible soundtracks. They are so bad that even 100 words are a waste!
Q: Do you promote your blog? What promotional techniques work best for you and why?
A: I promote MIlliblog via Twitter and very selectively via discussion forums like TFMpage or fan-related Orkut groups. They do help, as long as they are done contextually. For beastoftraal, the maximum hits I get are via promotion on LinkedIn Groups and Twitter. I incidentally get more comments and feedback on LinkedIn Groups than even my blog comments section.
Q: Let us start with ITwoFS – The site NO music director would want to get featured on. 🙂 A brilliant concept. How do you manage to find all these songs including the older ones? Which one has been the most surprising inspiration and why?
A: I have always said that ITwoFS is a collaborative effort – I do not have the talent to dig all this information all by myself. I only do the research on leads sent my hundreds of people every day and decide what is right and wrong, when it comes to a tune-based inspiration. I also articulate each entry in an interesting, readable format.
The MOST shocking lift ever? There are two – Anand Milind's Qayamat Se Qayamat Tak chartbuster, 'Akele hain', that was a blatant lift from The Shadows' 'Return to the Alamo' and Nadeem Shravan's Aashiqui song, 'Dheere dheere se', that is an incredible lift from a one-hit wonder named Joyce Sims (the song was called 'Come into my life'). Both had me thinking that they are reverse plagiarism cases for the first few minutes I heard the originals!
Q: ITwoFS (Inspirations in Indian Film Songs) was started to highlight Plagiarism in Indian Music Industry. Plagiarism in Blogs, Photos etc are rampant now. What are your views on it and how do you think the original content provider should handle it?
A: Plagiarism is despicable. With Internet catching up so much, tracking plagiarism has both become difficult and easy – text-based plagiarism can easily be tracked, while in case of photos and videos, it may be difficult.
I had recently written about a blogging competition by American Consulate in Chennai. The winner (as announced by the Consulate) had copied all his 15 blog posts from assorted sources with little or no changes and no credit to the sources whatsoever. I traced the sources merely by taking a look at his style of writing prior to the competition-specific posts and Googling random text from them – it took 15 minutes to arrive that he has copied them. Why can't a competition jury do this?
Also, the kind of comments I got to that post was shocking, to say the least – most said it is perfectly fine that the winner copied them since without his blog they would not have known about the information posted! That is SO NOT the point and is a sample of the 'sab chalta hai' attitude these days. Plagiarism is 'chalta hai' till it happens to your own material!
Q: Milliblog – the 100 word music review blog is one of the top music review blogs. How do you manage to review so much music from down south to Bollywood in spite of your busy schedule? Is there any review which you would want to rollback? Any review which was against the public opinion that you felt strongly about?
A: It is tough, but I got to thank my wife for putting up with so much of my music listening and blogging! I thoroughly enjoy the process of listening to assorted music and articulating my views about them! One of Milliblog's biggest successes that I'm especially proud of is that it got Indians of all languages (most, at least) to listen to other language film music that they do not understand. If we Indians do not listen to our other state's music, who else will? So, a Telugu soundtrack reaches someone in Punjab, while people in Tamil Nadu comment on a Hindi soundtrack. That's the best part!
Most of my negative reviews for any A R Rahman soundtrack always generates tons of feedback, mostly annoyed. The usual thumb rule is this – if the review is not-so-positive and just 100 words, then I'm reprimanded with, 'you don't spend enough time for a review'. If it is a gushing 200 word review, I'm usually very safe! I did not like Ghajini's music in Hindi and it got me a LOT of flak. More than getting annoyed, I was thoroughly amused. So, I did a bizarro review of Ghajini (like the Bizarro episode of Seinfeld), where I re-reviewed it for fun as if I loved it. That got me even more flak…enjoyed that too! Language is a pointless barrier for something as fun as film music!
Q: Who are your favorite music directors and has been the most consistent? What is so different about them that makes them your favourites?
A: Ilayaraja and RD Burman are my all-time favorites. A R Rahman and Amit Trivedi come next. Rahman is a given and I don't need to explain anything more about him. Amit Trivedi is my recent favourite though. As one of my loyal readers on Milliblog noted, I had marked Amit as the next-big-thing way back in February 2008 and I'm glad to see he has lived up to his initial promise!
Q: Can we have your all time favorite five songs and the reasons for those?
A: For someone who treats music as callously as reviewing them in 100 words, I think I have given up my right to have favorites. My interest in music is highly finicky and changes every day. I have my favorite composers (Ilayaraja and RD Burman), but songs-wise, they change, every now and then!
… "Karthik Sir, you have call from Amit Trivedi". 🙂 – Friends, Karthik had to leave and said he will be back soon. All of you do come back for the second part of this awesome interview. Huge Huge learnings for everyone. And do not forget to check out ITwoFS.com to find out if your favourite song(s) is inspired by some other.
Ssshhh.. In the second part, Karthik talks about Social Media acceptance in India, Bollywood and Internet Marketing, his role in Edelman India, his favourite blogs and so much more. Now, start interacting with Karthik right here with your comments posted below.