"The most beautiful discovery that true friends can make is that they can grow separately without growing apart." – Elizabeth Foley. This contest invoked all the right feelings about friendships. There were wonderful posts about the good times, bad times, fun, laughter and more. It was an awesome feeling reading all the wonderful entries to this contest.
Our Judge for this contest, Aakriti felt the same as her tweet suggests. It is now time to announce the winners and let Aakriti take the keyboard. 🙂 Aakriti, the post is all yours now.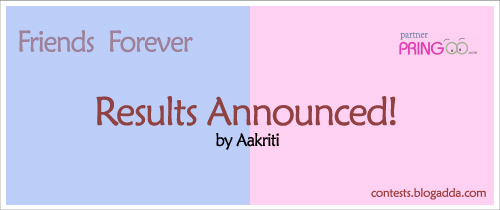 It was a wonderful experience, a moving one to read through so many beautiful posts. It was difficult to select the best entries and just kept in mind the flow, buildup, language and emotion that every post had.
Hues of friendship, emotion, love, laughter, jealousy, trust, faith, experienced in a set of words. A great way to celebrate friendship. A set of brilliantly written posts, humbled me. Kudos to BlogAdda for uniting everyone with the power of blogging!
Mother And Father To Each Other by Jaishvats: An excellent piece, testifying the depth of friendship in a story line. Jayashree brought tears to my eyes. She beautifully explores the bonding that is, friendship.
Ruminations of a cracked egg…. by Suranga Date (yet again :)): Traversing her life, Ugich Konitari explores the meaning of friendship, in different forms. And her perspective is a beautiful lesson.
The Ultimate Friendship by The Restless Souldier: One night and story of a lifetime, this one is a winner to show the courage, selflessness and love that friendship is all about.

A salute to the soldier in every friend and the friend in every soldier.

I'm more than a friend by Namit: This one is straight from the heart, in words, in emotions ….. Moved me and felt a lump in my throat when the post ended. I felt the loss of a friend.
Childhood Friend.. by Varsha: Words crafted beautifully, paint the beautiful world of friendship. Congratulations to Varsha for spreading joy through her post.
Congratulations to all the winners and our special thanks to Aakriti for taking the time to judge this contest and for constantly pepping us to serve you the best. 🙂 Keep writing such wonderful posts and keep winning. 🙂 Your posts being read and appreciated by the large community is worth so much more than anything else. Na?

A communications specialist, with a knack for positioning the right word at the right place at the right time, Aakriti is founder of a unique communications consultancy – BoringBrands. From education to technology to real estate, she works with a diverse set of startups and is aiding launch of various services and products.
A graduate from Shri Ram College of Commerce (SRCC) in Delhi, and MICA, she brings a balance of creative and practical aspect to communications. She finds humour in an around her and writes on life and its tadkas at www.thinkingaxe.com.