'Ye desh hai vir jawaanon kaa, albelon kaa mastaanon kaa Is desh kaa yaaron Hoye!! Is desh kaa yaaron kyaa kahanaa, Ye desh hai duniyaa kaa gahanaa'. This song was composed in the year 1957. We are entering into the 64th year of Independence. Can we still sing the same song? Does it still evoke the same patriotic feeling? Do you still feel 'Mera Bharat Mahan'?
Update: We have extended this contest by a week due to popular demand. The contest will now end on Aug 17, 12.00 am IST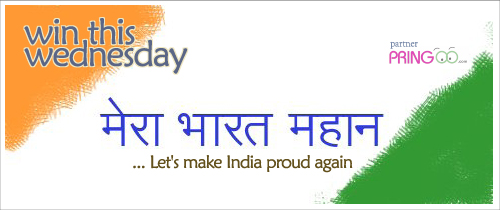 BlogAdda, in partnership with PringOO, is proud to announce this week's contest called 'Mera Bharat Mahan'
There is a little bit of India in all of us. We are aware of so many good and a few bad things that happen in India. Most of the people, like us, rant about so many things that the government does not do or support – and we know by executing those things correctly, we would be able to achieve so much more. We would like to believe that constructive suggestions and thoughts lead to action, in this case, corrective action, to things that we would like to see, to feel, to experience. Let's all collectively share about the things that bother you, what can YOU do individually and what SUPPORT you would require from others to make that happen. Remember, the actions has to benefit not only to you, but the society in general, thereby leading to a small awakening, if we can say so. And this awakening will then lead to many more and give us enough reasons to be proud about our motherland, INDIA. Let us awaken now and profess our love to our nation. Let us rise and show the power of community. Here is the chance.
Write a NEW post and share it with us. (Note: Older posts will not be eligible for the contest)
Choose an existing item from Pringoo.com or create your own design. Incorporate that in your blogpost and if that is not possible, linkback to your product of choice on Pringoo.
Add a Link in your blog post, mentioning this BlogAdda contest announcement AND leave a comment here (stating the link to your post), so we know for sure, that you are participating. This is important.
In case of any discrepancies, the decision of the judge(s) will be final.
Win personalized goodies (T-Shirt/Mug) from Pringoo.com.
The contest runs an entire week, starting Wednesday Aug 4, '10 and ends on Tuesday, Aug. 10, '10, midnight IST. Hurry Up!
Results will be announced on the BlogAdda website by Friday, Aug. 13, '10. So, what are you waiting for? Write down your thoughts now and share the link with us!