Around 20 years ago, it was a normal day at school but for one it wasn't. This boy was a fan of Vishnuvardhan and just for fun's sake traced his portrait. His friends were impressed and unknowingly a talent was discovered. Who was going to predict that this boy, few years later would shun his MBA degree to become one of the top upcoming cartoonists of India?! He is now a regular cartoonist at Mid Day, Sify and other publications. We are pleased to have Satish Acharya at your Adda where he shares his life stories, his experiences and much more. We also have a special Superman cartoon done exclusively for us. So what are we waiting for? Let us enter the world of an Indian cartoonist. 🙂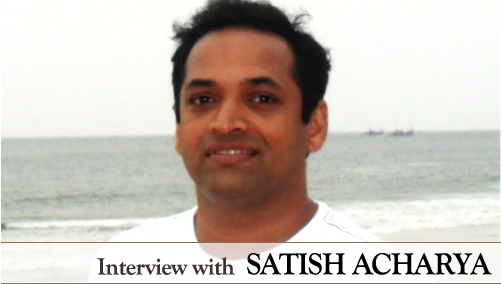 Q: When and why did you start blogging?
A: I started blogging in March 2007 ( I lost my first blog to hacking). I was greedy to reach out to more people so I started blogging. Though Mid Day has a good number of loyal readers, as a cartoonist I wanted to reach out to as many people as possible. And in cyber space your cartoon is judged on its own merit unlike in a newspaper which has a profile and a certain set of readers subscribe to that profile. Also I was hungry for feedback. Wanted to hear what readers think about my cartoons.
Q: What topics do you generally blog about?
A: My blog is basically a cartoon-blog, where I post my daily cartoon works. I add few lines of caption to make sure that search engine crawlers grab my blog. Naturally the topics are politics, cricket, bollywood and some Kannada cartoons also. After getting lots of queries from young cartoonists, I have started adding little tutorials on cartooning also.
Q: We would love to know about how you came to be a cartoonist? Which were the comics that you read as a kid and what was your favorite?
A: I really don't remember when I got fascinated by the art of cartooning. But I do remember reading Amar Chitra Katha, Phantom, Mandrake comics during early school days and they helped me travel to a different world. I realized the strength of drawings. But the real inspiration to become a cartoonist was the Illustrated Weekly of India, which had loads of cartoons from Mario Miranda, R.K. Laxman etc. Even when I didn't realize the message in a cartoon, the art fascinated me. So, I started copying the cartoons of Mario, Laxman and later Ajit Ninan. So, it all began with copying the masters!
Q: What's the first thing you remember drawing? Whom did you show it to first? What was their response?
A: It's funny! The first thing I remember drawing was through tracing on a carbon sheet! I traced the portrait of a Kannada film star Vishnuvardhan with the help of a carbon paper. Obviously I showed it to my classmates, who were pretty impressed without realizing that it was traced!
Q: Having a MBA in finance and then shifting career to become a cartoonist is not an easy decision at all. What inspired you to take such a decision? Who in your life is/was the most supportive of this decision?
A: I'd be lying if I say it was easy. It took me several years of struggle in Mumbai without any identity, to justify my decision. It wasn't easy also because I badly needed a steady job as I neither had relatives nor any backup plan in Mumbai. I could have easily gone back to a 9 to 5 job with my MBA. But luckily I persisted with my decision and maintained belief in my abilities. Cartooning gave me happiness. I knew no job can make me happy, keep me happy. I had a strong set of supportive friends in Mumbai, who not only showed belief in my abilities but also kept my morale high.
Q: There would be some days when there would be not much happening in Indian news or maybe just a bad day, what do you do then?
A: A cartoonist faces the same problem as the editor of a paper. To find a worthy news and come up with an interesting angle of that story. Some stories provide you ample opportunities and some look dry. Luckily it's not just politics which make the front page, these days. Now we have cricketers, film stars competing with politicians for the headline. So, they make my job easy. And then there's twitter which helps me not only stay in touch with the breaking news, but also help me see the news from different angles. Twitter has almost become my newsroom!
Q: 2010 saw a staggering 510 posts on your blog, that averages more than one cartoon a day! Was it because of the number of scams in that year? 🙂 Which cartoon you had most fun creating in 2010?
A: Yes, 2010 was a hectic year for cartoonists. CWG, Adarsh, 2G, IPL, match fixing, Obama visit…everything contributed. Thanks to Kalmadis, Rajas, Chavans. Also in 2010, I started taking up new clients, so I was doing more cartoons for different clients. I enjoyed drawing cartoons on Kalmadi, Raja and also Obama during 2010.
Q: You are among a new generation of people who are willing to shift to smaller towns for the benefit of their family. What according to you are the advantages and disadvantages of such a move? How has your experience been till now?
A: I guess I'm used to taking risky decisions in life. But luckily so far its been a wonderful move. It wasn't easy leaving Mumbai behind after spending 17 years in the city. I had to shift to give my little son a better health, because pollution levels in Mumbai was making him sick. It was a tough decision, but Mid Day understood my concern and supported me. But I know that I'll remain a mumbaikar all my life. You cannot take out mumbaikar from someone! And I consider those 17 years of my life as a defining phase of my career.
The best thing about working from a small town is that, you're gifted with 30 hours in a day. And you'll get more time to spend with your kid and family. On the flip side, you feel like an alien in a small town after having lived in a city like Mumbai for so long. The attitude towards life, work is totally different. I'm still struggling to connect with my hometown. And also there are very few entertainment options here to relax after a week's hardwork.
Q: Have you ever done or want to do a stand up act as humour comes naturally to you? Do we see it happening in the near future?
A: I know for sure that I'm not a performer. May be many cartoonists also think so. Normally cartoonists make characters perform on white paper!
Q: Your cartoons are fun that a common man can relate to. If Satish Acharya were to become Superman for a day, what would he do?
A: I would rather make aam-admi, the Superman. Not just for a day, maybe for everyday. He has to be a Superman to deal with rising prices, corrupt leaders, scams, crumbling infrastructure, etc. Maybe he has learnt to be a Superman to survive!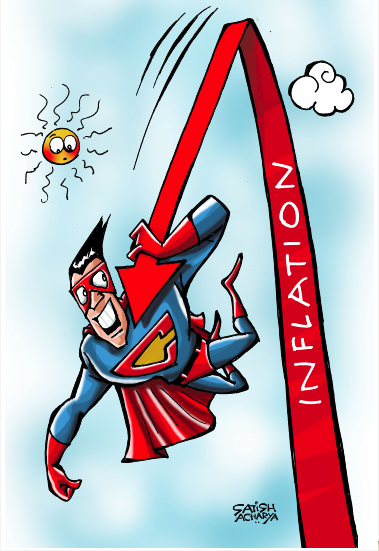 Q: Satish Acharya loves cricket and cinema. Given a chance, what kind of role would you choose in both the careers and why?
A: Cricket was my original passion. I played till varsity level and then realized that there's no future for a career in cricket at least in a smaller town. Lalit Modi came into the scene too late! At present my only association with cricket is through cartoons for cricinfo! Still I'm very passionate about cricket and follow the game religiously! Cinema wasn't just entertainment for me. I wasn't a big fan of bollywood. As a college going dreamer my dream was to write and direct movies. Somehow along the journey cartooning beat all my other passions and demanded that I become a specialist in cartooning. I still love good cinema.
Q: What has been the most difficult cartoon to make till now? Has any of your cartoon's been involved in a controversy? What did you then?
A: Making a cartoon is not a tough task, but coming up with an idea is sometimes difficult. I always find it slightly uncomfortable to do cartoon on a tragedy. My fear is not to be insensitive or trivialize it. Every cartoon ruffles few feathers. As your cartoons reach more people, you tend to make more people uncomfortable. That's also the intention of a cartoon, to hit the right people. During the last couple of years, I have received hate and threat mails from Sangh Parivar loyalists (for anti BJP or for drawing religious cartoons), from Pakistani cricket fans (for my loads of Pakistan cricket cartoons), from many of my NRI friends (for spoiling India's name through CWG cartoons), etc.
While in Mumbai, I used to do lots of cartoons on Thackerays, but surprisingly I never got any threat from them. Instead I received requests from some of Thackeray family members for a copy of those cartoons! That way they have been generous! Once a Sikh association in Mumbai got angry with my cartoon on Dr. Manmohan Singh. They thought I had shown his turban falling. But actually Dr. Singh has a high forehead so in my exaggerated cartoon his turban looks like hanging precariously. So, they brought a morcha to Mid Day office and wanted to break glasses! But luckily better sense prevailed. Because of the nature of Internet, anybody can get angry with anything and target you. But that's the price you pay for being in a job where you air your opinion.
Q: What can we expect from Satish Acharya's stable in the year 2011? A book, an animated movie or something special?
A: In terms of cartoons, 2011 has already seen a hectic beginning with the hangover of 2G and CWG, Wikileaks, Egypt etc. I'm sure our politicians, cricketers and bollywood stars won't disappoint me in 2011 also. I'm going to bank on them. Personally I have been planning a collection of my cartoons in book form. Also a book of cricket cartoons. Depends on how fast I get a publisher! And an exhibition in Mumbai first and then in different parts of the country. It's little difficult to co-ordinate these things being away from Mumbai. Also very few galleries opt for cartoon exhibition since cartoons hardly sell like paintings. I also want to start a cartoon syndicate so that I can reach the regional readers of India. And maybe turn my blog into a full-fledged website. Hope I find enough time to do all these things.
Q: What do you enjoy most about your job, your career?
A: I believe each of us is born to do a certain job, but unfortunately some of us are trapped in a different job and stay unhappy. I'm lucky to be doing this job which I love and which gives me lots of happiness. The bonus is I get to give opinion through my cartoons. And to know that some people like that opinion too!
Q: Do you have any favorite cartoons you can share with us (by you or others)?
A: I think I'm yet to make my best cartoon. But there are some cartoons which I felt very happy about. Like this one on the longest-ever tennis match in history between Isner and Mahut at Wimbledon.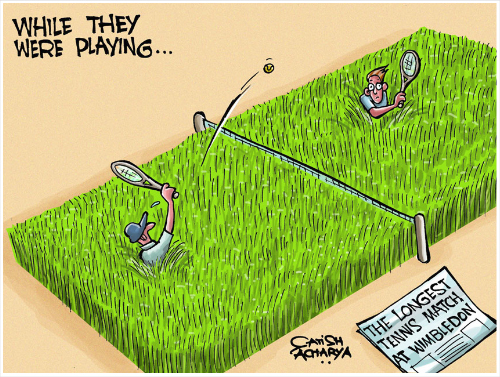 This cartoon was liked by many and was travelling all over the world through twitter. Another cartoon done during Obama's India visit, him 'enjoying' diwali with Mumbai kids. And the recent one on Egypt. There are many cartoons which make me proud of the profession I'm in.
Q: Do you promote your blog? What promotional techniques work best for you and why?
A: I do everything to find more readers for my cartoons. Sometimes I do it shamelessly. Haha! Normally I use twitter and facebook to reach more people. There are some twitter and fb friends who share or RT my cartoons and help me reach more people. I also believe the best promotion for your blog is your content. If you put in your best, it will attract more people.
Q: How important is it for the blogger to interact with their readers? Do you respond to all the comments that you receive?
A: That's what I crave for, readers' feedback. From the blog I don't get too many comments. But I get loads of feedback on facebook, which I love. I also love interacting with cartoon-lovers on facebook. And I try to respond to most of the comments. I have a cartoon page on facebook where I discuss the behind the scenes of a cartoon, like ideating, sketching, coloring techniques, etc. It's fun.
Q: What do you find to be the most gratifying aspect of blogging?
A: Obviously the reach without boundaries. Unbiased readers. And you're your own boss and censor board!
Q: How, in general, would you rate the quality of Indian blogs? Share your favourite five blogs.
A: I keep stumbling upon lots of Indian blogs mostly related to humour. Humour is getting younger, better and more inhibited on Indian blogs. I also see that happening in twitter and facebook also. I like
Thanks to the net, we can enjoy so much high quality humour.
Q: What is your advice to someone who wants to start a blog?
A: If you have something to share, just blog! If you enjoy blogging about it, you'll find many more people who share the same passion. Go, do it.
Q: Do you earn revenue through your blog? How does one go about it?
A: Not much revenue through the blog. I have not been focussing on revenue part too much. But I get lots of work enquiries through blog. So, that way blog is helping me earn enough money.
Q: Let's conclude off with a few favorites.
Color: Black and blue!
Movie: Jaane bhi do yaaron (I can visualize our PM in the role of Dritharashtra asking helplessly 'yeh kya ho raha hai')
TV Show: Friends
Book: Don't remember the last book I read!
Time of Day: Early morning or late night (always brings out the best of ideas)
Your Zodiac Sign: Aries
Thank you Satish for letting us into your world. We are sure our readers loved exploring the world of an Indian Cartoonist.  Readers, if you have any questions, feel free to ask him. 🙂