Breaking News: ** Mayawati has just announced that she will quit politics and become a Sanyasin ** Ramdev Baba admits that he is a Gay ** L.K Advani finally ties the knot ** Aishwarya files for Divorce and marries Salman Khan. These are the breaking news, oh wait! These are the #fakingnews of the day. Do you know the man behind this phenomenon called #fakingnews? We have some inside info on 'Pagal Patrakar' for you. Today, we have none other than Rahul Roushan aka Pagal Patrakar interviewed exclusively for you at BlogAdda.
Rahul Roushan is from IIM-A and was an anchor with a popular news channel before he started FakingNews.com. For more fun and insights of  'Pagal Patrakar',  read on…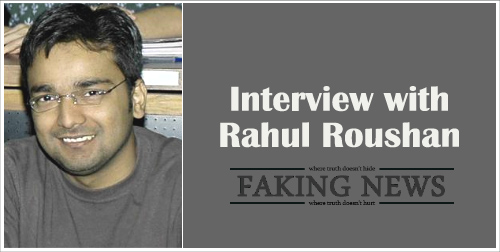 Q: When and why did you start blogging?
A: If you are talking about my personal blog, I created one in 2005, but it was more like a collection of articles that I wrote on various issues. I used to update it once in a few months, so I'm not sure if I could really call it 'blogging' per se. Regular blogging happened to me only through Faking News, which I started on 15th September 2008.
When I created my first blog, I did it because I love writing and I nurse a dream of authoring a book someday. I hoped to hone my writing skills through blogging, but it didn't work out as I was very irregular at writing new posts.
When I started Faking News, it was more out of my desire to write about current affairs (maybe due to my journalistic background). I could have started a serious journalistic blog as well, but I chose news-satire style as I had gained notoriety at my B-school for digging up weird news stories and posting them on the intranet. I thought maybe I had developed some skill to spot the oddity (how flattering of myself)! So I decided to mix the two – to create odd stories from the current events.
Q: What topics do you generally blog about?
A: Mostly current affairs, things that the mainstream media is talking about at that time. If not writing on a 'newsy' thing, I blog about our daily lives in our society, in our offices, on the campuses, on the television etc. anything that catches my fancy, with a satirical touch.



Q: Do you ever get stuck when writing an entry? What do you do then?
A: Most of the times I have a plot clear and ready in my mind, so I finish it without much difficulty, but yeah, there are occasion when I get stuck. I take a break in such cases to think through the topic and the plot. If I get stuck again, I dump the story! Call me unfaithful, but I have dumped more than a couple of them.
Q: 'India TV bats for cows' was probably your first post ever. Was 'India TV' the inspiration behind starting Faking news and sensational headlines? If not, what prompted you to start Faking News?
A: Haha, well, in a sense, yeah. Faking News surely was a reaction to the sensational headlines by the mainstream media. The About Us section at the original blog reads "It is also an attempt to be satirical about Indian news media, especially television news media, which has brought down journalism to ridiculous levels", which was later toned down when I redesigned the site in August 2009.
Q: Faking News is India No. 1 Satirical site. How do you define Satire? When you compose a post, how do you differentiate between Satire and Sarcasm?
A: For me, Satire is an attempt to point out shortcomings or oddities in our society, ideally with a message and intent for betterment, in a non-hostile manner and without sounding overtly accusative or pontificating.
Sarcasm is an important part of satire, but a purely sarcastic write-up may not be satirical as well. Sarcasm bites, Satire tickles.
Q: As a mass communications graduate in broadcast journalism, what are the five headlines that the 'Pagal Patrakar' would like to see currently and why?
"XYZ news channel comes clean, declare themselves as Tabloid channel"
If the Entertainment genre for television could be broken down (for the purpose of business and analysis) into Movies, Reality, Music, etc., Sports genre into All-sports, Cricket, etc. and these channels were categorized along those lines, it's high time that News genre was also broken down into Tabloid, News, Infotainment, etc. and the news channels were categorized accordingly, so that there was no unfair competition and comparison between players. Why should a serious news channel be taunted that its TRP was low by a tabloid channel? Let it be like comparing oranges and apples.
"Research proves that advertising on XYZ news channel had negative effect on consumer behaviour"
I sincerely believe that eye-balls (which translate into the TRP's) are not all that matter in the world of advertising. What platforms are you advertising upon, also has an effect on the consumer behaviour. I wish management institutes came up with some recent and relevant research on this.
"Mass amnesia grips India. People forget what community they belonged to"
I hope it is self-explanatory why I want this headline.
"Bribery to be regularized. MPs and bureaucrats can officially take 10% success fee from corporates"
Let's face it, politics and bureaucracy is not for social service and the expectation that our leaders and bureaucrats will serve the society selflessly has failed all of us. Let these guys serve themselves and get rich, but only after undertaking and implementing successful projects in their constituencies. Let them create jobs by bringing industries and let them officially pocket the money, which currently they anyway pocket after awarding tenders to bribe-givers; at least the tenders would be awarded to competent people if the process was transparent.
"Sachin Tendulkar scores a triple century in ODI"

Just like that 🙂
Q: Who are the most popular faces who have graced Faking News? Why according to you are their appearances so frequent?
A: Most of the newsmakers have made appearance on Faking News as well – from politicians, to actors, to Rakhi Sawant. They are very satire friendly souls. God keep them safe and happy.

Q: Two of your exclusive reports were mistaken to be true by the mainstream/web media and published. What was your reaction to that? Did they realise what they did and removed them? Do share with us any such really funny incidents. 🙂
A: First time when it happened (frustrated man uses Axe), I couldn't believe it as I never considered that news report as one of my best articles. But it went crazily viral with local radio stations in the UAE, Australia and the USA talking about it! Even a reputed and respected news source like The Australian published it, but they later removed it when they realized it.
I was most amused when a journalist friend of mine, working in a reputed international news agency, called me to inform that his boss from London had asked him to file a report on this Axe lawsuit story! He laughed and told his boss that it was a work of fiction written by an Indian news satire website. It was crazy.
One of the mails that I got from a journalist working for some German news website, asked me if Unilever or some ad-agency had paid me to write this news, as Axe got free publicity worth millions of dollars thanks to the Faking News article! How I wish it was true! Alas, I don't earn my livelihood through Faking News.
Many people still believe stories to be true and get hyper over the content!

Q: We are sure not many of our readers know that you are also the brains behind CricStock.com, which combined cricket and elements of stock trading. Stock Market and Cricket is such a unique combination. What went right and wrong for CricStock? It will be great if you can share some lessons/experiences from that for the startup community.
A: Well, the first thing that went wrong was the horrible performance of both Indian and Pakistani cricket teams in the world cup (CricStock was launched for the 2007 ODI cricket world cup and both Indian and Pakistani teams were kicked out in the first round itself). This meant that the interest in Cricket (and hence traffic to our site) nosedived in the country, until we won the T20 World Cup more than six months later.
In these six months, we (me and my business partner) had started management consultancy company to feed ourselves, while we wondered how to rejuvenate the site among a couple of other projects. Ultimately, we had to sell off the site.
In my personal opinion, the greatest mistake was lack of focus on one project and absence of a plan in case the worst or even the unimaginable happened (which happened as hardly anyone had imagined such a poor performance of India in the 2007 world cup; we were the favourites actually!).
Q: How was the experience as the anchor at Sahara Samay? Today, there are so many changes within the mainstream media. Do you think that sensationalism is what makes the channel run? Is the investigative and the Indian Express style reporting dead?
A: My days at journalism were really good. It was my first job and I enjoyed every bit of it as I got to learn in my early days. In fact, even now I feel like a journalist at heart. But things got boring and even depressing after a couple of years, and I surely missed the 'mission' of journalism (what you seemingly are referring as the Indian Express style reporting). I won't blame any particular channel for it, not even India TV, as it's a very complex issue. I had written a post on the same on my personal blog –

Q: 'I enjoy treading the pathway called life, not necessarily heading towards a destination…'. Has Rahul Roushan found his destination as yet? What has been the most interesting experiences on this pathway?
A: I'm still treading, sometimes even meandering, and no sight of the destination yet! A lot of interesting experiences have come my way, good and bad, and I don't think I can pin-point at any one of them. Growing up in Bihar, coming to Delhi for studying journalism, working as a journalist, studying at IIM Ahmedabad, having been of my own in the past few years and seeing ups and downs– all these have been quite interesting and have helped me grow as a person. The journey continues.
Q: What do you find to be the most gratifying aspect of blogging?
A: Reaching out to people, whom otherwise you might never had crossed paths with. Some six months back, I received a mail from Anand Ramachandran (of Son of Bosey fame and one of the earliest web-based satirists of India) where he had some words of appreciation and encouragement for me. I was really happy. Similarly, I feel so happy when people write to me or chat with me saying that my posts help them kill the tensions and boredom of office-life. I don't lament that Unilever could have paid me for writing that Axe story when I receive such messages.
Q: Do you promote your blog? What promotional techniques work best for you and why?
A: I don't have the money or I'd have asked IPL cheerleaders to wear Faking News t-shirts for promotion. In absence of that, I have to rely upon my readers to share the links on the web, and that's what has worked the best for me. God bless Facebook and Twitter, and of course, the visitors to my blog.
Q: How important is it for the blogger to interact with their readers? Do you respond to all the comments that you receive?
A: It's vital, almost necessary, for a blogger to interact with the readers and get the feedback, but responding to all the comments may not be the best approach or even feasible at times. I receive a bulk of comments and feedback on the Facebook page of Faking News which has around 14,000 members, and I can't respond to each of them on every occasion, though I have responded a few times.
I have a chat widget on my website where I interact with the readers whenever I am online and free. Similarly, if someone mails me to share a thought, I respond to them. And I must admit that the interactions have helped me a lot; I have learnt new things thanks to a couple of unknown visitors who chatted with me.

Q: How, in general, would you rate the quality of Indian blogs? Share your favourite five blogs.
A: Honestly, I'm no one to rate the quality of Indian blogs; I'm a newbie as compared to many veterans who have carved out a name and niche for themselves. I follow many Indian blogs and they are absolutely fantastic. Five of my favourite blogs, in random order and the ones that are on the top of my mind right now, are:
Q: What is your advice to someone who wants to start a blog?
A: If you really feel the urge for writing and sharing some thoughts, do it. Don't do it if you think blogging (or some particular style of blogging) is cool, there are thousands of cooler stuffs to do. All the best.

Q: Do you earn revenue through your blog? How does one go about it?
A: As I had put earlier I don't earn my livelihood through it, but I have put Google Ads on my blog and they give me enough returns to pay my webhosting, internet and mobile bills. There are other internet ad-agencies that promise you better pay-out than Google. One said that my traffic could translate into at least one lakh rupees per month, I tried them and found their claim like some political promise, and now I'm not willing to give another agency a second chance. Maybe I'm doing something wrong, but I couldn't care. If money has to come, it will come, currently I'm enjoying writing.
Q: Let's conclude off with a few favorites.
Color: Blue
Movie: I'm not a movie freak (and I rue it) but I like comedies, be it classic like Angoor, or unintentionally (?) funny like Gunda (I sincerely apologize to all Prabhuji fans if have hurt them, I didn't mean it and blame the BlogAdda guys for misquoting me).
TV Show: South Park or India TV if you insist on Indian choices
Book: Raag Darbaari by Shrilal Shukla
Time of Day: When I'm sleeping, and it could be anytime
Your Zodiac Sign: Aquarius
For all the fans of Indian Faking News, hope you enjoyed knowing more about the 'The Real Pagal Patrakar', Rahul Roushan. Visit FakingNews.comC for your humour dose of the day and if you want to ask Rahul anything, a comment will do the trick. 🙂