This blog post is contributed by Vaijayanthi KM (VJ), Regional Coordinator, India – Just a year and half back, Twitter was more about passing your time reading tweets and having a 'public chat' with friends and strangers alike than anything else. Whoever would have thought it would scale to the level it is today or have imagined the value it would add to people, brands and enterprises since then. I first heard of Twestival, the Twitter festival, back in July 2009. As I mentioned elsewhere, "There I was, sipping coffee while wondering how to make my life more meaningful… A chance mention to a colleague, a couple of emails and a Skype call later my life completely changed – I had become the regional coordinator for Twestival in India!"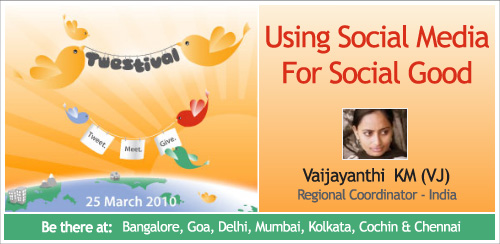 The idea of using an online platform for furthering a social cause might not have been new. But bringing the people online for an offline gathering and while at that, raising funds for a nonprofit was certainly novel. In September 2008, a group of London Twitter users did just that to try and see if they can collect donations and canned food for a local nonprofit. It was called the Harvest Twestival and was a big hit. There was no looking back after that.
The first Twestival Global was launched with a tweet on 8 January 2009 and barely a month later on 12 February, there were 202 cities around the world hosting events to benefit charity: water. The total raised in one day was over $250k through these events and online donations; resulting in 55 wells with more than 17,000 people served in Uganda, Ethiopia, and India.
Twestival Local happened in September of last year with a local flavor – cities participated to raise money and awareness for a local nonprofit. In India, six cities participated and we raised over Rs.87,000 for the NGOs we supported.
The most special thing about Twestival, apart from connecting online people offline and the nonprofit we support, is the way it is planned and executed. Twestival is 100% volunteer driven!  Anybody in any city can tweet about their intention to hold a Twestival and within two days they will get setup with all the necessary support, all crowdsourced.
Twestival is going to happen on the 25th of this month – next Thursday –  and we are looking forward to a great event. Making a difference one tweet, one event at a time J Hope you will join us.
For more details, please talk to me here: http://Twitter.com/TwestivalIndia.
I would also love to hear your thoughts and ideas on using social media (not just Twitter) for a social good. Particularly with emphasis to India.
Are nonprofits in India equipped to tap into this platform?
Who knows? Your idea might change someone's life– as Twestival did mine.
Editor's Note: We urge bloggers to blog about 'Using Social Media for Social Good'. Come back over here to let us know the link and we will put it over here. We would also love to have your views on how Indian NPO's and NGO's are using this platform? And your suggestions on how can they use it effectively. We look forward for your co-operation.