Human resources! This department is one of the most loved or hated department in any organization. Imagine a person who has a dedicated blog about Human Resources in India. It is also among the top 25 HR blogs in the world. When he is not blogging, he is the HR head of a group of firms and a self confessed Social Media addict. At your Adda this week, we have Gautam Ghosh all the way from Saddi Dilli to share his gyaan about HR, blogging, social media tips and much more. Let us find out what's in a HR person's brain. πŸ™'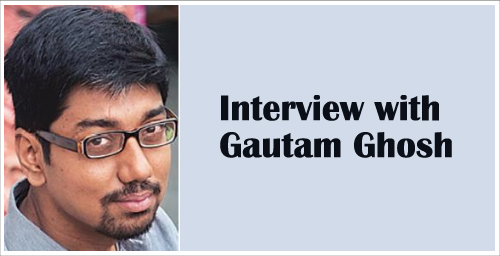 Q: When and why did you start blogging?
A: Well, I started a couple of egroups (which was later taken over by Yahoo!) in the areas of KM and HR to explore how communities of practice learn and share knowledge – this was part of my job in my first role post – MBA. In 2001-02, I heard about blogging as a way to capture your ideas and knowledge on a public forum. I had already been part of several virtual communities like Howard Rhiengold's Brainstorms community and felt easy with experimentation – so I opened up a blog on blogger. Initially, my thought was to use it to capture my emails that I shared on various egroups – as a personal KM tool.
Q: Even on an open medium like the Internet, bloggers tend to get slotted by geography. Your blogs are not just prominent in the Indian social media but feature on worldwide 'best of' lists too. How do you manage to stay on the global radar?
A: I think the reason for that is that I connected with fellow HR and KM bloggers before I connected with the desi blogosphere. So when I started blogging I was viewing it as a place where I could store my emails (if you see my 2002-03 posts you'll know what I mean :-)) and then I discovered Technorati and how others could link to you. My first few contacts were recruiting bloggers in Canada, US and Australia. And we still connect through twitter though some have stopped blogging. If I remember correctly, I connected with the Indian bloggers in 2004 – thanks to Saket Vaidya (@vulturo) who was a recruiter then and virtually introduced me to Patrix, Amit Varma, The Indi bloggies, The Kamat Community portal etc.
Q: Your work is in the much maligned profession of human resources. How do you manage to stay β€˜social' in such environments?
A: I have never thought about it πŸ™' Personally I feel HR has to radically reinvent itself – indeed management has to be rebooted – and social technologies will play a big part – within and in the extended enterprise.
Q: What was your opinion on the Dooce incident (http://en.wikipedia.org/wiki/Heather_Armstrong)? Do you think such a scenario could happen in the Indian workplace today?
A: Yes, I feel its very possible. And not just for blogging – but also for status updates on Facebook and Twitter. So one needs to check one's privacy settings. Indian employers are not very tolerant of dissent – either internally or publicly.
Q: What do you think Social Media can do/is doing for the Indian employee?
A: I think social media can help employees in two distinct ways:
First it is a great learning tool, connecting to fellow practitioners and professionals from across the world, to understand cutting edge trends in the world and to contribute to it.
Secondly, it can act as an amplifier of the employee's expertise – if one is willing to create content and engage in discussion about it – creating a professional brand beyond one's immediate colleagues.
Q: Many Indian organisations monitor employees' Internet use and restrict expression that they cannot control. How do you think they will take to the no-holds-barred freedom of social media?
A: The age of social media is reminiscent like the time when the internet first came on the scene. Most organizations didn't see the need for it – while few embraced it while it created many firms grounded in it. The same will be true of social tools and technologies. Most will ignore it to their peril, some will adapt and thrive and some will be created as a result of it.
Q: There are new age industries. Workplaces are changing. Cultures are evolving. Do you think the average employee today is different from his/her counterpart from a decade ago too? What is lacking and what does he/she need to keep in mind in today's working scenario?
A: It's true that the nature of employees is changing will great frequency, and today's generation was raised in a value system different from the ones before it and that will impact their values, motivations, expectations. At the same time they will engage with different kinds of workplaces and their worldviews will also change accordingly. But I feel in 5 more years the generation that will enter the workforce – that will be most different of all – as they will be the social media generation – with a culture of transparency, openness and sharing which will create an upheaval in the workplace.
Q: Do you have a pet peeve with the Internet or Social Media?
A: Not really. I always keep in mind that its a tool and the real points of impact on the internet is not the tool but other users using it. I also realise that I can create my own universe on the internet – I can choose to engage with inspiring, artistic and creative people and enrich myself and that is what I strive to do. So I ensure that I don't spend much time seeing LOLcats and hateful Youtube videos (in fact, none at all :-))
Q: Would you 'friend' your colleagues on Facebook and follow them on Twitter? Vice versa?
A: Of course, I would. And I do. πŸ™'
Q: Other than social media, the internet and human resource practices, what other topics would you like to blog about?
A: I am interested to understand in the larger term how social technologies are changing how we engage with work, careers, employment, so the canvas is really large. In the long term, I believe we need different kinds of business beliefs and organizations – and I like to explore that.
Q: Do you ever get stuck when writing an entry? What do you do then?
A: I do – sometimes a thought strikes me and I start furiously typing away to find out that beyond a couple of sentences I really don't have anything to say. I then delete the post until I come back to it some other time. If I don't then I forget it.
Q: Do you promote your blog? What promotional techniques work best for you and why?
A: I have a twitter account (@gautamblog) which shares posts I put up as well as other bloggers' posts I share on Google Reader. And then there is my FB page http://www.facebook.com/HR.Blogger where I share some of my posts. I have also added FB like button, Twitter sharing button and a Google Buzz button along with a wibiya toolbar to make it easy for readers to share my posts. I have found that content that resonates with readers gets shared the most – and am always surprised to find why some posts are shared more than others.
Q: How important is it for a blogger to interact with their readers? Do you respond to all the comments that you receive?
A: I personally respond to comments that are queries – but mostly it's my readers who are making a point and then in those cases I respond when something resonates with me – mostly if something strikes a big thought I end up creating a new blog post πŸ™'
Q: What do you find to be the most gratifying aspect of blogging?
A: The ability to discover kindred spirits and people who make you think.
Q: How, in general, would you rate the quality of Indian blogs? Share your favourite five blogs and top five Twitter follows.
A: The Indian blogosphere is a vibrant place. And I wish I could read more and more. There is such huge amount of quality thought and writing happening here – its really amazing. My favorite 5 Indian bloggers have to be:
My fave 5 Indian Twitter follows have to be
@b50: Chal Bhaag Saala
@thecomicproject: Comic Maker, Blogger, IT consultant, Amateur Photographer (L), Tech enthusiast, Filter coffee, Goodday and Bourbon biscuit lover. Talat fan. Tweets a lot
@flyyoufools: Indian Web comic about life and its irritations. Visit the site for hilarious comicy goodness
@jhunjhunwala: I INVENTED TWITTER. I have attained SUPERGOD Mode. Aspire, Do not envy. Disclaimer: This is Fake Jhunjhunwala. The Real Parody Writer of The Secret Journal.
@rashmibansal: Author, entrepreneur and youth expert. Seeking the ultimate truth, on everything!
Q: What is your advice to someone who wants to start a blog?
A: First advice is to just start it. If you have words yearning to get out – start a free account and just start writing. Recently, when a friend did just that and started it here's what I told him after that:
Find a community. Use google blog search to find out who all are blogging about issues the niche that interests you in India and across the world. Leave insightful comments on their posts. Don't just link to.
Put their links on the Blogroll.
Find out if anyone is linking to your blog – WordPress automatically notifies you about it on the dashboard but also go to http://blogsearch.google.com/blogsearch and put your URL.
Have an about page about who you are and why the blog.
Q: Do you earn revenue through your blog? How does one go about it?
A: Not directly. When I was a consultant my blog was a lead generation tool – helping me get consulting projects. I have used AdSense in the past but now it's not the focus.
And finally, some fun facts about Gautam Ghosh
• Color: Blue
• Movie: The Dark Knight
• TV Show: Lie to Me
• Book: Midnight's Children
• Time of Day: Midnight
• Your Zodiac Sign: Virgo
Readers, what do you feel about HR and Social Media now? Have your views changed? Thank you Gautam for this wonderful interview and look forward for your blog to break in the top 10 HR blogs of the world. πŸ™'