Shantibai used to come everyday to our street with fresh vegetables in her cart. It was a wake up call for many of us. She used to walk 5 kms everyday and sometimes even 10 until her vegetables got sold. Things change and they did for Shantibai as well. She still comes in with the vegetables, but to deliver them rather then selling them, since her vegetables are now pre-sold with a device. This technological device has done wonders to her life and at some point, this or other devices has done in ours as well.
Mobile changed Shantibai's life. What has changed yours? BlogAdda.com in partnership with Buytheprice.com presents 'Your Life Changing Device' contest.
Update: Contest Extended till 14th December!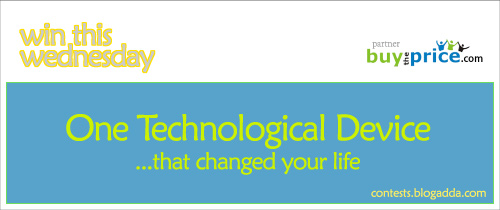 BlogAdda and Buytheprice.com presents a brand new contest for all the bloggers.
Tell us about that one (or more) technology based device, product or service which has made your life simpler or filled it with joy. How has it made a difference to you and made your life simpler? It could be a side by side refrigerator, a cell phone or as small as a memory card.
It could also be a device that you have received or gifted and that made any of your family members' life simpler. It might be a roti maker for your mother, your brothers play-station or your fathers laptop.
Pictures always look nice with blogposts. You know what to do next! ๐Ÿ™'
Copy paste the below code in your blogpost using the EDIT HTML (Blogspot) and HTML tab (WordPress). (We have made it so simple!)
Check out Buytheprice.com and connect with Indian Bloggers at BlogAdda
In case of any discrepancies, the decision of the judge(s) will be final.
The First prize will get a Philips Mp3 Player from Buytheprice.com and the other 3 winners will get a 8 GB Sandisk Pendrive.
The contest will end on 7th December, 11.59 pm IST.
So, what are you waiting for? Write down your thoughts now and share the link with us! People who participate in the contests are known to make new friends and  get a lot of new readers on their blog! ๐Ÿ™'