Investment banker by day, crime fighter by night. is what he wants to call himself as. A chromosome is an organized building of DNA and protein that is found in cells. Calcutta Chromosome is an organized blog of movies, fun and more fun that is not so common in the Indian Blogosphere. In the first interview at NEW BlogAdda.com we have interviewed the core brain behind the Calcutta Chromosome, Diptakirti Chaudhuri. This interview promises to be an eye opener for all the fans of Calcutta Chromosome and for all those new, here is a awesome blog to follow and an even more awesome blogger to know. 🙂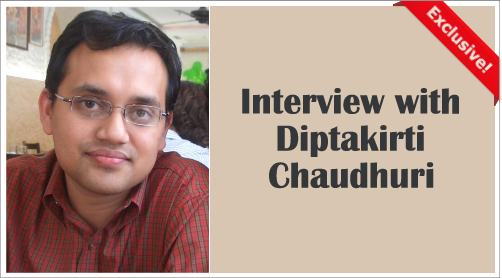 Q: When and why did you start blogging?
A: As I go back to my archives, I realize my first post was way back in January 2005! This was at the insistence of my friend, Udayan, who probably got hassled by the many long mails I wrote to him (and my e-group) and asked me to put them up on a blog.
I started the blog, named it after one of my favourite novels and did not know what to do. So, I uploaded a few of my old pieces (from my b-school and sales training days) and stopped. This was in 2005.
I started touring on work a lot from May 2006 onwards and that's when I started blogging regularly. With nothing to do in the hotels, I used to blog about things I tried finding on the net but couldn't. These were Bollywood, Bengali books, growing up in Calcutta and sales stories. Basically, the choice was between watching Ramgopal Verma films (on Rs 39 Moser Baer VCDs, bought from the hotel bookshop) or blogging – I chose the latter!
PS: I watched Ramgopal Verma ki Aag and Darling also. And blogged about them!
Q: Salesman. Writer. What description do you prefer and why?
A: Salesman by day. Writer by night.
Damn, that did not sound so cool. How about investment banker by day, crime fighter by night? Oh – all the answers have to be truthful? This interview is not going to be a lot of fun, then.
Q: Movies or Books? (Pick only one)
A: Umm… err… *picks both and runs*
Q: Do you ever get stuck when writing an entry? What do you do then?
A: All the time. Actually most of my entries are written over a week at least.
The most common type of post I do is a list of books/movies under a particular theme e.g. "10 Films Which Had Villains in Double Role" . It starts off with me thinking of 4-5 points while I am driving or travelling. I note these down on my Blackberry and mail them to my Blogger account. I keep adding over a period of time and finally write the whole post over a weekend. I don't search the web for any of the posts, so they have lots of errors and incomplete information. Initially, I used to feel a little uncomfortable but now I am okay since people add on really good bits and the blog becomes richer.
Q: What do you think your readers like most about your blog? Do you focus on any particular topics, angles or techniques to keep them interested?
A: As I have mentioned in the subhead of my blog, I write about things that I like to read myself. That's my filter. There are obviously quite a few people who are like me and they land up through Google – and hopefully stay on, liking what they saw!
My easiest technique to keep them interested is to end most posts with an invite to add on! Since Bollywood – my favourite topic – is a never-ending ocean of trivia, people contribute a lot and it keeps the thread going.
Q: You write about your work but also about your personal life. How do you keep your online and offline worlds from conflicting with each other?
A: I, by and large, don't take names of my companies, colleagues or friends – unless they are cool with it. Or I think they are cool with it.
Also, I don't write about stuff that I wouldn't discuss in an evening drinks session at a friend's. So, there's nothing controversial to start with.
Unless, I am writing about the 10 Best Dialogues from Hindi Cinema – when people just jump up and cut me to pieces.
Q: Have you ever gotten into trouble for something you said online? How did you handle it?
A: Not really. The worst flak I get is usually for saying Kunal Kapoor did not act in films or forgetting which film the song 'Boom Boom' is from*! As you would have realised, my readers are very passionate about the subjects I write on!
For those who are interested, Kunal Kapoor did act in films, debuting in Govind Nihalani's Vijeta. And 'Boom Boom' song (which Biddu remixed later on) is from the Kumar Gaurav-starrer Star.
Oh god – you are thinking Kunal Kapoor is the long-haired guy from Rang De Basanti? Puh-lease, I meant Shashi Kapoor and Jennifer Kendal's son.
Q: 2007 the year where we saw your number of posts being doubled. Any special reason behind it?
A: As I said, my blogging picked up when I was travelling a lot on work. Most of those posts were written in hotel rooms, airport lounges and taxis between cities (thank God for data cards!).
Q: You had this very interesting post '9 things from 2009'. What were the 9 things from your life which you would like to remember and things which you want to forget quickly?
A: Hmm… you seem to have figured out that I love making lists! Without any ado, I will dive in…
The birth of my son. The initial mayhem in the operation theatre and the wonder when the little thing was handed over to me was something quite unbelievable.
When I saw Van Gogh's Sunflowers at the National Museum in London, I was quite unprepared how much it would affect me. Again, unforgettable.
The first time I saw Satyajit Ray's Gupi Gayin Bagha Bayin – an uplifting, almost spiritual experience.
When I first had kababs at Lucknow's Tunday Kababi – ah, bliss!
Quite unpredictably, a short piece of mine appeared in a Penguin anthology a few years back. Amazing!
I met one of my closest friends – Nilendu Misra – in the queue to pay admission fees to our engineering course. The rat-a-tat-tat jokes he cracked in that short, nervous span – I will never forget.
The time my English teacher in school called me over and told me that I had won a prize in an essay-writing competition – my very first.
When I was told by the Placement Secretary at my b-school that I had a job. My first. And in FMCG sales!
Introduced to this girl for a marriage alliance, I chatted with her on Yahoo Messenger and asked what her favourite drink was. She said 'Bacardi on the rocks' – the first time I heard a woman say that. She is now my wife.
These are only the memorable ones. The ones I wanted to forget, I have forgotten already!
Q: Cinema, One of your most favorite topics. We are seeing a lot of interesting genre of cinema coming out in Bollywood thanks to the directors like Anurag Kashyap, Dibakar Banerjee, What are your thoughts on the same? If Diptakirti were to direct a movie, what would the story be about and who would be the lead characters? Will it have anyone from the blogworld?
A: The two directors named are two of my favourite directors and they seemed to have bridged – at least partially – the gap that existed between, say, Manmohan Desai and Shyam Benegal. Apart from them, there are directors like Farah Khan (who has made spoofs into an art form), Farhan Akhtar (who has experimented with the widest range of subjects), Shimit Amin (who has bridged the filmi and real worlds really well) and Rajkumar Hirani (who has delivered tons of messages without anyone realising it).
I think these directors are realising there is no 'art' and 'commercial' cinema. All films have to make money. All films have to be interesting. All films have to be original. I am only sad that they did not arrive when I was in college and watched/discussed many more movies than I do now!
I don't want to direct a movie. I would like to write a screenplay at some point of time and the format would be one of short films, maybe a television series of 30/60 minute episodes. There are many short stories in Bengali – by Satyajit Ray, Rabindranath Tagore, Parashuram, Banaphool – that just cry out to be made into films!
Q: In addition to a full-time job, you also manage to read a lot, watch movies, be a parent and make witty commentary on all that you see. How do you do it and where do you find the time?
A: I very firmly believe that people make time for things they love doing. For example, I don't go to the gym or burn effigies of Suresh Kalmadi or play pool. If I loved doing any of these, I would have done them as well!
But seriously, the priority is clearly to spend more time with my son, read books, watch films, eat some good food, AND THEN, blog about all these things. Oh yes – and hold on to my day job too! Which is why, my blogging has come down in the last couple of years.
I blog on Sundays. I blog when I am touring on work. I have started tweeting and I pass on a lot of immediate thoughts through Twitter.
Q: Your 'Sales Stories' posts are both funny and touching. Would you consider writing a novel based on your experiences, a la Chetan Bhagat or Karan Bajaj?
A: A few years back, yes. Not any longer. Too much has been written on corporate experiences already for me to come up with anything new/different.
As an aside, while Sales is considered to be a very macho, male-dominated world, two of the funniest books I have read on Sales Stories are by women – Swati Kaushal's A Piece of Cake and Manreet Sodhi Someshwar's Earning the Laundry Stripes.
I don't think I have the talent or the patience to write a novel. I have an idea for a non-fiction book on Bollywood – which is currently half-written. All I now have to do is to write the other half and find a publisher who will take the plunge. Easy, no? No?
Q: Despite your popularity, you don't appear to promote your blog much. Is this a deliberate action and if so, how have you managed to garner such a following?
A: Popularity? Ha ha all of four friends hee hee three cousins ho ho and two ex-colleagues read my hyuk hyuk blog. And you call har har that popularity? *Gets up from floor, clutching stomach*
Seriously, I have some super-popular blogger friends who link/blog-roll me. Greatbong (Ed: Read his interview) is a college junior and he is probably scared I will rag him if he doesn't. Mad Momma is my wife's friend from college and she probably does it out of love for my wife. Gautam Ghosh is a batchmate from b-school, who is a nice soul in general.
Apart from that, ex-colleagues, classmates, relatives promote me. And they do a bloody good job – sometimes even sitting people down at computers and typing out the URL!
I do marketing in my day job. So, thinking of promotion & marketing in my spare time is not very appealing! I do the product. My friends do the rest.
Q: What do you find to be the most gratifying aspect of blogging?
A: When a super-blogger like Greatbong remembers something I wrote in my college magazine more than a decade back, I am ready to die!
Sometimes, a non-resident Bengali thanks me for bringing back some of his childhood memories and that's worth a lot.
Sometimes, my kid cousins add on to the posts I have written and I realise how mature and perceptive they have become. That realisation would not have happened if I didn't have the blog.
But the best bit is probably when I write about a particularly obscure film and describe an even more obscure scene in it, there is always somebody who corrects me or adds on to it. I just love that!
Q: How, in general, would you rate the quality of Indian blogs? Share your favourite five blogs and top five Twitter follows.
A: I don't read any non-Indian blog. I find the Indian blogs well-written, relevant, interesting and sometimes, rivalling the best of mainstream media.
I love lists but not the prospect of choosing only 5 of the best Indian blogs. So, I will avoid all the big guns of the Indian blogosphere and pick names that (I think) are yet to feature on BlogAdda till now.
Mad Momma: A very close friend, she writes about motherhood and her two kids (who are even better friends).
Ganga Mail: Writer of Chai Chai, Bishwanath Ghosh grew up on the banks of Ganga, loves Kishore Kumar and now lives & works in Chennai. His music and nostalgia posts touch 'the g-spot of the mind' (one of his phrases).

A Simple Desultory P

hilippic

: I knew him as a fantastic quizmaster in college. I now know him as a connoisseur of great food (not to mention, a great cook) and a great guy to spend an evening with.
Mere Dost Beediyon Pe: Love the format. Take a famous dialogue from Bollywood, translate it and explain context. Let the reader's nostalgia take over! BTW, you know the film the title line has been taken from, don't you?

HT Blogs

: The journalists of Hindustan Times write on a HUGE variety of interesting topics. Two of my favourites are Poonam Saxena (who writes on Bollywood) and Soumya Bhattacharya (who writes on books).
I am so glad you allowed 5 Twitter follows as well since many of my favourite bloggers have gone micro and are usually found tweeting.
Q: What is your advice to someone who wants to start a blog?
A: I guess, the only advice would be to ignore all advice.
Blogging – before it becomes popular or even if it doesn't – is a medium of self-expression. You should have a lot of fun. You should have no obligations. You should be yourself. And in a world of 6 billion people, there will be many like you who will land up on your blog, click your AdSense banners and help you make tons of money. And even if you don't make the money, you will still have that one reader who will write to you saying that your posts make his day. And it will all be worth it.
Q: How do you see the future of blogging vis-&#224-vis the mainstream media?
A: Blogging and mainstream media – like it is currently – will perform complementary functions. Mainstream media will become even better in gathering of news and its fast dissemination because it will have access to infrastructure and technology. Blogging will provide diverse perspectives and add to the news.
Going forward, the lines between the two will blur – as it has already started to. More and more top journalists are blogging and tweeting about their immediate, off-the-cuff reactions. The most well-known bloggers are being invited more and more frequently to write in newspapers and appear on TV channels. This will only increase.
Q: Do you earn revenue through your blog? How does one go about it?
A: Nope. I put an AdSense banner once but when I (notionally) made $0.39 in 3 weeks, I threw that away. I have no clue how to make money on the Internet without Savita Bhabhi to help you.
I, however, have made money through a different way. An editor from Penguin found me through my blog and gave me a lot of work. I created glossaries, trivia sections and other fun stuff for Puffin Classics – for which I got paid.
Eventually, she contracted me to write a book for children on the forthcoming Cricket World Cup. The book is getting edited now, scheduled to come out in January 2011 and if millions of boys & girls buy The Puffin Cricket World Cup Companion, I will make lots of money. And I can only thank my blog for that!
Let's conclude off with a few favorites.
Color: Blue. Navy Blue.
Movie: Sholay. Gupi Gayin Bagha Bayin. Notting Hill.
TV Show: Mastermind. F.R.I.E.N.D.S. 24.
Book: Many. This deserves a separate post!
Time of Day: Night-ish.
Your Zodiac Sign: Scorpio
Thank you Diptakirti for this awesomeness interview. The first interview at the all NEW Blogadda.com was surely a top notch one. Readers, what do you think? Do let us know. 🙂