A marketer who went off consumption, a social media thought leader and co-founder of Social Media analytics company 20:20 Web Tech.  When we talk about Social Media and Social Media Analytics, there is one person without whom the thread is incomplete. We have none other than Gaurav Mishra aka Gauravonomics interviewed for you.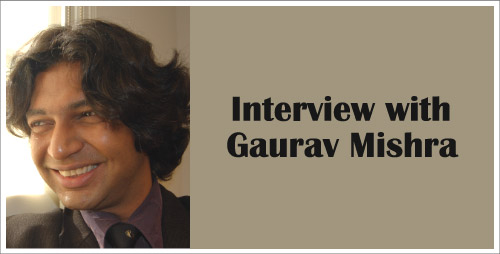 Q: When and why did you start blogging? Was it out of curiosity or something else?
A: I have been blogging since December 2005. I had my own website at IIM Bangalore in 2000-02, but abandoned it after I graduated. I was (re-)introduced to blogging by a friend who blogged and took to it immediately.
Q: What topics do you generally blog about?
A: At Gauravonomics Blog, I blog about social media and social change, with a focus on digital activism and citizen journalism in emerging countries like India and China. At my new 20:20 Social Media analytics Blog, I write about best practices in designing, running and measuring social media programs. At The Marketer Who Went Off Consumption, I write about anti-consumerism. At Netfluence, I write about the intersection of networked technologies and politics.
Q: Do you ever get stuck when writing an entry?  What do you do then?
A: Thankfully, I always have far too much to write and far too little time.
Q: Do you think it is necessary to promote yourself and your blog? If yes then how do you do it?
A: Actually, I don't actively promote my blog. I believe that the directionality needs to be the other way round. If positioned well, your blog should be able to promote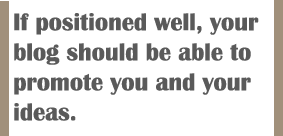 you and your ideas. Apart from linking the blog to Twitter/ Facebook, adding it to my email signature/ visiting card, and cross-posting my articles on group blogs like Global Voices, DigiActive, MobileActive and True/ Slant, I don't do much. I'm also easy to approach via my blogs I share my contact details on my blog and that's useful when journalists etc. want to contact you for a story.
Q: How important is it for the blogger to interact with their readers? Do you respond to all the comments that you receive?
A: I think it's very important for bloggers to interact with their readers and answer comments. I'm guilty of not doing it as consistently as I would like to. When I do answer comments on the blog, I get as many as 40-50 comments, when I don't, the conversations stops quickly.
Q: How, in general, would you rate the quality of Indian blogs? Share your favourite five blogs.
A: I think Indian blogs are becoming better with people writing about things they really know about, instead of sharing general thoughts and opinions. My five favorite Indian blogs are:
In fact, some of my favorite Indian blogs can be found at the IndiTalks Best Indian Bloggers Dashboard.
Q: What do you find to be the most gratifying aspect of blogging?
A: Being able to develop an idea in public over time. I first wrote about social media outsourcing more than one year back and now my series of posts on the subject has led to 20:20 Web Tech.

Q: When you were a child, what did you want to be when you grew up? Did you ever think that you would be doing what you are doing today?
A: The funny thing is that I wanted to be a journalist when I was growing up, but didn't pursue it as a career because it doesn't pay you well enough in India. Now, in some sense, life has come full circle. I'm writing everyday on my blog and contributing op-eds to newspapers and most people know me because of my writing.
Q:  'Gauravonomics' and 'Social Media' seem two sides of the same coin. We would like to have your views about the influence of Social Media on the online and the real world and how has it changed over a period of time.
A: I write about social media because it's a multi-layered phenomenon that can lead to significant social change in terms of how consumers engage with businesses and citizens engage with civil society organizations and governments. I think we understand it only at a surface level and there is so much more to learn, both in terms of "understanding how it works" and "understanding how to work with it" (which are two different things).
While most "social media experts" are focused on using social media for developing a personal brand, building business relationship and making more money, I write about using social media for social change because that's what I find most exciting. Once all the hype around social media has settled down, we will realize that the biggest impact of social technologies is in the long term on how they change the relationships between individuals and institutions, in the context of media, business, civil society and government.

Q: Indian Elections 09 was the first time when Social Media was used extensively in India. BJP was one of the parties who made their presence felt online alongwith many candidates who started their own blogs. Do you think, this is the just the TIP of the Iceberg?
A: I think that it's safe to say that the 2009 Indian Lok Sabha elections were India's first digital elections. For the first time in India, online voter-registration and transparency campaigns like Jaago Re and Vote Report India created an online space for civic engagement in India. Even political parties, which often speak to the lowest common denominator, upped the ante and reached out to millions of first time voters through blogs and social networking websites.
That the BJP's election campaign failed doesn't mean it was flawed. Given the ideological and budget constraints he had to work with, BJP strategist Sudheendra Kulkarni did a great job with the campaign.
The BJP set a new precedent with Advani's blog and ran India's biggest-ever Google AdWords and short message service (SMS) outreach campaign. Not only that, it also embraced the Web 2.0 value system: It co-opted independent groups such as Friends of BJP into the campaign; reached out to first-time voters through the Advani@ Campus programme and built an army of online volunteers through the Bloggers for Advani initiative.
As a result, BJP supporters dominated online conversations about the elections in the Indian blogosphere and on social networking sites such as Facebook, Orkut and Twitter. One-fourth of the respondents to a recent IMRB survey visited the BJP website, compared with one-tenth for the Congress website.
Perhaps even more importantly, the BJP's election campaign generated an extraordinarily high amount of interest in the Indian and international media—partly neutralizing the disadvantage of working with a budget of Rs60-75 crore against the Rs150 crore budget available to the Congress.
I think that the other political parties will learn from BJP and adopt these technologies in future elections.
Q:  You were a 'Marketer who went off consumption' in your words. Are the Marketeers using the Online space effectively? What are they doing it right and wrong?
A: Most marketers and "social media experts" don't even think beyond creating content and seeding conversations in designing social media programs. When it comes to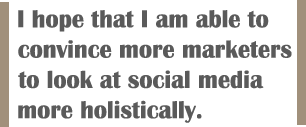 measurement, they inevitably limit themselves to popularity and virality metrics.
My approach to social media is based on a much more nuanced understanding of the multi-layered nature of social media. I believe that social media programs can operate at any of the four levels of Content, Collaboration, Community and Collective Intelligence, and each layer has a corresponding set of metrics.
I hope that I am able to convince more marketers to look at social media more holistically.
Q: You are serving as the Yahoo! Fellow in International Values, Communications, Technology, and Global Internet. How has the experience been? What next?
A: I just finished my stint as the 2008-09 Yahoo! Fellow at Georgetown University. It was one of the best years of my life, in terms of the range of experiences I was exposed to and the number of smart people I was able to work with.
I'm now coming back to India to start 20:20 Web Tech, a social media analytics company based in India, offering social media measurement and monitoring services to international clients, using a combination of machine and human analysis.
Q: Do you earn revenue through your blog? How does one go about it?
A: No, I earn almost no revenues from my blog directly, but it has led to a fellowship, a teaching gig, numerous speaking opportunities, a few book chapters, and now a company.

Q: Which tools/plugins do you use to efficiently manage your blog? Any widgets or tips you would like to share with our readers.
A: I actually use too many plugins to mention here. My suggestion is to move to a self-hosted blog, if you already haven't, integrate Google Analytics with it, and link it to Twitter with Twitterfeed. Do these three at the very least and you'll figure out the rest when you need to.
Q: What is your advice to someone who wants to start a blog?
A: Use your blog to learn, share what you have learned and build a reputation.
Q: Let's conclude off with a few favorites.
Color: White
Movie: When Harry Met Sally
TV Show: Heroes
Book: The Golden Gate by Vikram Seth
Time of Day: Morning, when I do manage to wake up early
Recent Posts from Gaurav's blog:

My Quote in Indian Daily Mail Today's Story on Indian Celebrities Using Twitter
Thoughts on World Federation of Advertiser (WFA) Position Paper on Online Audience Measurement
My Global Voices Advocacy Interview on Digital Activism in India
Connect with Gaurav:
Gaurav, Merci pour la magnifique interview 🙂 . It was a pleasure reading the interview. The feedback we are getting from our readers is very positive and they look forward to read the Weekly picks and Interviews week after week.